Madeline Donahue
Live Wire
July 20th - August 27th, 2022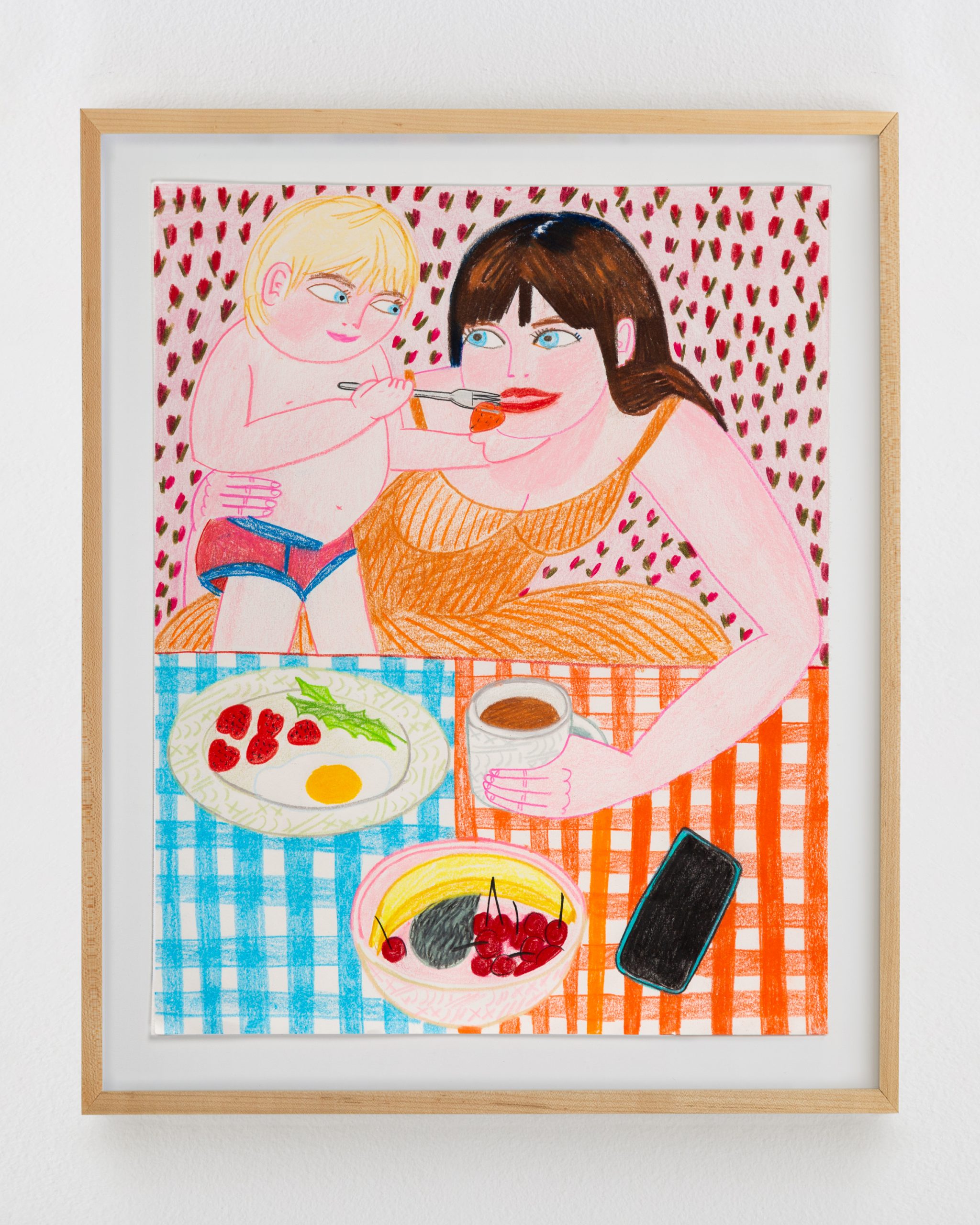 "I am traveling across the country with my husband, and two young children (ages 6 and 8), to celebrate a friend's 60-year wedding anniversary deep in West Texas. Every few dozen miles we pass some sort of pro-life billboard. In a few weeks we will launch a viewing salon of works on paper by Madeline Donahue, our first exhibition with the artist. Roe has been overturned, calling into question every single thing I thought I knew about what it meant to be a mother in 2022.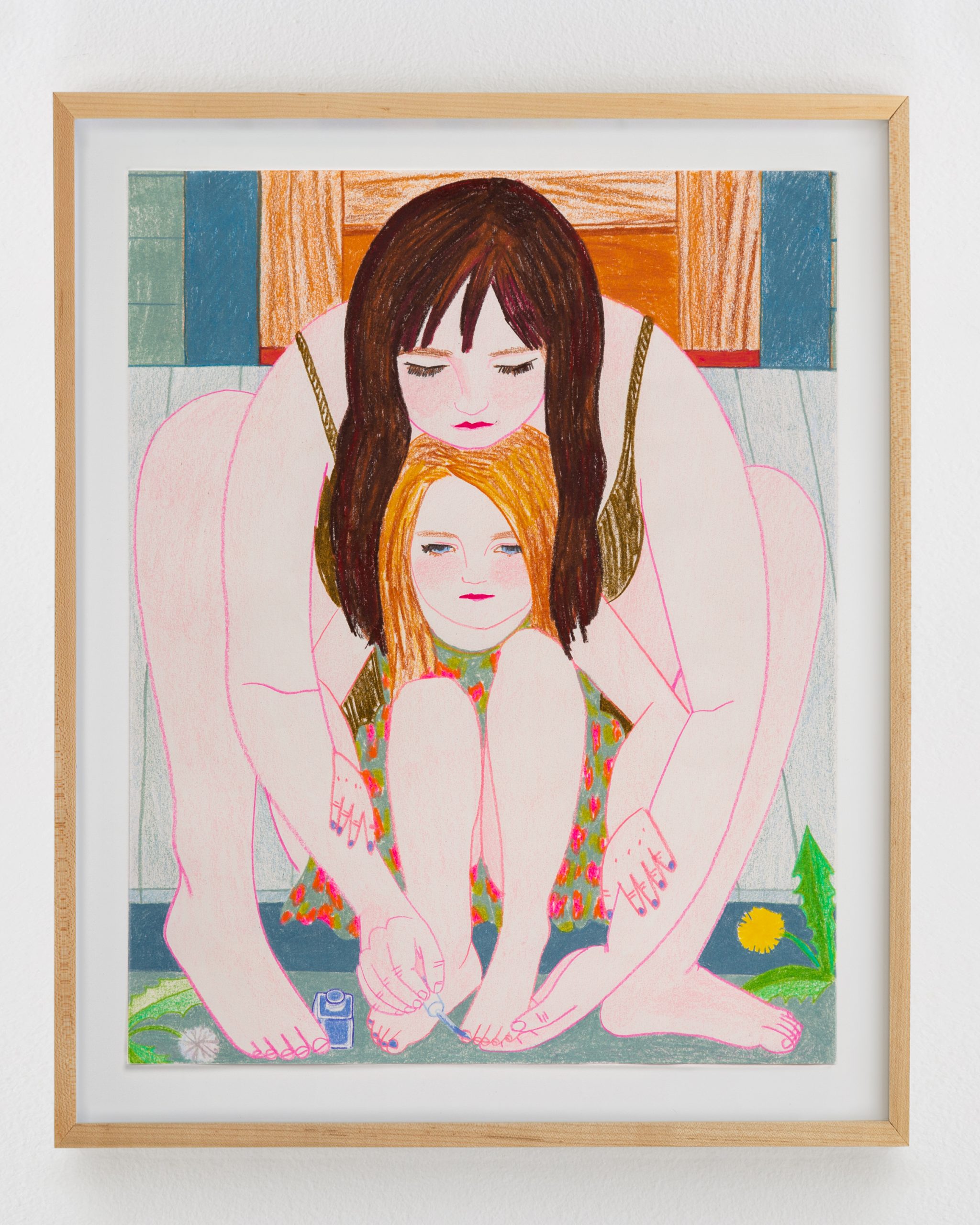 I first encountered Madeline's work on the Instagram of a colleague. Taken by the graphic, humorous and contorted view of motherhood that seemed uncannily accurate, I reached out and asked Madeline if she would be open to a virtual studio visit. On that visit, I found a determined artist, who had chosen to be a mother, who had recently come to terms with the honesty of her subject matter and who was making work that is a fantastic, honest reflection of what it means to be an artist, a mother, and a woman in this country.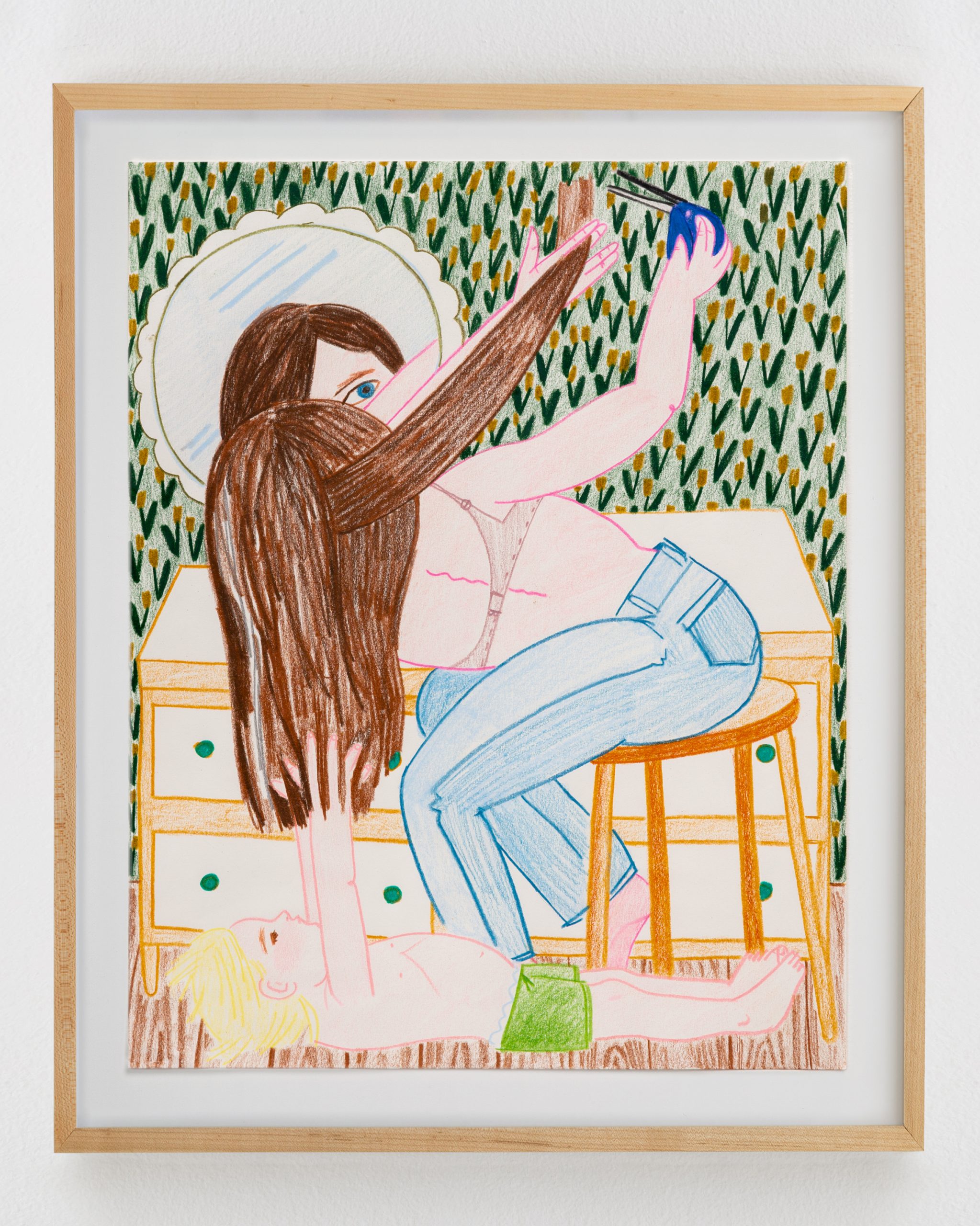 Inquire
In Madeline's work, the impossible task of having it all, and somehow loving the desperation of it, is rendered into Matisse-like compositions. Here an arm, there, a voyeuristic glance in the mirror; is that an extra leg? Likely not, though also, would likely be a helpful intrusion if it were.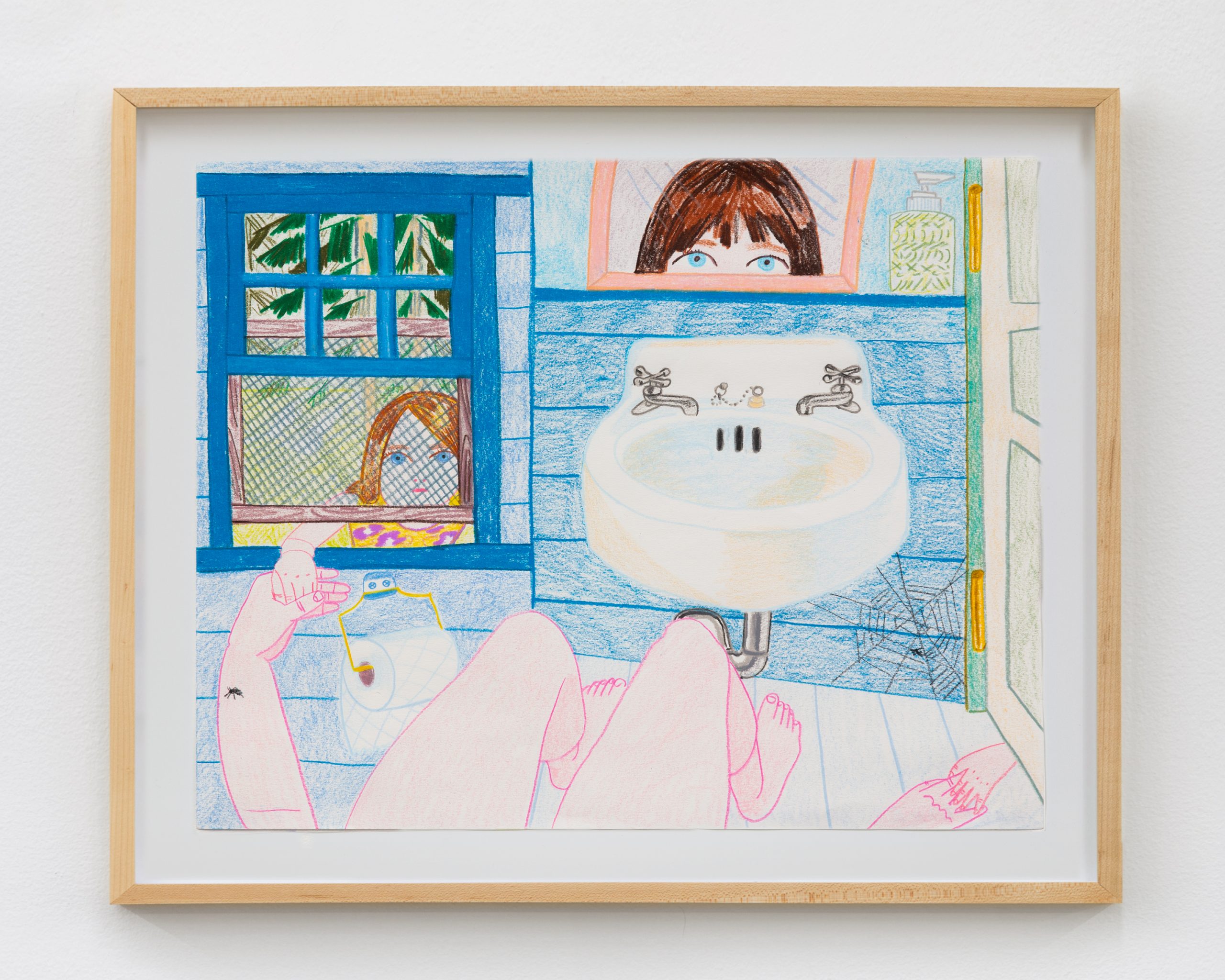 Across the pictures, what we find is a lack of distinction. A blurring of boundaries, whose toes are being painted, where does the mother end and the child begin? In Nail Polish, the two bodies are so intertwined, they become a sort of ouroboros; which is being fed and which eaten?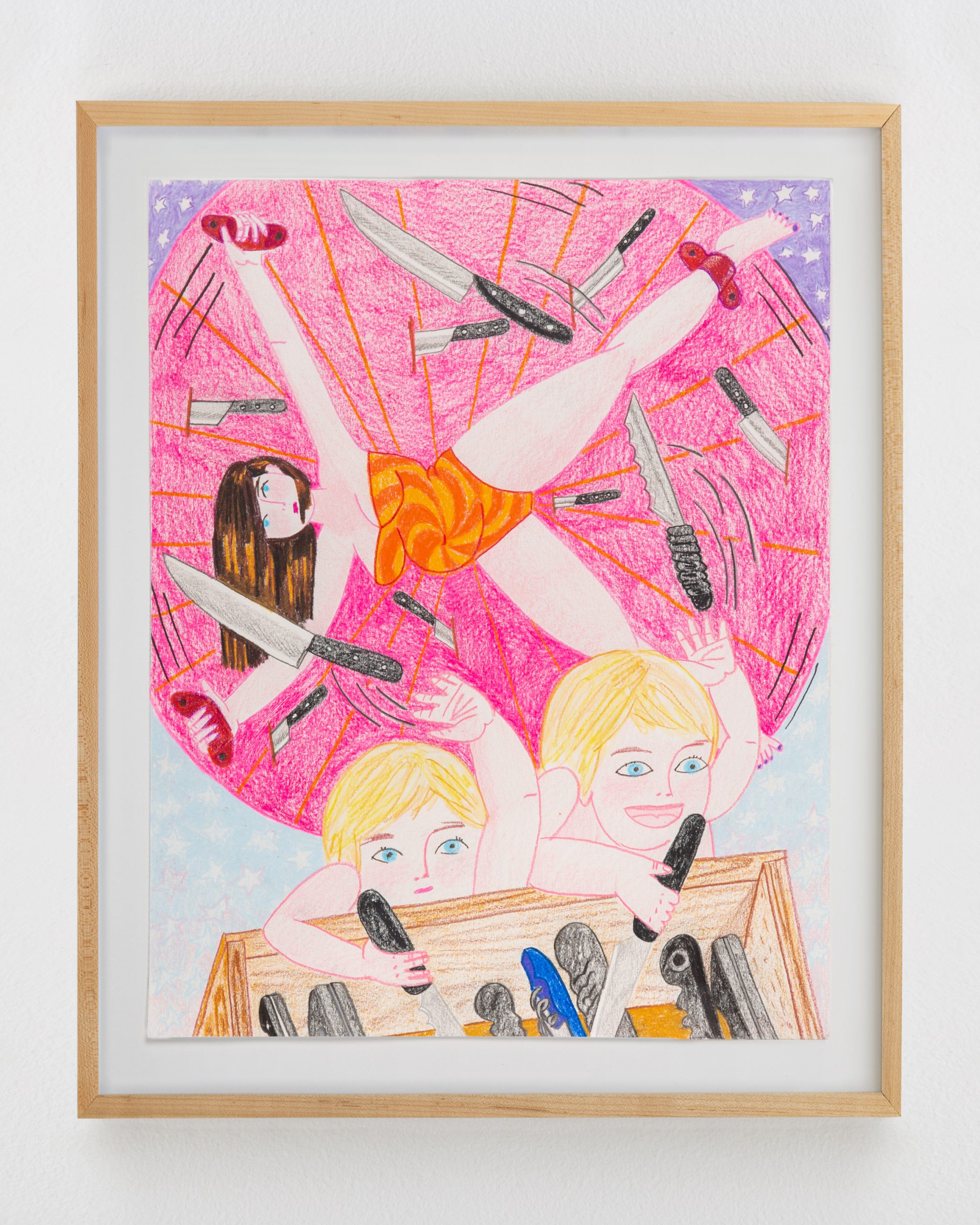 In Trim Web, the mother's one blue eye is wide open, grasping for a moment of focus as she attempts to trim her hair, while being quite literally pulled in the opposite direction.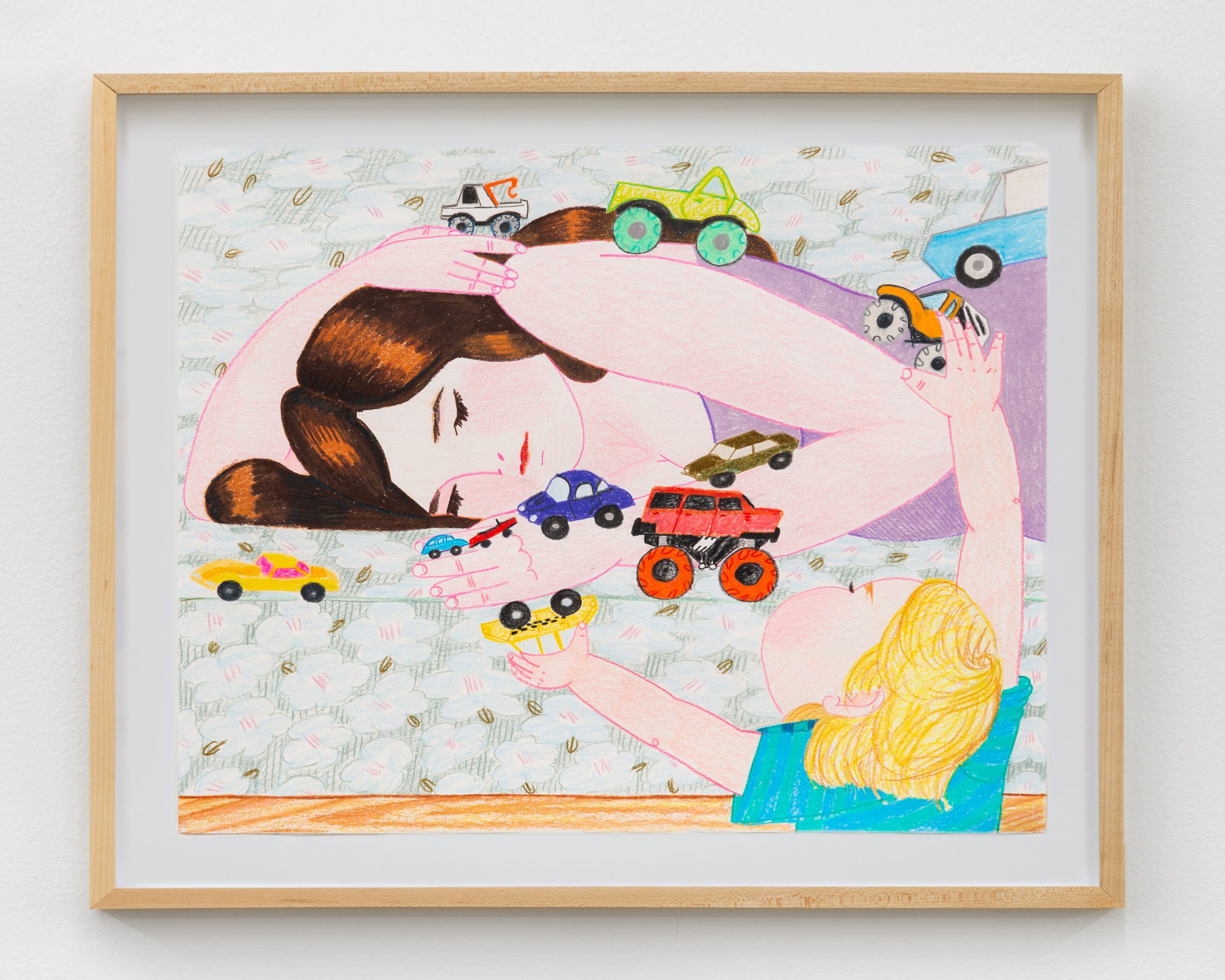 In With Nancy and Olivia, the pose more dignified, she encounters herself, across time, in the work of Alice Neel. In Full Circle, a tiny hand reaches in from under the door on the right side of the image, grabbing at the adult figure; she has nothing left to offer but toes.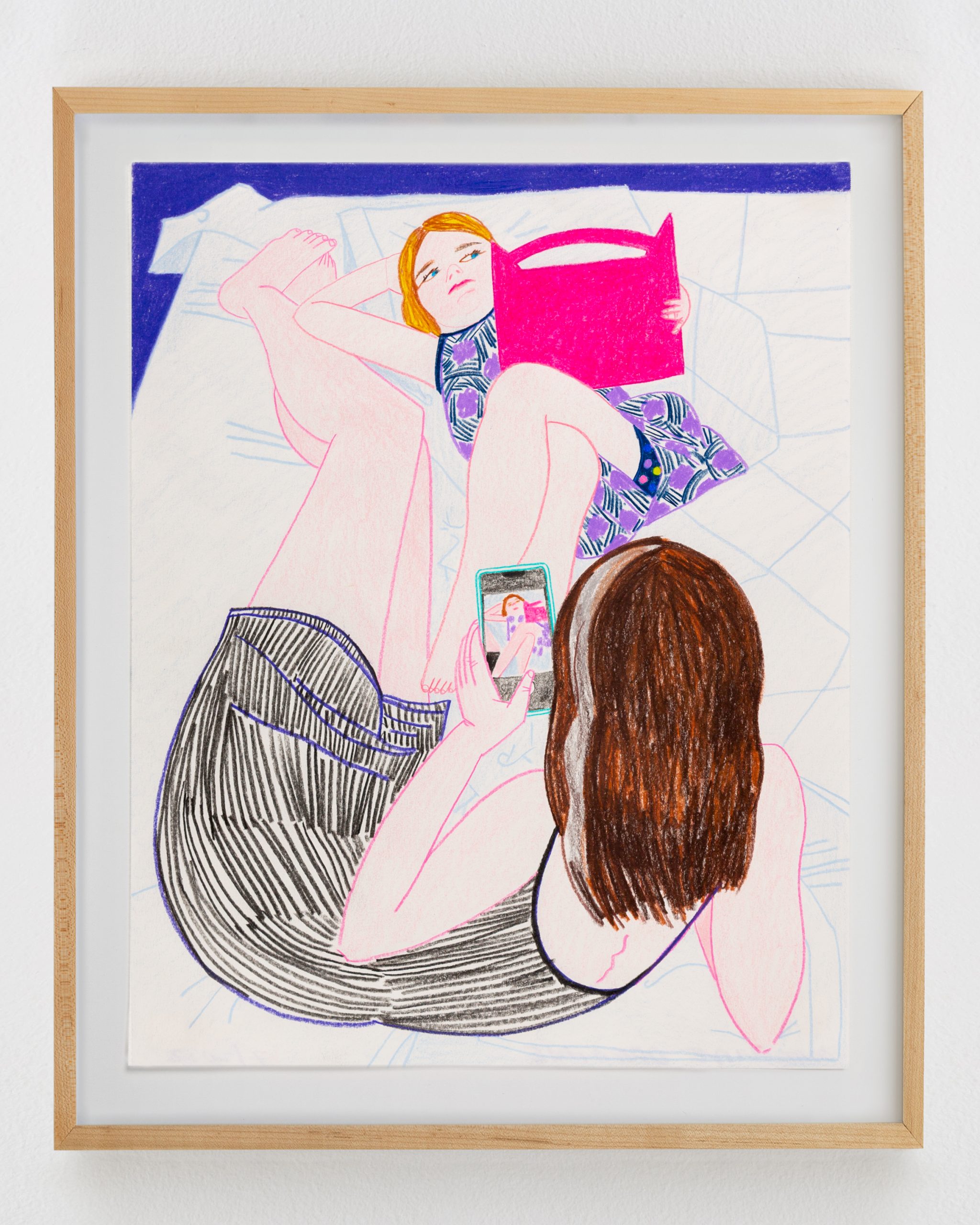 Inquire
In Madeline's vision of this demanding role, there is so much brightness. Across the pictures, a positivity, a radiance, a sense of humor, an appreciation for the brevity of this time in which one is so desperately and endlessly needed. In Madeline's depictions of motherhood there is a tenderness; love and a definitive choice to embody this motherhood.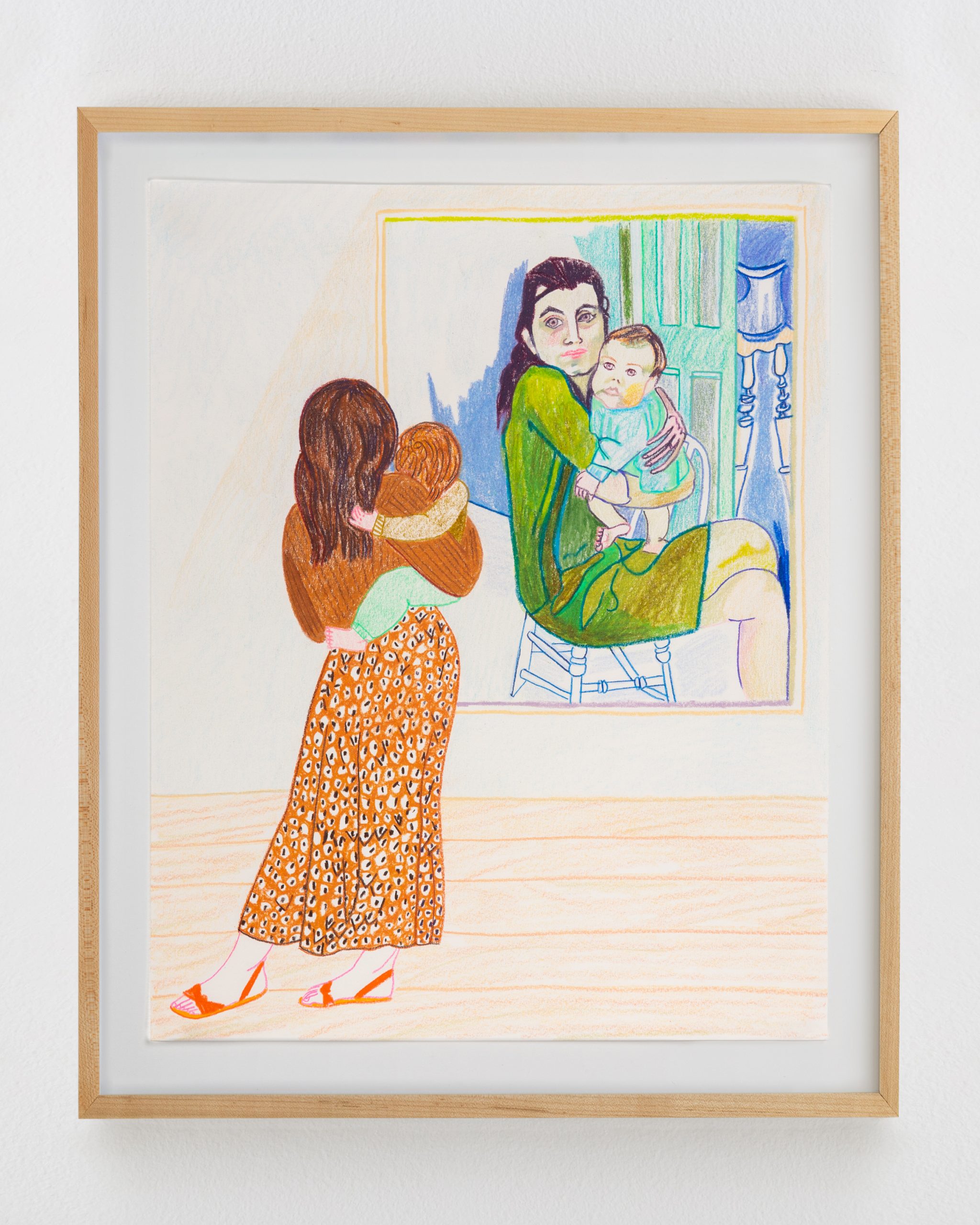 I find solidarity in these pictures, a willingness to demand space for a conversation sidelined. When Madeline and I first met, she shared that while in grad school, having had her first child, she had been making work that addressed motherhood and felt the need to hide it. It wasn't until colleagues saw the work and encouraged her to bring it to light, that she recognized its strength, that she found the universality in its honesty.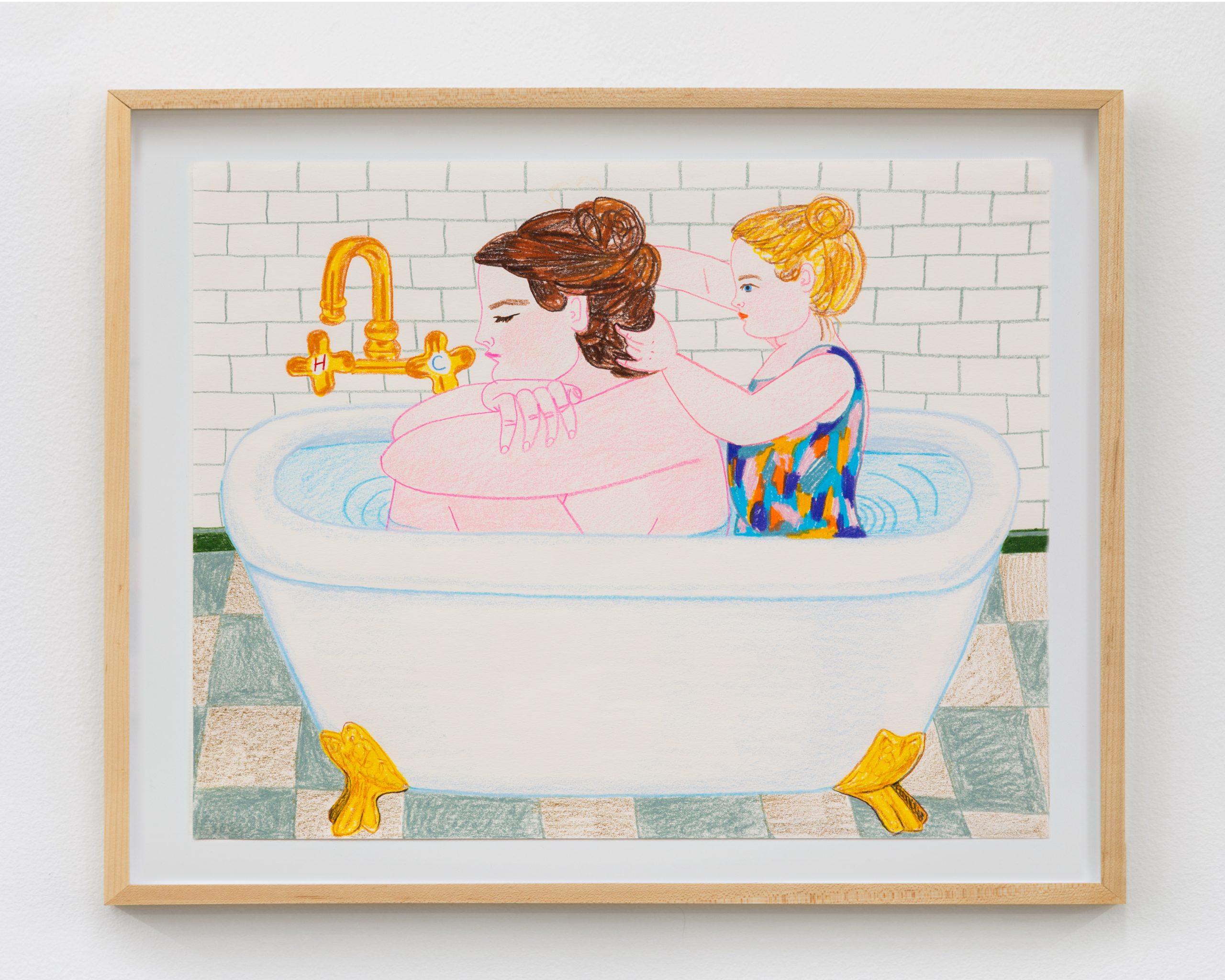 As the summer moves forward, with all its warm breezes and sunlight, the duplicity in Madeline's pictures feels particularly pertinent. There is room for the carnival; joy and sorrow, patchworked and spinning. Eat the watermelon, paint the toes, feel the picture."
– Nina Johnson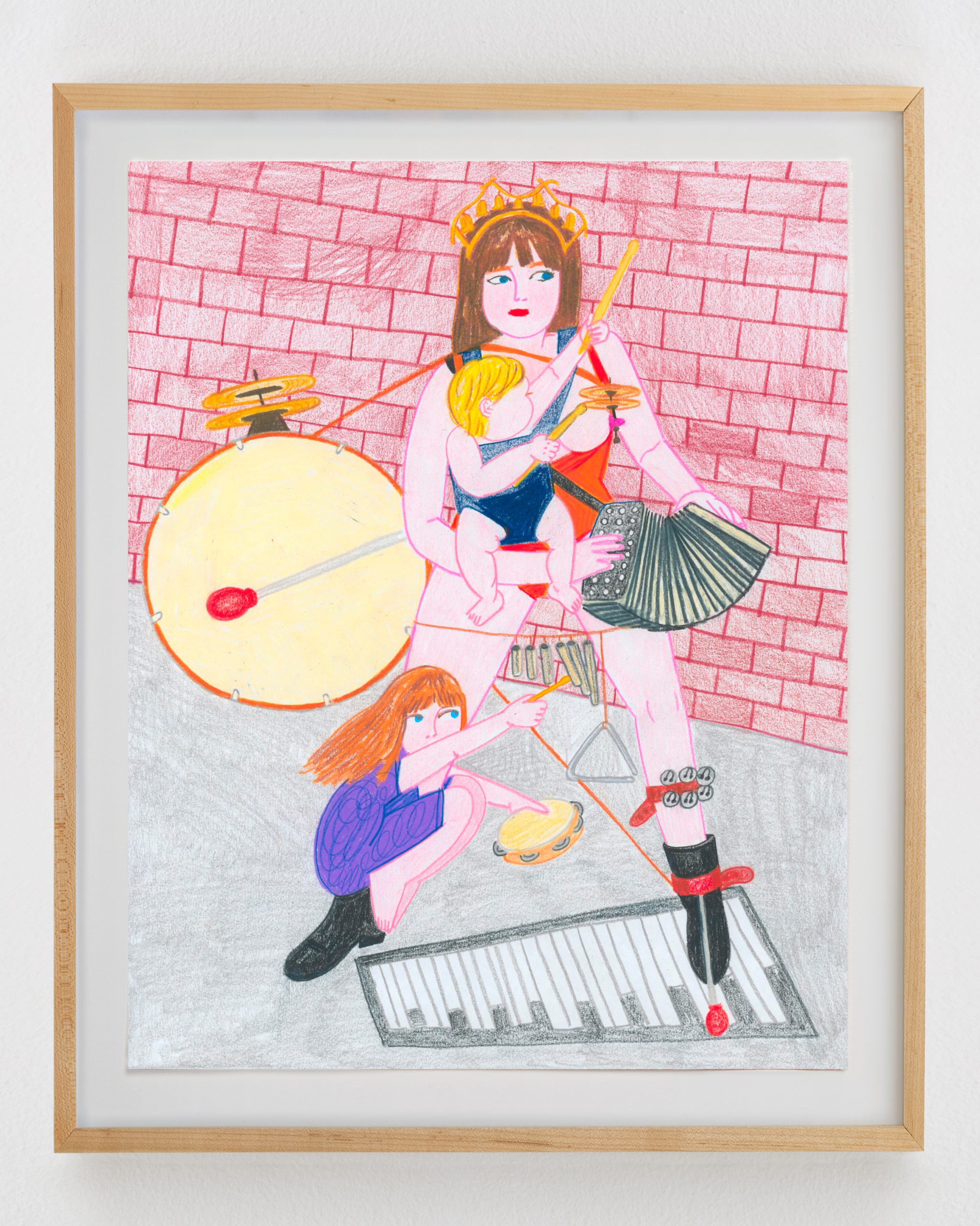 Madeline Donahue
Madeline Donahue (b. 1983, Houston, TX) makes paintings, drawings and ceramics that center on her experiences of pregnancy, birth, motherhood and owning a postpartum body. Her practice focuses on the surreal reality, physicality, emotionality and interdependence of these experiences. Intimacy is at the core of all of her work, addressing the simultaneous existence of abject and sublime facets implicit in the relationship with her children and body. These explorations detail these experiences - working through the isolation, fatigue, failure, anxiety, and joys of parenting. In Donahue's work, pendulous breasts flap, stretched belly skin sags or flows. Many of her works include "bathers" - a nude figure moving through water, referencing Modernist portrayals of bathing women. She also references gymnastics, sports, and the "circus" of motherhood through titles, in the posture of her figures, and other visual representations. Each work is made efficiently in a fresh and fluid process that communicates and captures the immediacy of a present moment to create art. Madeline Donahue's solo exhibitions include "Fun House" with Praise Shadows Gallery, Boston; "Warm Up" with Artshack Brooklyn, and "Attachments" with Steven Harvey Fine Art Projects in New York. She has participated in Untitled Art Fair and NADA Fair (Miami, FL) and exhibited extensively with galleries and museums across the US and UK including Johansson Projects (Oakland, CA), Lauren Powell Projects (Los Angeles, CA), Hesse Flatow (New York, NY), Deanna Evans Projects (Brooklyn, NY), and the Museum of Fine Arts (Boston, MA). Residencies include The Wassaic Project, Byrdcliffe Artist Colony, Artshack Ceramic Residency and Interlude Artist's Residency in Livingston, NY. Donahue's work has been reviewed in the Guardian, Hyperallergic, and Elephant Magazine. Interviews include Sound + Vision Podcast, I Like Your Work Podcast, and Artist Mother Podcast. She recently participated in "A Conversation on Alice Neel, Art, and Motherhood" facilitated by Lauren Palmor, assistant curator of American art at the Fine Arts Museums of San Francisco. Donahue holds a BFA from The School of the Museum of Fine Arts at Tufts University (Boston, MA) and MFA from Brooklyn College (Brooklyn, NY). Madeline Donahue lives and works in Brooklyn, NY.