Katie Stout Finds Room to Grow
October 25th, 2023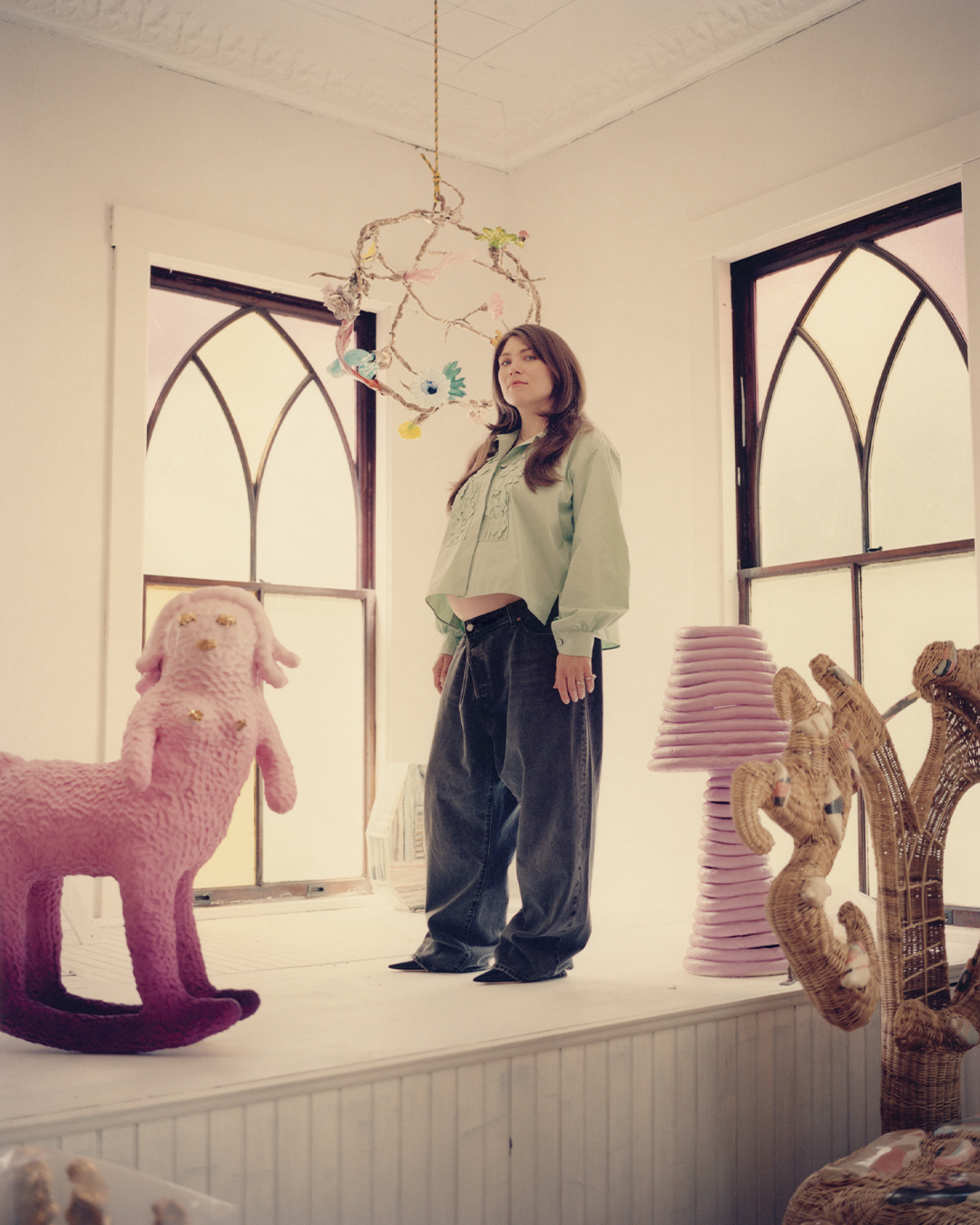 Written by Laura van Straaten
Photographs by Andreas Laszlo Konrath
Styled by Tori López
Updated: Oct. 26, 2023
Originally Published: Oct. 25, 2023
When the artist felt stifled by the confines of New York City, she found a home upstate, transforming a disused church into a divine studio.
One sculpture in progress inside Katie Stout's new studio is a verdant ceramic creature whose frogginess is belied by shiny gold human lips. The base is a spiral familiar to anyone who has ever bounced on a kiddie spring rider outside a store. It's fantastic and fun, much like the artist herself: Stout has a fondness for the camp aesthetic, which in her case includes fat florals, quirky animals, human figures with exaggerated features (notably: boobs), clashing colors, a penchant for pink, and an overall emphasis on ornament. "I'm dying to make a playground!" Stout tells me as we admire the froggy figure. It would be a natural fit: Nearby are a rose-colored centaur rocking horse and a tower composed of leaping dogs.
But instead of a park or backyard, Stout's pieces are headed to Miami, where they will be on view during the city's Basel-anchored Art Week. On December 4, Stout's solo exhibition will open at Nina Johnson gallery, in Little Haiti. And in the Wynwood neighborhood will be Stout's first public commission: a large-scale re-creation of one of her watercolors.
When I visit her this summer, Stout, 34, is immersed in the transformation of her home and family. Just over a year ago, she and her husband, Jeff Kinkle, an arts and entertainment lawyer whom she married in 2019, left their longtime home of New York City for Germantown, an upstate enclave where the couple bought a 19th-century church property on an unassuming street. The church's enormous nave, ­complete with a bell tower and arched stained-glass windows, is now Stout's studio. She pulled out all the pews so that her five studio employees would have space, dropped a disco ball from the ceiling, and built an addition to fit her four kilns.
The parsonage, connected to the studio by a stone path, is now a full-time home to Stout, Kinkle, and their first child. "As I've gone into this new phase of being pregnant and starting my own family, I think things have sort of shifted," she says. "Like making jugs." (Jugs, along with bowls, furniture, and lighting, are a constant for her.) "The vessel as metaphor!" she says, laughing and cradling the bulge of her third-trimester belly. "I am the jug; that is me."
In the house, Stout's own creations abound, including her orange Squiggle Shelf, one of the pieces that have been copied by others, to her dismay. (Stout stops copycats by emailing them an invoice for her design—so far, one person has made a payment.) Also abundant are art and design objects by others, often secured through trade. In exchange for a lamp she made for the artist Chloe Wise, Stout received a large drawing with a tangle of pasta sculpted into the frame, which lives in her kitchen. Near a new terrazzo table by Ficus Interfaith are one of two paintings in the house by Katherine Bernhardt; a work by Rob Pruitt; a mirror framed by sculpted paper pulp, by F Taylor Colantonio; and a tabletop sculpture by Arlene Shechet. Stout points out a dog bed by Misha Kahn, which I note looks like Sheila Hicks meets Animal from the Muppets. "Meets the mall," Stout quips. She has plans to plant wildflowers in the ancient graveyard and, soon, to hire her architect friend Adam Charlap Hyman, of Charlap Hyman & Herrero, to create an exhibition library like the one his firm designed for Johnson's gallery.
There's a bohemian warmth to the scene, but it's clear there's something deeper happening, a psychological resonance. This is "the new era of Katie," says Nina Johnson, Stout's gallerist since 2015. "One in which her desire to disrupt or break apart the idea of home is blending with the birth of her own family and of herself as a mother figure. Over the years, Katie has come to be known as the definitive aesthetic voice of her generation. The bulbous, grotesque forms that are ubiquitous in contemporary design were born from her practice."
As a student at the Rhode Island School of Design, from which she graduated in 2012, Stout focused on furniture, but her practice blurs the line between objects and fine art. Designers are known as problem solvers, but "Katie is very much not a problem solver; she's a problem maker!" Johnson notes. "Her work asks a lot of questions." For example, on Stout's signature "lady lamps," which take the form of naked women, she often camouflages the on-off switch as a shiny golden nipple. It's functional but, by design, also disarming. "Obviously, from a feminist perspective, there's a huge conversation there," Johnson notes. Much has been written about how Stout turns the notion of home on its head, and she's been compared to other women with similar artistic preoccupations: Judy Chicago, Nicola L, Miriam Schapiro, and Alina ­Szapocznikow. "I love the framework of domesticity," Stout says. "There are infinite tropes to work with and against."
During her years of renting expensive studios in New York, Stout was, she says, "losing the joy of making, because I was like, Oh my god, I have to just sell to make so much money." In addition to that pressure, she says, "I was constantly getting in trouble." Even in former industrial buildings with other studios, people complained about the noise and the smell, the firing of her kilns, and the dust from sanding. The move to her own place, and away from the commercial and logistical crush of the city, has been freeing. "I feel this looseness," she says, about both time and experimentation, "like I can be more expressive or painterly about my approach."
The impact of Stout's transition to the country will be evident in the Miami show, most notably in the focus on fauna. "It was mostly people before, and now it's frogs and dogs!" Stout enthuses as her studio manager's hound, Fanny, sniffs about a mess of clay, glass, and metal. Stout removes the plastic she uses to keep the clay pliable and reveals how such forms are slowly emerging, alongside several naked ladies still in the mix. Although her studio's history as a house of worship wasn't key to its appeal ("I didn't grow up religious," she says), creating art in the new space can feel at times like "a spiritual act. It becomes like a meditation…an automatic thing where my hands are doing the thinking for me."
Stout grew up in New Jersey, in "one of those developments where every house was the same, or a mirror version." It was an often challenging household: "My dad couldn't keep a job, and my mother was a public school teacher." Money was tight in an atmosphere of high tension, and when Stout was 16, her father and mother—his third wife—divorced. Stout and her brother saw their father only intermittently from then on, and her mother died of cancer during Stout's first year at RISD. "The following summer, my brother and I had to sell the house we grew up in," Stout recalls.
Experiencing fear, insecurity, and death at close range and at a young age shifts one's way of being in and seeing the world. "Isn't it crazy?" she asks rhetorically. "It's something that just stays.… I was always told not to make a scene, and now I'm like, 'I have to make a scene, and I want everything to be a scene.' " Creativity became a key outlet for pain. "It's something to pour yourself into," she says quietly. In the studio, she shows me a floral Oaxacan candelabra from her childhood home and pulls out a flat file where she keeps samples of ornate wallpaper that her mother designed. "I think about her patterns all the time now," Stout says.
Stout's work lives in the wink between the kind of homemade "crafts" you might find at a grandma's garage sale and the prized craftsmanship that defines what are sometimes called "finer things." Layered into that is the aesthetic of naivete, which Stout says can be a source of misunderstanding: "Sometimes I don't think people see the meaning behind the lightheartedness and the humor, and they also don't see the engineering and intelligence it takes to make the thing."
She seems to balance all of those elements with ease, and enjoys inviting "someone who's never touched clay in their life" to make objects, which she sometimes appends to her own. This untrained, childlike can-do attitude is, of course, what she lives for: "I love when Jeff makes ceramics," she says. "Just watching him draw is, like, the best thing ever." And what about their baby? "I'm going to steal all of their ideas!" Stout says. "I'm going to be like, 'That's mine! I made that!' "
Hair by Walton Nunez for R+Co at See Management; Makeup by Amanda Wilson for Chanel Beauty at Opus Beauty; Production assistant: Brian Gomez.