5 Must-See Figurative Exhibitions Exploring Our Turbulent Times, Featuring James English Leary's "Patter"
March 16th, 2021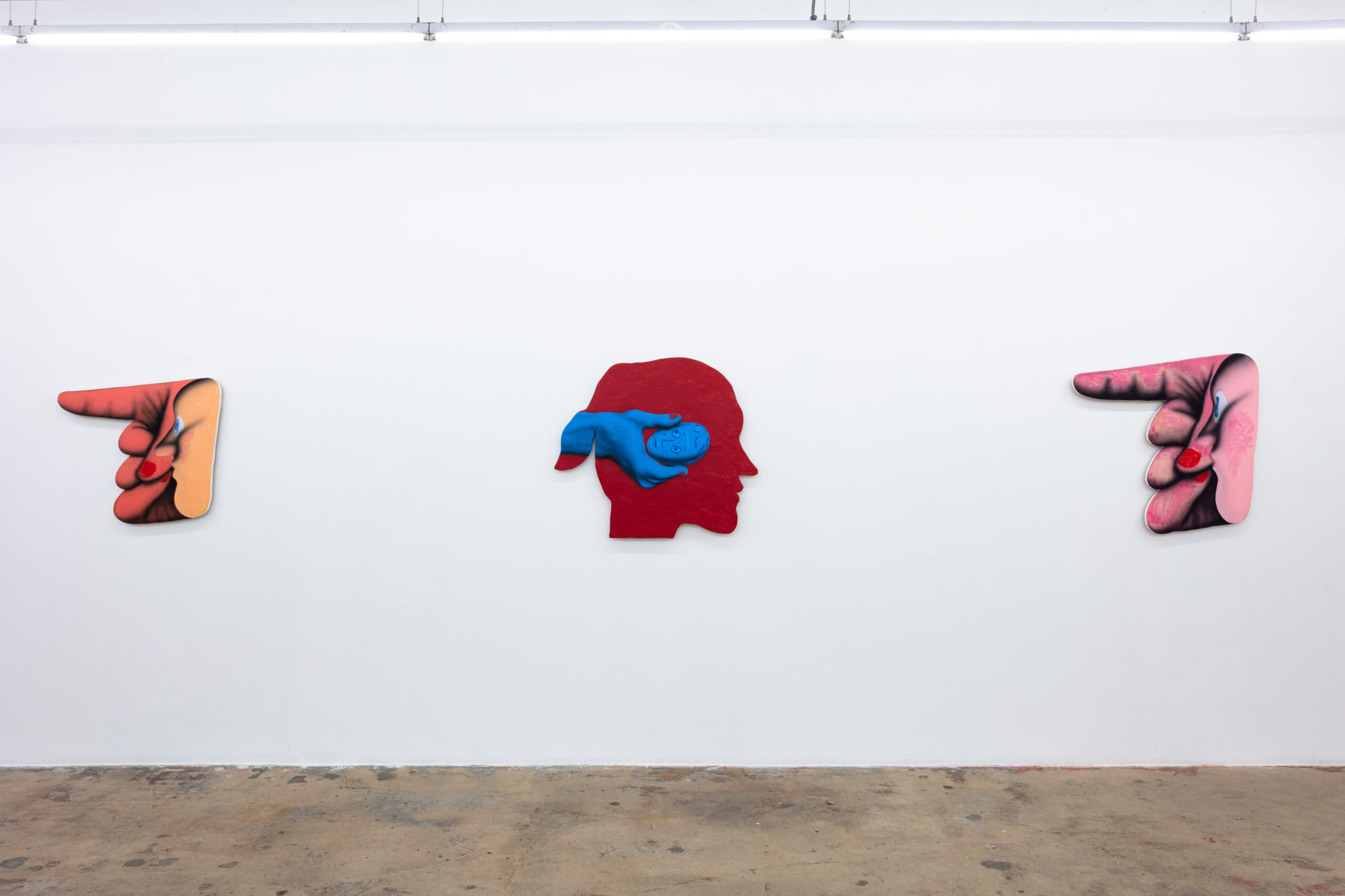 From Cindy Sherman's tapestries of Instagram selfies at Sprüth Magers in L.A. to Christian Marclay's comic book collages at San Francisco 's Fraenkel Gallery, these new exhibitions are not to be missed
By Paul Laster
ur current fascination with figurative art shows no sign of waning. It's popularity over the past few years is at an all-time high, with museums and galleries celebrating forgotten, established and emerging artists focused on the body from multiple points of view. Tapping into the phenomenon, we've rounded up five fabulous gallery exhibitions of figurative art taking place across the United States now.
From Cindy Sherman's tapestries of her screwball Instagram selfies at Sprüth Magers in L.A. and Christian Marclay's comic book collages of characters and words capturing the horrors of the past year at San Francisco 's Fraenkel Gallery to Maia Cruz Palileo deconstructing the colonial past of her Filipino heritage at Monique Meloche Gallery in Chicago, James English Leary's humorous juxtapositions of heads and hands at Nina Johnson in Miami, and Jonathan Meese's deep dive into his inner self during lockdown at New York's David Nolan Gallery, these exhibitions reveal how turbulent times are shaping our contemporary art.
4)James English Leary at Nina Johnson, Miami
One of the co-founders of the Bruce High Quality Foundation, a collaborative group of subversive artists who were active on the international art scene in the first decade of the 2000s, James English Leary has been forging his own path in the art world since the time of the group's mock retrospective at the Brooklyn Museum in 2013. Continuing to work with a sense of humor, Leary makes shaped, built paintings that blur the boundary between abstraction and figuration while playing with psychological associations.
Seven shaped paintings in the show that portray a pointing hand overlaid by a face in profile take the title Pointer. Varied in palette but similar in composition and shading, the large hand looks realistic while the scaled-down face is cartoonish. Repeated at different sizes throughout the installation, the Pointer canvases are intermixed with three shaped paintings of heads in profile that conversely incorporate hands.
Cameo (Offering) presents a red woman's head with a blue hand offering a smaller head within it; Cameo (Horns) offers a red man's head and a blue hand flashing the Hook 'em Horns signal; and Cameo (Pointer) connects the two bodies of work with a blue head with a red pointing hand splitting its form. Awkward and absurd yet curiously compelling, Leary's colorful canvases are poetically entertaining.