A Visit with Emmett Moore
May 23rd, 2016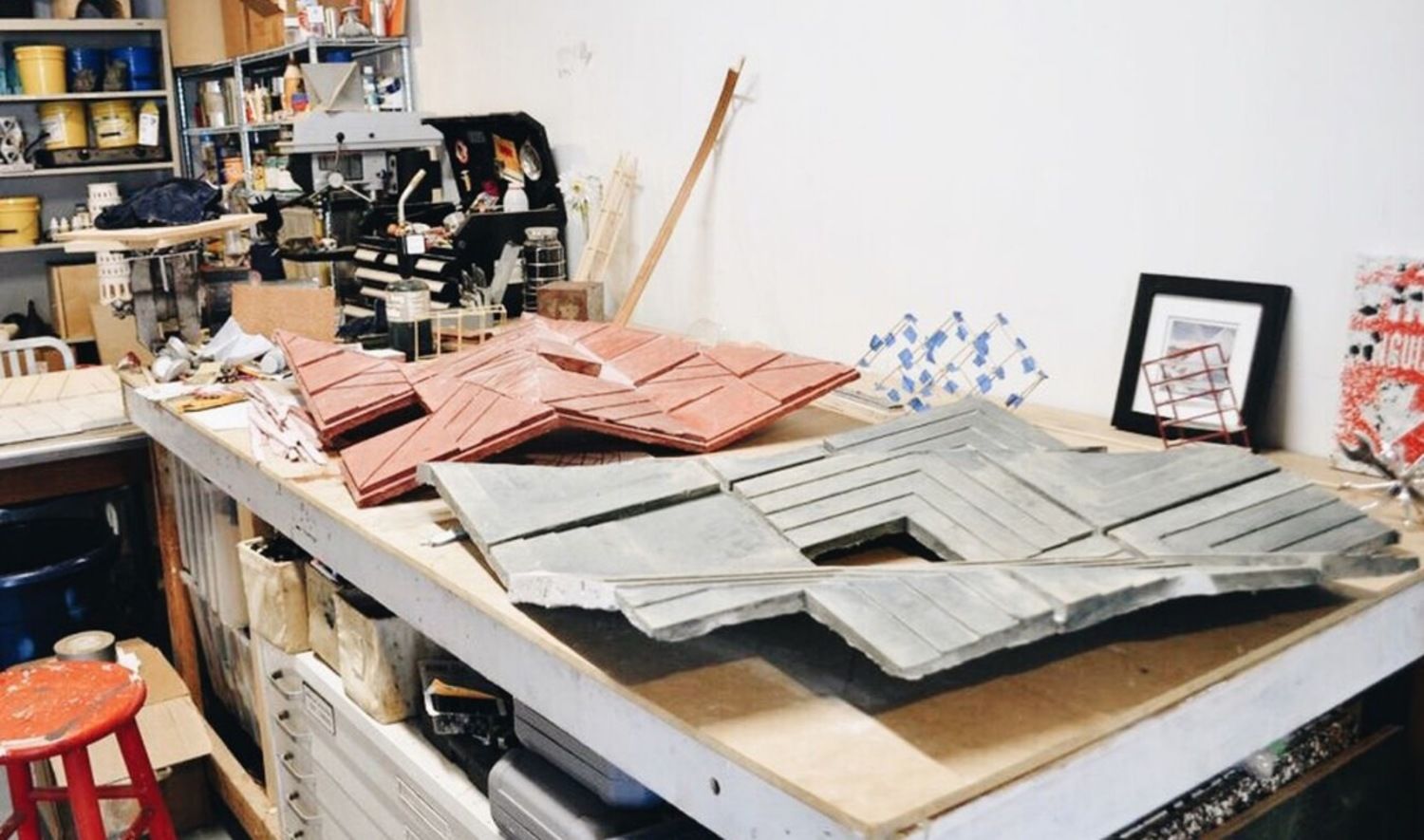 To the untrained eye, Miami can look like a tacky place. The flashy nightclubs and the retro neon signs of South Beach; the bright, blinding colors of Little Havana and Little Haiti; the McMansions peppering the landscape from Aventura to Coral Gables can all convince visitors from more reserved cities that the Magic City is nothing but a magic trick: all flash and no substance.
If there's anyone who can convince them otherwise, it's Emmett Moore.
The artist and furniture designer was born and raised in Miami, and South Florida's influence is evident in his work. When he represented Gallery Diet as the first Miami gallery accepted into the prestigious Design Miami art fair in 2014, for example, his booth featured a folding shade shellacked with images of '80s bikini babes, and patio chairs constructed out of the concrete dividers more typically used to create Miami homes' patios themselves.
But there's more to Moore's portfolio than its tropical perspective. The artist's restrained designs often reference deeper cultural issues. In his exhibit at the Bass Museum, which closes May 29, Moore questions the idea of design for an "average" person in a world where average doesn't really exist. Here, we talk to Moore about the Miami of his youth, his hoarder tendencies, and the truly tacky neighborhood that's won his heart.
You were born here in Miami. What is your earliest memory of this city?
I have a lot of foggy memories of the waterfront at night, especially the way it smelled and the way lights reflected off the surface of the water. On a kid the ocean has an infectious effect. It makes you feel like you never want to be too far from it.
When did you know you wanted to be an artist?
By the time I entered high school I was into so many creative pursuits it didn't feel like there was any alternative. I was in bands and making films, while going to figure drawing classes in the evening. I didn't know I wanted to be an artist but I knew that I liked whatever I was feeling at that time, and that I wanted to feel it my whole life. I never said, "I want to be an artist" or "I want to be a designer." Perhaps that's why it's felt natural to move across different fields.
How has Miami shaped your craft as a designer?
Every element in my design work comes from my surroundings, so, quite a bit. The most important thing I've learned from working here is how global Miami is. Nothing here happens in a bubble. Even if you take something that might appear to be uniquely from here, it can't exist without a larger context. For example, take the cliché Art Deco style that people tend to associate with Miami Beach. It came from an international movement that lasted for a large portion of the 20th century. You can't look at those buildings outside of the global context. That being said, a lot of cultures come together to give Miami a unique feel, and I try to embrace all of them.
Read the full interview here.