Anna Betbeze's Hot Fruit in Wall Street International
February 14th, 2017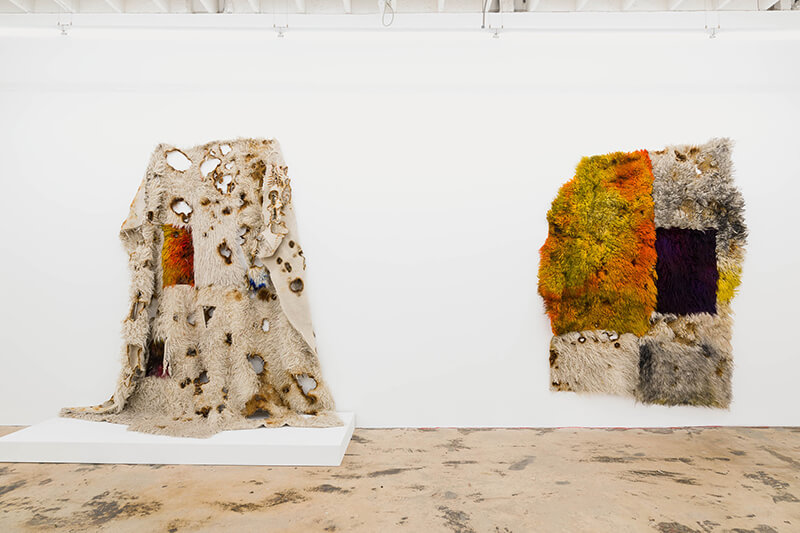 Anna Betbeze works out of a storm of fire and color and fur. Fluffy wool carpets become her surfaces with aggression and caress. For years, Betbeze has used the traditional wool rugs to meditate on saturation, volumetric color, touch, pleasure, class, ritual, and value. For her debut exhibition at Nina Johnson, Betbeze will exhibit several large scaled works alongside a new series of works on paper.
Betbeze thinks of this body of work as developing a dynamic relationship to the present moment, to empathy and eroticism. Betbeze lashes and contours, breaks and repairs her material. Color is allowed to be fugitive: running, changing, mixing, saturating, in time.
Anna Betbeze has had solo exhibitions at Markus Lüttgen, Luxembourg & Dayan, Kate Werble and Francois Ghebaly. Her work has been shown at institutions such as MOMA PS1, Massachusetts Museum of Contemporary Art in North Adams, Musee d'Art Moderne de la Ville de Paris and various other galleries and institutions around the world. Her works are in the permanent collections of The Johnson Museum of Art at Cornell University and the High Museum in Atlanta. Her work has been reviewed in The New York Times, The New Yorker, Artforum, Modern Painters, New York Magazine, Frieze d/e, The Los Angeles Times, Kaleidoscope and Monopol. She is a recent recipient of the Rome Prize and a New York Foundation for the Arts Fellow. She holds an MFA from Yale and currently lives and works in New York City.
To read this article in Wall Street International, CLICK HERE