Art in Public Places Bhakti Baxter, Coral Reef City
March 5th, 2014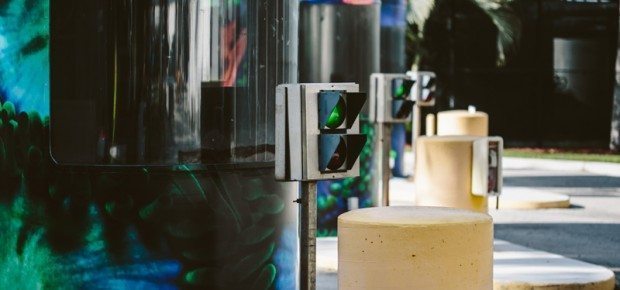 Gallery Diet is delighted to announce Bhakti Baxter's first large scale public artwork in Miami, 'Coral Reef City'.
Bhakti Baxter's design for the toll collection booths references PortMiami's unique position as a gateway to the tropics. Featuring eighteen unique designs, the artist collaborated with Coral Morphologic, a Miami-based scientific art endeavor led by marine biologist Colin Foord and musician Jared McKay, to select enlarged macro photographs of corals that inhabit the waters in and around Miami. The rainbow of colors presented by these soft corals (zoanthids) reinforce the image of Miami as a vibrant, tropical, and coastal city and propagate the idea of Miami as the 'Coral Reef City'.
This artwork is part of the collection of Miami-Dade County Art in Public Places program, made possible with the support of the Miami-Dade County Mayor and Board of County Commissioners.
Miami-Dade County Art in Public Places is a program of the Miami-Dade County Department of Cultural Affairs and is responsible for the commission and purchase of artworks by contemporary artists in all media. One of the first public art programs in the country, Miami-Dade Art in Public Places was established in 1973 with the passage of an ordinance allocating 1.5% of construction cost of new county buildings for the purchase or commission of artworks, educational programs and collection maintenance. The Art Trust Fund is administered by a County Commission-appointed citizens' board, the Art in Public Places Trust, in consultation with its Professional Advisory Committee. For more information about the Art in Public Places Program and the Miami-Dade Department of Cultural Affairs, please visit www.miamidade.gov/publicart and www.miamidadearts.org.
To view the work please visit PortMiami and the following video.
Download PDF HERE