ArtSlant Interview: Christy Gast at NADA Hudson by Lori Zimmer
August 4th, 2012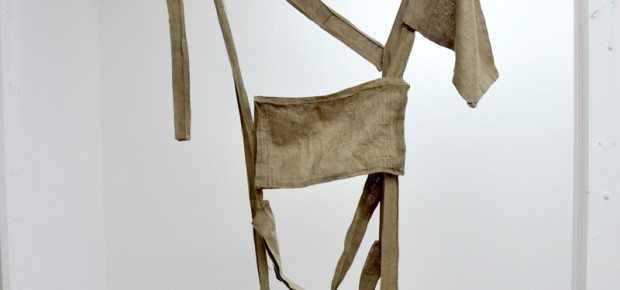 Miami's Gallery Diet, directed by Nina Johnson, was one of forty-eight project-participants in this year's NADA venture in idyllic Hudson, New York. Distinguishing itself from a regular art fair, NADA opted for a singular, curated exhibition with one work from each participating gallery, along with accompanying video and outdoor projects that dotted the grounds.
Diet presented Christy Gast's Salton in the Hudson space, which was influenced by and completed inside the location, making it a somewhat site-specific piece without the initial intention of being so. The piece, combined with a screening of Gast's video Potato Salad Hill, in the video program curated by Grela Orihuela, contributed to the cohesive NADA program.
Being in the land of fresh air and swimming holes – without the Hamptons fluff – in the heat of the New York summer changed the art fair context, and Johnson likens NADA's presentation to more of a retreat experience, in contrast to the rows of boxcutter booths. With many clients already summering in the area, and those who remained in the city eager to escape for a day, Johnson's experience with the fair was refreshing, bordering on the feeling of a museum exhibition rather than a commercial environment for hawking art.
With the happiness of the galleries, and the fair goers, could this type of "curated experience" be the next step in evolution of art fairs?
Lori Zimmer: For NADA Hudson, you chose Christy Gast's work to represent Diet Gallery. NADA's main hall included one piece from each of the forty-eight participating projects. Which piece did you choose and why?
Nina Johnson: Christy recently completed a very successful solo show at Diet, Out of Place, in April. The piece we chose to exhibit at NADA was Salton; it was part of the same series of works that were shown in Out of Place but too large to include with the other works at the gallery. We felt this was the perfect space and context to show it. In fact, Christy completed the work with the Basilica in mind and I think it showed. The work appeared to have grown out of the space and had a very strong presence.
Read the full interview HERE