Bhakti Baxter, Christy Gast and Nicolas Lobo featured in Sarah Trigg's Studio Life
August 30th, 2013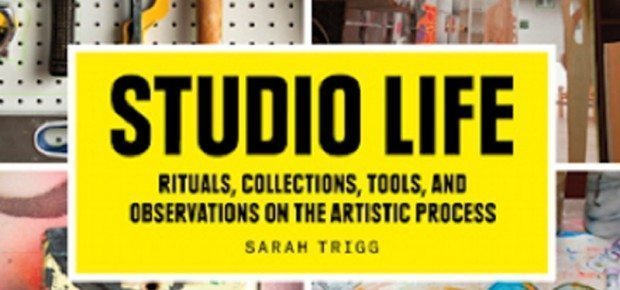 In 2009 artist and writer Sarah Trigg embarked on an ambitious field expedition across the United States, interviewing more than 200 artists in their studios. She sat down with everyone, from painters to performance artists, to investigate a wide range of artmaking practices. The result is Studio Life, a fascinating photographic and written account of 100 of her most illuminating visits. Trigg asks her subjects to share objects and working habits in six categories: mascots, collected objects, rituals, makeshift tools, residue, and habitats. These talismans and behaviors provide a framework for artists to reveal insights into their practices and the nature of the creative life. Intriguing and often humorous anecdotes emerge, of one studio s mysterious sealed vault, another s resident bunny, and countless sources of inspiration are unearthed: vintage comics, purses, and kitschy figurines; faded yearbooks and treasured cards and letters; and one handwritten reminder to Quit Feelin Sorry for Yourself. Accessible and relevant for amateur aesthetes and art-world professionals, Studio Life offers an insider s view of the artistic process as well as a snapshot of the most interesting work being produced today.
A fascinating alternative approach to understanding art Includes 100 artists (painters, sculptors, photographers, video artists, and performance artists, among others) from the established to those beginning their careers
Artists include William Wegman, Pat Steir, John Baldessari, Carol Bove, Rashid Johnson, Peter Halley, Fred Tomaselli, Tony Oursler, Jim Shaw, Michelle Grabner, Tauba Auerbach, Theaster Gates, Dana Schutz, and David Altmejd, among many others
A visual index provides biographical information and references to locate additional work for each artist.
Sarah Trigg is an artist, writer, photographer, and the mastermind behind the widely read website The Goldminer Project. She lives and works in Brooklyn, NY.
Purchase Studio Life HERE