Bhakti Baxter in The NewTimes
October 6th, 2011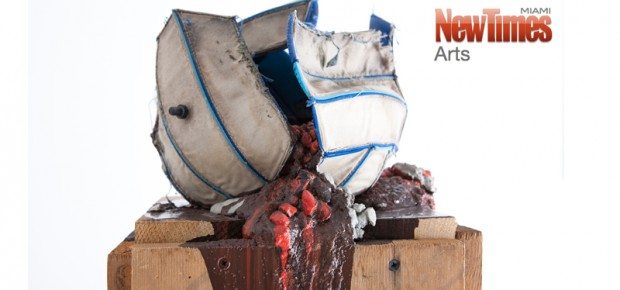 Taken from Wynwoods's October 8 art walk has bear Jews and street hookers by Carlos Suarez De Jesus.
Published: October 6, 2011 in the NewTimes
Around the corner at Gallery Diet (174 NW 23rd St., Miami), Bhakti Baxter's ball-busting exhibit is the locally based artist's first Miami solo show in four years.
The highly anticipated exhibit, which includes sculpture, painting, collage, and installation-based work, is called "Rompelotas," a play on the Spanish term rompe pelotas, which translates to "ball breaker."
Look for some adroit legerdemain from Baxter, whose exhibition juggles the laws of gravity, density, and the malleability of mass while striking a balance between play and placement.
You can also expect him to employ found objects — such as soccer balls and office desk drawers encrusted in concrete and enamel — to portray what the gallery calls "irrational models of natural phenomena."
If you need further convincing, don't miss Baxter's impressively titled Imploded Volleyball Barf (Cosmic Yolk Residue of Transformation) Mom's Garage, cobbled from Southern pine, a volleyball, concrete, enamel, metal, and screws.
Read the full article here