Cash Me Out reviewed in Miami Rail
June 26th, 2017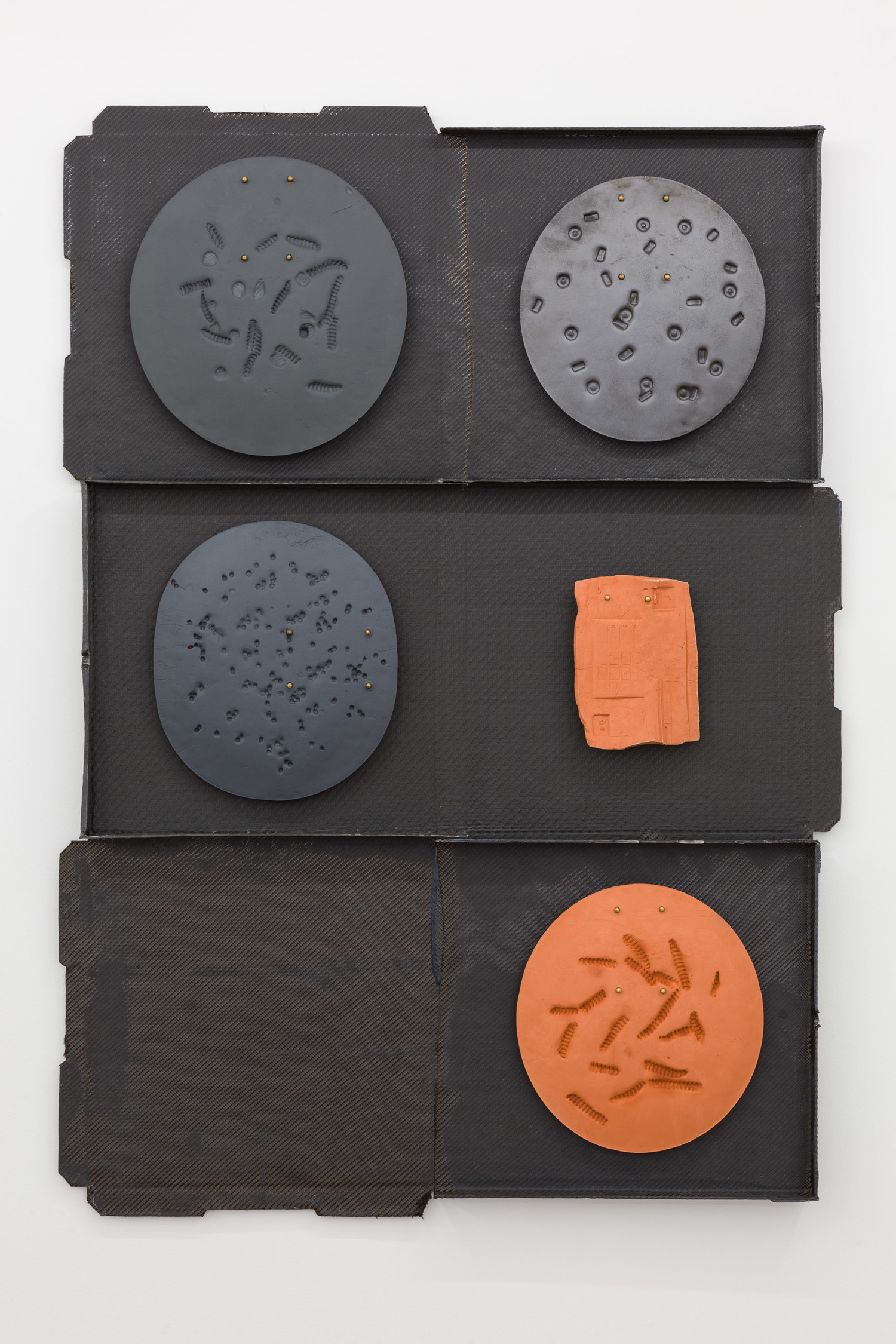 Nicolas Lobo presents six sets of terracotta bas-relief impressions of common manufactured and processed foods in his latest exhibition at Nina Johnson, such as breakfast cereals, M&M's, and French fries, alongside imprints from ATM machines. The non-uniform porous disks and spreads are attached to black carbon-fiber sheets shaped like take-out pizza boxes. Each set carries its own timbre, creating a feeling of resonance, an active embodied cognitive play, calling on memory and a simulation of desperation in which one is being pulled into the metamorphosis of monetization and the relationship to material geographies in the global structure. This structure is cracking, but before it breaks Lobo maps out the invisible conditions of its tenuous design.
The exhibition's title associates the work with the now infamous Internet celebrity Danielle Bregoli's question, "Cash me outside, howbow dah?" Bregoli appeared on the daytime television show Dr. Phil, who was supposed to be her advisor, but under his watch the thirteen-year-old's absurdity soon translated into celebrity, which is later summed up into a potential million-dollar-generating meme. The lack of respect she shows for the basic legitimacy of the adults surrounding her is certainly reflective of current political sentiments. It is emblematic of the lack of the legitimacy that society imbues in many of its own people. Is there a foundation here? That question bridges the similarity I see between the Bregoli moment and Lobo's excavation. Lobo's excavation seems founded in this question.
The social disorder contained in this dynamic force me to grope around for a foundation; it makes me afraid that there isn't anything there. It is like putting your hands in murky water and deciding to either desperately scrape around for what's there or just try to get the fuck out. "Cash me out," in the gambling sense, conjures that sort of same feeling as well, an uncertainty that deadens our faith in a favorable return. Lobo's sensibility is reminiscent of Allan Sekula, whose work focused on large economic systems, but I also see a conversation with neo-romantic Czech photographer Josef Sudek, who captured the oppression of war in a surreal and melancholic photographic game.
Lobo's Cash Me Out is very much in touch with both the reality and surreality of our existence in the early twenty-first century. It all seems like a gamble, and the artist wants out.
Jamilah Sabur was born in Saint Andrew, Jamaica, and lives and works in Miami. Sabur received her BFA in interdisciplinary sculpture from Maryland Institute College of Art in 2009 and MFA from University of California San Diego in 2014.
Read More on The Miami Rail