Christy Gast Featured in Biscayne Times
December 4th, 2011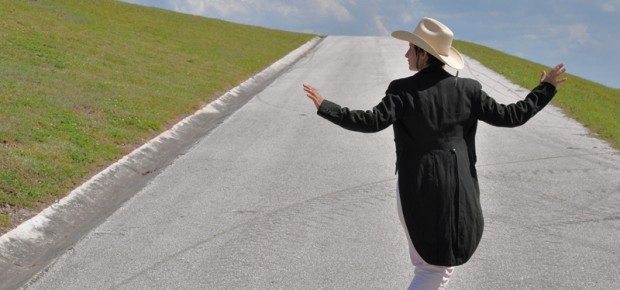 Take from Going Public by Ann Tschida, BT Arts Editor
Published December 2011, Biscayne Times
…Someone coming on a tour or just stopping in last year at this time would have encountered a video from local artist Christy Gast, who also shows at Gallery Diet in Wynwood. Titled Herbert Hoover Dyke, the video shows Gast, dressed in a tuxedo jacket and cowboy hat, tap-dancing across the dike that holds in Lake Okeechobee.
Under an expansive Florida sky, Gast taps around limestone pilings, egrets, and steel grates, creating a musical soundtrack. There are a couple of dualities here: Gast is dressed in what would traditionally be formal men's wear; and the 30-foot-high barrier surrounding the huge inland sea is both loved and hated. Some say the Hoover dike is a great impediment to the natural flow of the Everglades, and ugly too.
Others, who reference the massive floods that killed thousands in the 1920s, say it is a life-saver. It was an alternative — and literal — take on barriers and what they mean.
The video was shown in the Project Room, which is set aside to highlight local art, and site-specific pieces at that. Herbert Hoover Dyke was commissioned by the de la Cruzes after a proposal that Gast sent in. It's clear, says the artist, that "there is a lot of community involvement, and artists feel at home there."
Gast was later invited to give a workshop on so-called inflatables — sculptures that are inflatable, temporary, and pretty much fun. "The collection has a super interesting educational program, where artists give workshops on topics that interest them, rather than a set curriculum," she says of the workshop.
The artist guided students from New World School of the Arts, the Design and Architecture High School, and University of Miami "through the process of conceptualizing and fabricating a large-scale, collaborative, site-responsive inflatable sculpture," says Gast. The de al Cruzes "decided to exhibit the piece in the space for a few months, which was a thrill for the folks who made the project. It looked really great in the space, since it was inspired by the architecture and the art."…
To read the full article, click here