COMING TO LIGHT: ARTIST WOODY DE OTHELLO'S WONKY DOMESTIC VISION IN MIAMI
December 22nd, 2020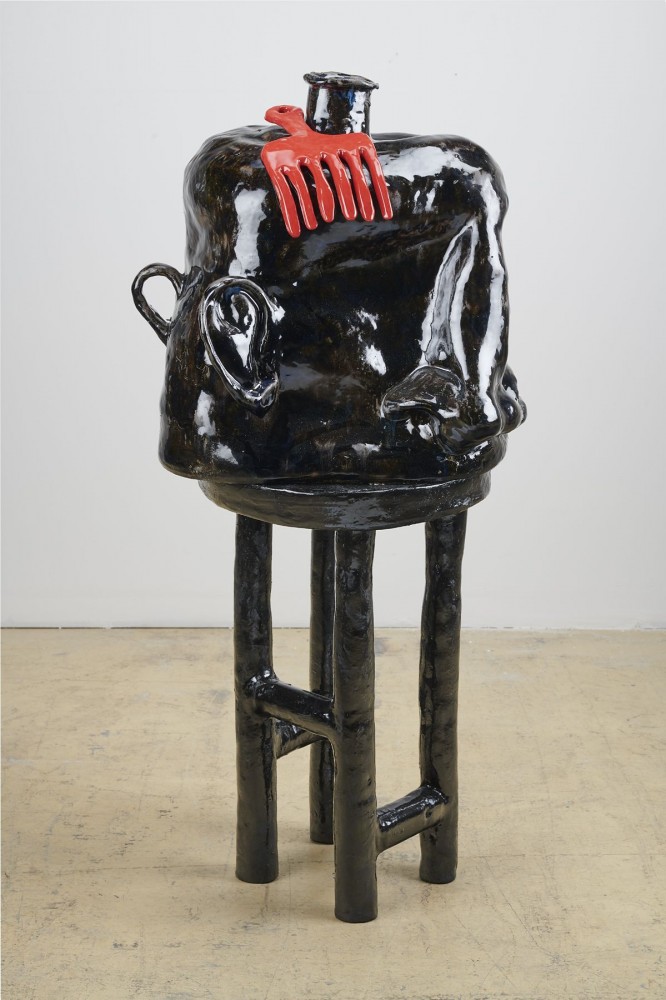 By Ade Omotosho
The domestic is too often imagined in dull, monotonous ways. So it's refreshing to take in Coming to Light, an exhibition of new works by Woody De Othello at Nina Johnson Gallery in Miami. The show invites us into De Othello's vision of wonky domesticity. We glimpse all the familiar objects (chairs, light fixtures, glasses, curtains), but a lively strain of anthropomorphism (notice those jutting ears!) stirs here and there.
At the heart of the show are De Othello's characteristic vessels, arrayed on tiled pedestals. Each vessel, playful and even pensive, evinces the penchant for distortion that has marked De Othello style's for some time now, since leaving his native Miami to study in California, where he now lives in Oakland.
The vessels reward viewing in the round. The lineaments twist and turn as you circle the works: a hand passes as a mouth; a nose swells into a hand. Much of the show's fascination springs from this metamorphic duality. De Othello dispenses with tidy symmetry, relishes uncanny proportions.
The works are burnished in a brooding, somber blue-black glaze that glints in the gallery. De Othello's brisk humor glints throughout, too. For instance, take In Thought Picking Which One to Mask (2020): a bright red comb charmingly perches atop the vessel's head, its wriggly teeth falling like strands of hair. But that humor is occasionally deflated by a sunken mood. Unwieldy chains subdue the sober vessel of Self-Containment (2020). Is the confinement externally or internally imposed? Or both?
The sculpture finds its equivalent in the painting Private Moment (2020), just one of a few paintings in the show. How glum, you think, as you encounter its central green figure crumpled in a running shower. And how wincingly familiar. Perhaps that was you one morning amid this relentless year. We've been encased in overwhelming cruelties. Stretched this way and that. Let's take some cues from De Othello's vessels: life demands a bit of contortion, which is to say a little imagination.