Designer of the Day: Minjae Kim
November 28th, 2022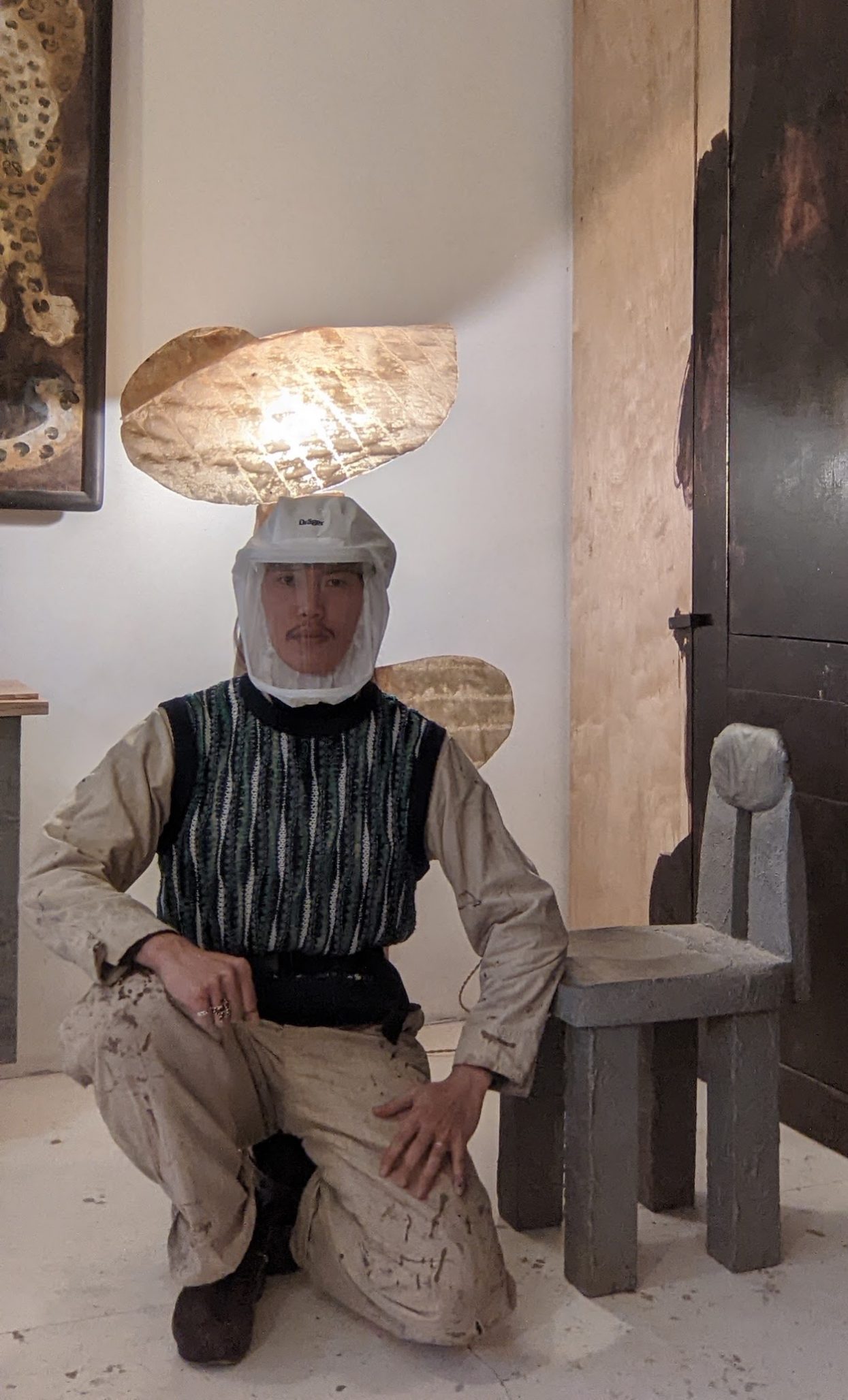 Here, we ask designers to take a selfie and give us an inside look at their life.
Studio location: Brooklyn.
Describe what you make: I make functional furniture and other objects. Sometimes they veer away from strict function and just exist!
The most important thing you've designed to date: I've been making all these carved chairs, most of which were carved out of what I call "blank chair." It's a chair assembled out of nine solid douglas fir pieces; A rectangular block that allows me to carve a chair out of or sometimes add volumes as needed to create a unique chair. Quite often I design these "blanks" with specific spec and detail so I can do my improvised work, but the "blank chair" is the one that I use most often and quite fundamental to my practice.
Describe the problem your work solves: Sometimes my work allows one to place a piece of furniture where they don't really want a piece of furniture there.
Describe the project you are working on now: I'm working on a few stools to go to a new cafe opening in Berlin. Once the Miami show is open, I would also like to work on my apartment a bit more as well. I'm hoping to catch my breath a bit!
A new or forthcoming project we should know about: I have a solo show titled "IYKYK" opening at Nina Johnson Gallery on Nov. 28. I've been working on chairs and lighting fixtures with explicit Korean references. But they are on IYKYK bases. I've been able to reference or recreate some of my favorite moments of Korean artifacts in my own language.
What you absolutely must have in your studio: Storage. When necessary, I appreciate being able to pretend that my studio is not where all the messy work takes place and it's just a room where the work exists. Ventilation is very important for me as well.
What you do when you're not working: I go on YouTube or Instagram and let the algorithm take me on a silly journey for hours, away from sensible things like paying the bills or going to the farmer's market.
Sources of creative envy: I look at someone like Picasso or Calder and I'm just puzzled at how they were able to produce so much. To have such drive must be insane. I get so exhausted around lunch!
The distraction you want to eliminate: Lunch break can be so long or disorienting sometimes. I wish there was a cafeteria in my studio building or I didn't need to eat lunch. I mean I always enjoy it and look forward to it but sometimes you just want to keep going.
Concrete or marble? Concrete?
High-rise or townhouse? Townhouse?
Remember or forget? Remember?
Aliens or ghosts? Ghosts?

Dark or light? Light?