Emmett Moore and Nina Johnson-Milewski on WLRN/NPR radio
December 9th, 2014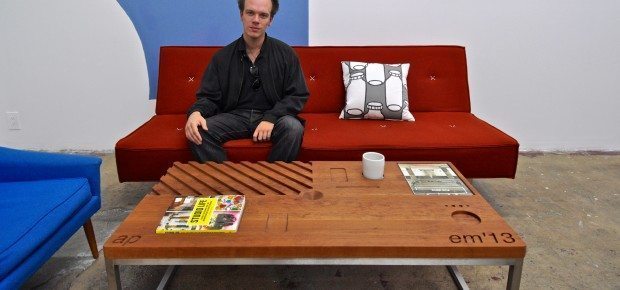 Emmet Moore is a South Florida artist through and through. He grew up in Miami and returned after college. That's when he set out to become an artist full-time. It's still early in his career but so far he's making it work: His work has been exhibited at a few art galleries, including Gallery Diet in Miami's Wynwood neighborhood.
The annual congregation of the global, contemporary-art community in South Florida that is Art Basel Miami Beach brings buyers and patrons to locally based artists. Basel and the dozens of art fairs surrounding it have increased Miami's reputation in the art world, but how has that affected local creators? Do the high prices and attention paid to Basel art suck all the air — and cash — out of the room?
Monday's Sunshine Economy: Beyond Basel — The Art Market in South Florida examines the art market environment for local artists. We speak with Moore and Nina Johnson-Milewski, owner of Gallery Diet, about surviving in the regional art economy. One of the significant trends is street art. When December rolls around, freshly painted murals turn up throughout South Florida neighborhoods. The murals act as art and advertisement for the muralists, leading some to greater success and work.
One of the most public displays of financial support for the local artist community comes from the Knight Foundation. This year, its Knight Arts Challenge doled out $2.72 million to 49 artists and cultural groups. It is the sixth year of the grants. We talk with Knight Foundation vice president for the arts Dennis Scholl about the purpose behind the effort and how the grants affect the broader artist marketplace in South Florida.
Listen now HERE