Emmett Moore's latest exhibition, "The Grotto", now on view in the Miami Design District
March 18th, 2021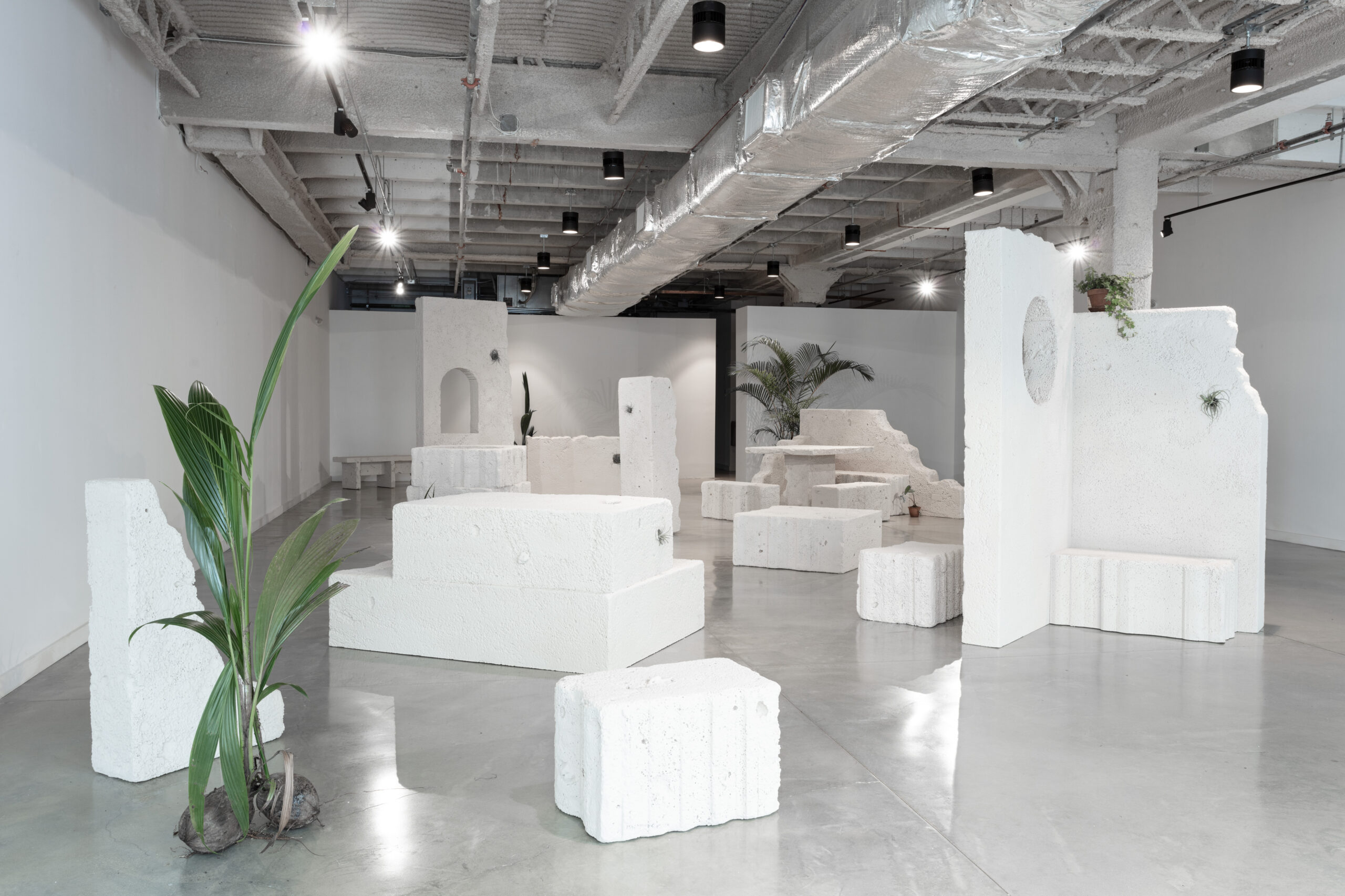 The Grotto
Miami Design District / 182 NE 39th Street, Suite 117 / March 18th – April 28th, 2020
In an ongoing investigation into the relationship between art, architectural systems and human representation of the natural world, Emmett Moore presents The Grotto. Part fiction, part reality, The Grotto is an immersive installation comprised of a series of faux coral boulders sculpted into a secluded lounge inspired by coral rock quarries and the mythology surrounding the fictional identities that form around these places, where the young and the marginalized gather to sequester themselves and share pleasures. The Grotto takes cues from local sites such as the Coral Castle and the Venetian Pool where the quarrying of coral rock acquiesced to a mystical landscape, and a fantasy Venetian enclave, respectively. Each a tropical fantasy created by man in an effort to transport visitors to an otherworldly place. Moore hand crafts each piece with an intricate attention to detail, reminiscent of Italian stone carved furnishing, imbedding each piece with coral rock as well as everyday objects such as cellphones, car keys, and lighters, contemporary fossils of items one might lose while communing amongst the boulders. The Grotto is part pavilion, part folly, where one can escape from everyday life. 
About Emmett Moore
Emmett Moore is a Miami-based artist and designer known for a technically rigorous interdisciplinary approach that challenges notions of functionality. His work has been shown institutionally at the RISD Museum, the Frost Art Museum, the Miami Art Museum, the Bass Museum of Art, and is in the permanent collection of the Perez Art Museum Miami. He was the first Miami-based designer to exhibit a solo exhibition at Design Miami/. Moore graduated from Design and Architecture Senior High in Miami and received his BFA in Furniture Design from the Rhode Island School of Design. Moore is represented by Nina Johnson gallery in Miami. Moore sits on the board of directors of the Dade Heritage Trust, a group that aims to preserve Miami's architectural, environmental and cultural heritage, and has recently completed construction of a home in collaboration with Arquitectonica in Miami's Spring Garden Historic District.
About Miami Design District
The Miami Design District is a neighborhood north of Midtown in Miami, Florida. The Design DisThe Miami Design District is a one-of-a-kind neighborhood that combines luxury shopping, galleries, museums, design stores, restaurants and major art and design installations all within an architecturally significant context. The Miami Design District is owned and operated by Miami Design District Associates, a partnership between Dacra, founded and owned by visionary entrepreneur Craig Robins, and L Catterton Real Estate, a global real estate development and investment fund, specializing in creating luxury shopping destinations. As Miami becomes increasingly known for its own rich culture, the growth of the Miami Design District further reflects how the city is deserving of its place on the global stage.