Entertaining With: In Miami, a Dinner to Celebrate Creative Sisterhood
December 30th, 2022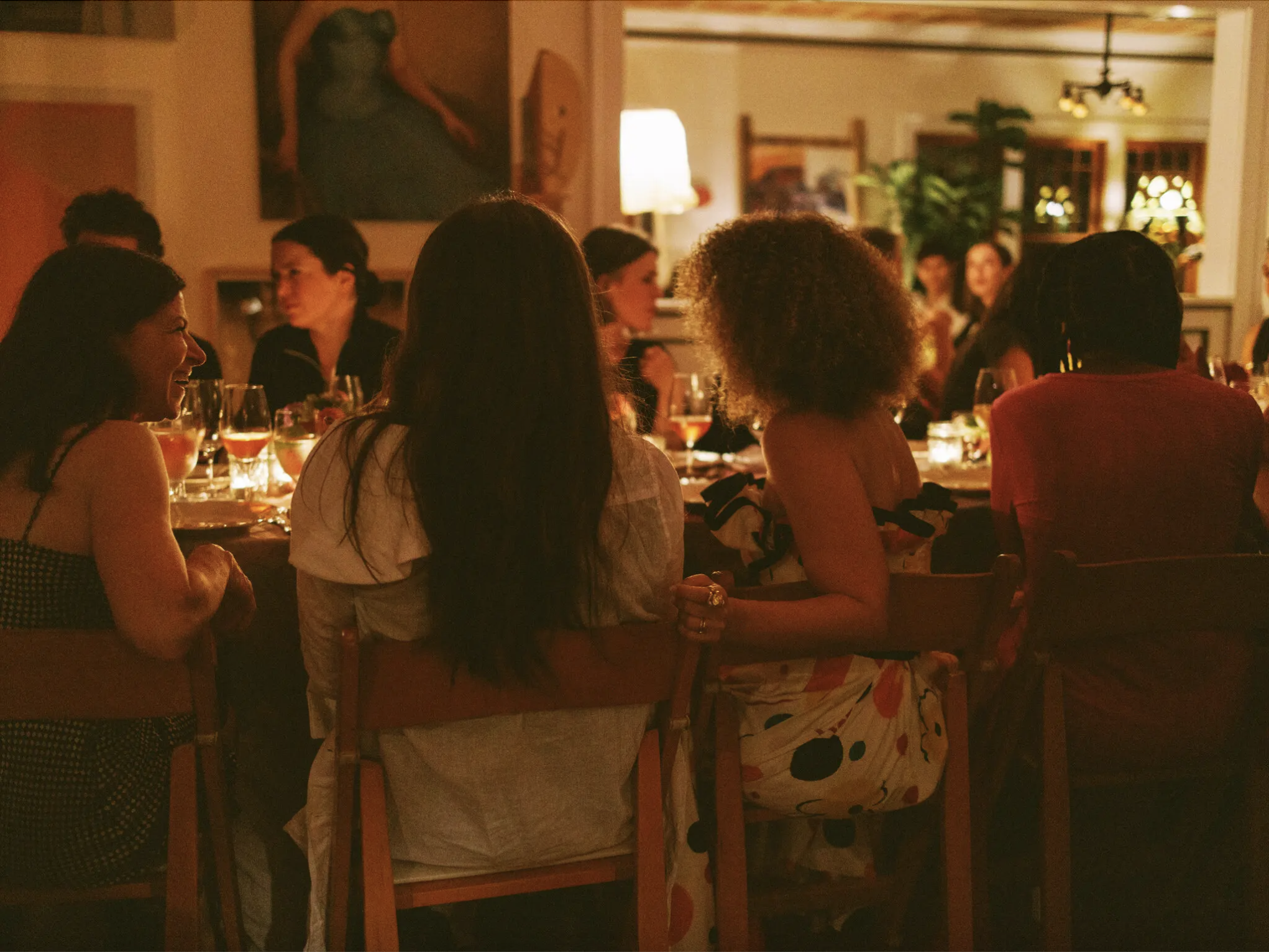 Friends and collaborators gathered at the gallerist Nina Johnson's bungalow this month to toast the artist Rochelle Feinstein.
On a balmy evening earlier this month, the gallerist Nina Johnsonhosted a few dozen guests in Shorecrest, a residential neighborhood about nine miles west of South Beach — where Art Basel Miami Beach and Design Miami were then in full swing — for a dinner that was imbued with the verve and creativity of the artist it honored, Rochelle Feinstein.
The setting was Johnson's eclectic, art-filled 1920s Craftsman home, which she shares with her musician husband, Daniel Milewski, their two young sons and Gordy, a Newfoundland who spent most of the evening sitting by various guests' feet. Johnson co-hosted the event with the heads of two other namesake galleries, Bridget Donahue, who is based in New York, and Hannah Hoffman, who is based in Los Angeles. Since the beginning of this year, those three women, along with three more female gallerists — Candice Madey, of Candice Madey gallery in New York; Francesca Pia, of Galerie Francesca Pia in Zurich; and Emanuela Campoli of Campoli Presti gallery in Paris — have worked collectively to represent Feinstein. "It's like a sisterhood but without the arguing," Feinstein said beside Johnson's pool early in the evening.
The dinner celebrated a year in which Feinstein, 75, showed at all six galleries and began to reach a broader audience with her diverse body of work, which includes abstract paintings, prints and video, often incorporating text and collage. "Rochelle has been working so hard for so long, with mostly peer attention, and it felt like we wanted to do something to really celebrate her," Johnson said. "I just said, 'Let's do it at my house.'"
In keeping with the team spirit of Feinstein's dealers, the meal was a collaboration at every step. To oversee the menu and the table's décor, Johnson recruited the artist Simone Shubuck, who was referred by the journalist Kim Hastreiter, a mutual friend. Since Shubuck's culinary specialty is sculptural ice cream cakes — she's been making them for about a year, and is also a founder of the online creative platform Wifey, which at one point had a physical pop-up that carried edible treats as well as art — she called a friend from Detroit, Ben Hall, a chef who also trained as an artist, to prepare the main meal. Hall, in turn, brought in Kiki Louya — a chef and neighbor of his who shares Hall's commitment to food as well as social activism — to be his co-chef for the evening.
Dinner was scheduled to begin at 9, with a generous window for cocktails starting at 7:30 to account for Miami Art Week's inevitable traffic snarls. Guests first gathered outdoors, near the pool, surrounded by a lush canopy of trees strung with festive lights. Coupe glasses of lychee martinis were served, as were small shots of carrot soup laced with lemongrass and a funky hit of toum, a Lebanese garlic paste, and tiny discs of beet risotto arancini. "Knowing it's a late dinner, most people are going to be pretty hungry; you want to give them something that's going to cruise them in," Louya said. "Basically, it's like banchan: little things that are wildly delicious."
Everyone then moved inside to sit at long tables that stretched between the home's dining room, living room and foyer, where Feinstein's piece "Happy Birthday x Rachel" (2009) a multimedia collage that incorporates elements of a gift from the artist Rachel Harrison, hangs above the family piano. Covering the tables were textiles — adorned with vibrantly colored amorphous shapes in spray paint, acrylic paint and Sharpie — that Shubuck created specially for the event, drawing inspiration from Feinstein's work (the fabrics were drop cloths from a New York hardware store, the same ones Feinstein uses as canvases). Shubuck also made small ceramic vessels for the table's floral arrangements — peonies, ranunculus and clusters of miniature veronica flowers interspersed with tiny green Mysore bananas and persimmons — as well as some of the serving dishes. The tableware otherwise comprised, in part, pieces from Shubuck's personal collection that she'd had shipped down from New York: vintage yellow Richard Ginori demitasses and Steubenville and Haviland cups. "I like that kind of high-low mix, of something raw and stoneware and something really beautiful," she said.
The menu was as eclectic as its list of contributors. Coffee pepita mole was served alongside honey sriracha to accompany the main course of lamb shank and snapper, while starters included tahini cucumber salad with sesame and mint. "It was like a conference call between Cairo, Jalisco and Seoul, with Bangkok eavesdropping," Hall said. "It's also how both of us like to eat anyway," Louya added, "and there's so much beautiful produce in Miami that coming down here from what is essentially winter in Detroit, it was like being a kid in a candy store."
The guest list included people from various sectors of the art world. There were artists such as Katie Stout, whom Johnson represents, and Miles Huston; curators like Arden Sherman, from the Norton Museum of Art; Jane Hait, who recently founded the nonprofit Center for Art, Research and Alliances in New York; and several collectors of Feinstein's work. Donahue and Hoffman were there, too, but not the other gallerists: the Europeans weren't in Miami, and Madey, who was expecting a baby soon after Art Week, stayed in New York.
For what Shubuck called the "fireworks show at the end," she brought out four elaborate ice cream cakes, decorated with details such as large flowers and giant chocolate mouths in a nod to Carvel's cult classic Cookie Puss cake. She'd schlepped many of the ingredients and tools she used to make them — including a mixer — down to Miami from New York on the plane in a hockey bag. Two featured a combination of chocolate and a custom-blended pistachio-amarena cherry ice cream created by the Miami-based Frice Cream; the other two were flavored with passionfruit, vanilla and almonds. "There was a little bit of a show of me bringing them out," Shubuck said, "so it had a performance element. It was like a finale of sorts to a really layered and special meal." Here are some of the strategies from the dinner's planning that helped make it memorable.
Be a Good Neighbor
As they were organizing the dinner, Johnson and her co-hosts agreed that asking a Miami-based chef to cook during Miami Art Week would be unwise. "At first, we thought, 'We know so many great chefs locally that do amazing work,'" Johnson recalled, "but, of course, asking a local chef or restaurateur to do anything this week and leave the premises of their own operation is an impossible ask."
Cook With Team Spirit
Friends helped connect Shubuck, Hall and Louya with local purveyors like Alex Meyer, a chef and owner at the lauded Miami restaurant Boia De, who pointed them toward nearby businesses such as Paradis Books & Bread to source natural wines including a white Grüner Veltliner and an Umbrian Sangiovese rosé; Frice Cream to supply the ice cream for Shubuck's cakes; and Blue Runner Seafood, which sells freshly caught fish from a truck parked a couple of miles away from the house.
Be Flexible
The original plan for the evening was to serve the meal outdoors, with the seating configured as one long table, but after an afternoon of intermittent rain, the decision was made to move dinner inside, where fireplaces and colorful furniture give the home a warm, welcoming feel. "In the end, moving it indoors was way better than we ever imagined that it could be outside," Johnson said. "It felt cozier and friendlier and it felt more unique and particular to our space and our surroundings. And, of course, the guests were none the wiser: They showed up and it seemed like it could have always been indoors."
Incorporate Local Color
Johnson, who grew up about 25 miles southwest of the neighborhood where she now lives, has entertained out-of-towners in her home during Miami Art Week before. The residential area is a short drive from her gallery but removed from the cacophony of the fairs. "It's always been really important to me, as somebody who was born and raised here, to show our guests, which I sort of consider to be the larger population during Basel, a part of Miami that feels real," she said.
Stay on Theme
The evening's food was inspired not just by Feinstein's work but also, to an extent, by her taste. As Johnson put it, "Rochelle is the person that, when I'm in New York, we go and have dinner at the corner bar and drink a Manhattan and have some French fries," Johnson said. "She's not a three-month waiting list restaurant kind of gal, so we wanted to make sure that the menu reflected that. Also, our house isn't like that."
During the meal's planning stages, Shubuck considered whether her own charismatic signatures might upstage the guest of honor. "I did pause," Shubuck recalled. "This is her night — how much personality am I going to bring forward? Nina was like, 'Full personality — it's for her, in celebration of her.' So it was just kind of getting that permission to go off. I see the whole experience as an artwork."