Fabienne Lasserre at KANSAS Gallery
January 14th, 2012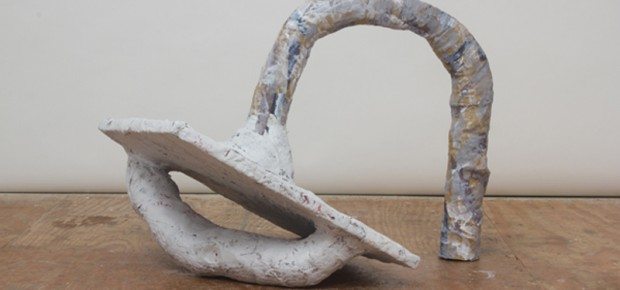 FOR IMMEDIATE RELEASE
Cheat Chains and Telephone 14 January – 18 February, 2011
OPENING RECEPTION 14 January, 6-9 PM
KANSAS is pleased to present Cheat Chains and Telephone, a group exhibition featuring new works by Fabienne Lasserre, Elisa Lendvay, John Newman and B. Wurtz. Opening January 14, the exhibition runs through February 18. By obscuring material hierarchy and challenging the codification of an art object, the artists in Cheat Chains and Telephone expose the pluralism of sculptural assemblage. Together, these works enumerate a spectrum of approaches to parallel concerns: collection, found objects, the currency of labor, economics of material content and the general multiplication of visual assemblage.
Fabienne Lasserre's practice involves the use of pliable materials such as linen, wood, handmade felt and paint, and the work represents what the artist calls an "excluded middle" – the part that is left out when things are named or divided into categories. To achieve this hybridity, Lasserre stretches and elongates forms, arriving at shapes and volumes through pressure and touch that evoke the language of furniture, playground equipment and commercial signage, among others. Reflecting the artist's interest in science fiction and mythology, these works take on the shape and stance of a familiar yet ethereal form.
Elisa Lendvay's work absorbs ideas about the underlying poetics of natural phenomena, and combines with formal considerations about art making to create a byproduct of what she terms "colliding forces." She depicts this force or surge in her work as dispersal – each of the works seem to simultaneously come together and break apart. Studio detritus and found objects are cohered into composed sculptures based on their formal attributes and their allegorical imperatives.
John Newman's tabletop sculptures are involved with a rich vernacular of materials and components, both found and fabricated, that obscure the categories to which each belongs. Newman's inexhaustible and ever changing list of materials – bronze, wicker, stone, paper, glass, fabric to name a few – are meticulously and laboriously composed. Impossible couplings of material, shape, color and techniques pile up and offer a dizzying constellation of effects both specific and otherworldly. Forms are imbued with a language connected to a cultural world of object specificity including votive and historical relics and the belongings of a "wunderkammer" – a strange intersection of oddity, craft and artifact.
Since the early 70's, B. Wurtz has limited his involvement with found materials to three fundamental categories: Food, Clothing and Shelter. With a lightness of touch, Wurtz adopts and fashions those qualifying items in a manner that suggests other familiar forms while preserving and emphasizing the utilitarian origin of the found object. The artist transforms plastic bags, shoelaces, wood, yogurt tops, buttons and other orphaned scraps into lowly but charming sculptural objects and wall hanging compositions in an effort that's part "green" and part fetishistic.
For additional information, please contact Steven Stewart at KANSAS by calling 646-559-1423 or emailing info@kansasgallery.com