Fabienne Lasserre in Primary at Nudashank
August 17th, 2012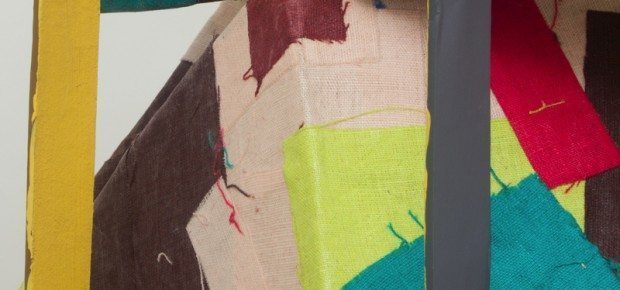 Nudashank is pleased to present Primary, a guest curated survey of recent works in abstraction by ten, female New-York based artists. The exhibition includes works by Katie Bell, Tatiana Berg, Susan Bricker, Stacy Fisher, Amanda B. Friedman, Joanne Greenbaum, Clare Grill, Fabienne Lasserre, Lauren Luloff and Elisa Soliven.
Working against convention, these artists are putting into practice an "abject expressionism" in respect to materials, composition, color and form, sharing a rogue sense of what constitutes beauty. Among other things, the works in this exhibition reflect an instinctual acting upon surfaces or materials. The artists' touches are visible, active, and at times assertive–each tear, scrape, twist and drip intentional and impactful. Comprised of paintings, sculpture and the in-between, Primary is not interested in complete resolution and finishing touches–just warm embraces of the imperfect, irregular and open-ended.
Primary opens on August 17, 2012, with a reception for the artists from 6-9pm. The exhibition runs through September 14, 2012. Nudashank is located at 405 West Franklin Street, 3rd floor, Baltimore, MD 21201. The gallery is open by appointment only; please contact nudashank@gmail.com for scheduling.
For more information click HERE