In Praise of Fast Painting, The Highwaymen at Arcadia University
April 19th, 2023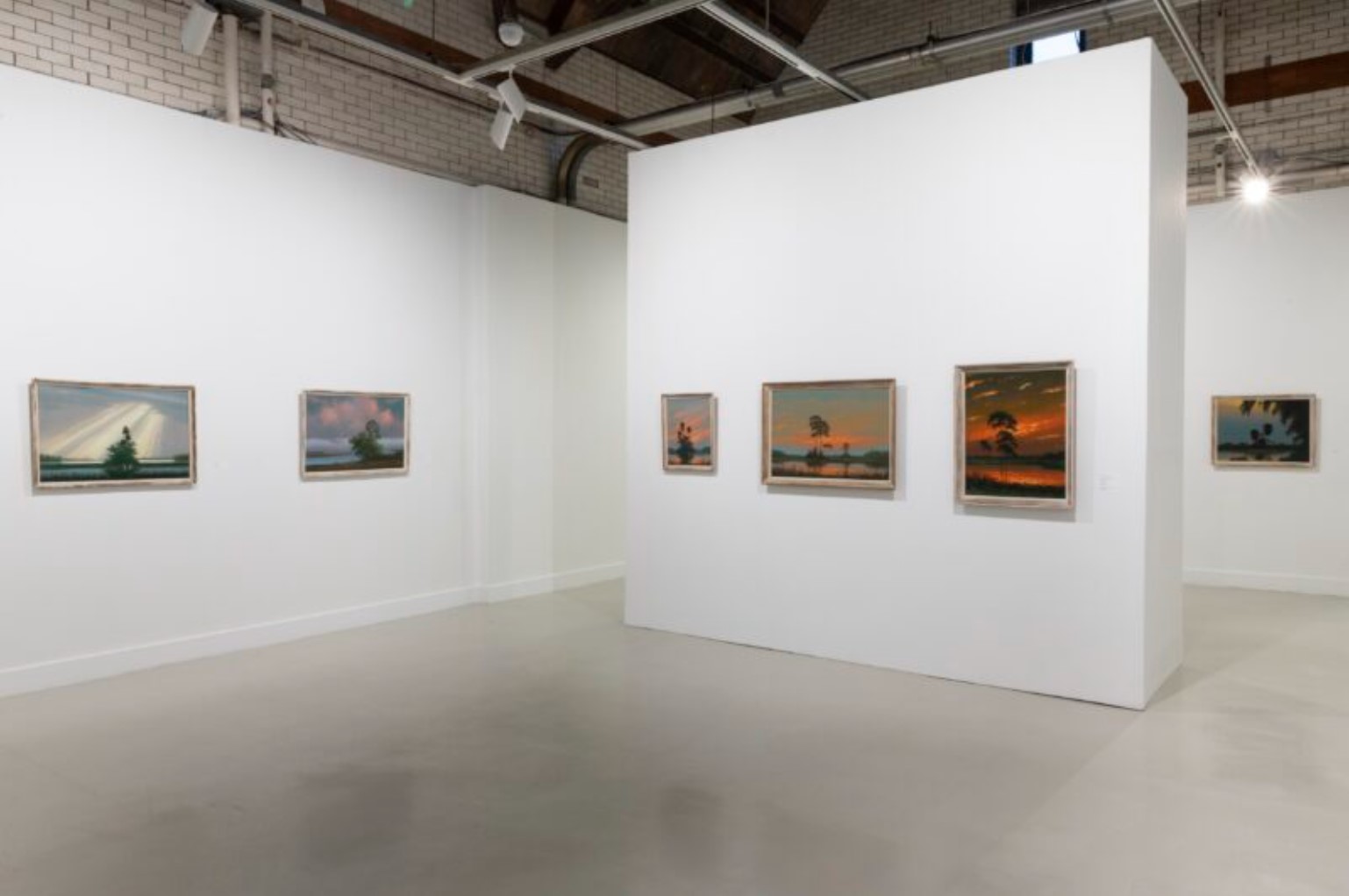 Kate Brock reviews the exhibition "The Highwaymen: Fast Painting the American Dream." The exhibition includes works made by a group of 26 Black painters who came together to form the collective called The Highwaymen in the Jim Crow Florida. Brock explores how the group's "[p]ainting became an alternative form of labor to the subsistence work in the citrus groves, and being far outside any formal "art world" the group carved out lives of abundance from their innovative model.calls the work."gleefully anarchic" See it at Arcadia University Art Gallery, Feb 2- April 23, 2023.
In the belly of Jim Crow era Florida—with its post-World War II boom of newcomers and Sundown towns—a group of self-taught, Black painters were churning out visions of tropical paradise that shaped the aesthetic imaginary of the Sunshine state and an America beyond. The Highwaymen, named for their effective method of selling their paintings from car trunks along US Route 1, were a loosely connected group of 25 men and 1 woman.
Working predominantly out of South Pierce between 1960-1980, the group produced as many as 200,000 paintings. A selection of 16 works on view at Arcadia University highlight 8 core artists of the collective: Al Black, Mary Ann Caroll, Willie Daniels, James Gibson, Alfred Hair, Roy McClendon, Harold Newton, and Livingston Roberts.
The show captures the ingenuity with which the group resourced the mechanics of painting, and were guided by speed and color. Two of the progenitors, Harold Newton and Alfred Hair, trained as teenagers for a short time with the white regionalist painter, A.E. Backus. Newton and Hair borrowed from traditional alla prima, a wet-on-wet method, to work up a shorthand of strokes and shapes to make several paintings quickly and sell them cheaply. This way of working was disseminated through the crew of recruited painters and salesmen, who could adapt it to their own distinct styles.
The show covers a sampling of scenes the group repeated: a cypress tree against an electric orange and red sky, a group of palms at the edge of a choppy shore break, the red poinciana tree, and a snow egret in a lagoon. The images are entangled with mythologies of Florida and borrow from broader traditions of American landscape painting such as the Hudson River School. The painters interpolated the desires of their patrons—mostly white tourists who had access to the burgeoning vacation bungalows and condominiums, businesses, and motels rising up across the state—offering them windows of dense chroma and uninhabited glades.
Painting became an alternative form of labor to the subsistence work in the citrus groves, and being far outside any formal "art world" the group carved out lives of abundance from their innovative model. Working multiple iterations of similar scenes at once, each artist would churn out a set of paintings on Upson boards, a medium weight particle board, stack them using frames made of carpenter trim, and sell them wet. The resulting paintings have a raw, casual charge that invites immediate connection. Unconcerned with authorial ownership, the group worked collectively to make and sell their work without any top-down unifying principles, except for what Hezekiah Baker, one of the artists, said of the group: "We didn't paint for perfection, we painted for color."
The show at Arcadia invites a spread of critical responses to the work around formal and contextual grounds. There are knock-out moments of paint, like a sherbet orange and gray sunset by Alfred Hair, or Harold Newtown's watery reflections which contain almost more information than the skies they mirror. Students of painting can learn much from the economy of their brushwork, and the restraint necessary to make wet-on-wet color sing. It feels important to consider the Highwaymen as an example of a post-war response to the question of how to make a life, particularly one as an artist. The unfussy, casual generosity with which the painters worked—often gathering to paint in someone's backyard for an afternoon—seems to cut across the alienation of more egoic artist collectives. As Gary Monroe, the predominant historian of the Highwaymen's lives and work writes, "They had no rules or dues, there was no organization, charter or bylaws. Yet during their twenty-plus year run these by and large self-taught artists developed a shared aesthetic… . " The balance of individual hand and unifying content makes for a rich dialogue between the works—one I read as almost analogous to theatrical improvisation or musical riffing.
How these paintings fit within the American psyche is complex—sometimes fetishized for their origin or made into surfaces of projection for the fantasy of a virginal landscape or discounted altogether for their low-brow context. Almost all the paintings in the show share a similar spatial range, a scale of human to landscape that holds the latter at a distance. I read into this space a protective quality, a preservation of each artist's inner world and a decision to maintain opacity. The distance feels like a landscape viewed in passing, from the window of a car, the speed intoxicating.