Inside Nina Johnson's Airy New Miami Gallery Space
December 4th, 2018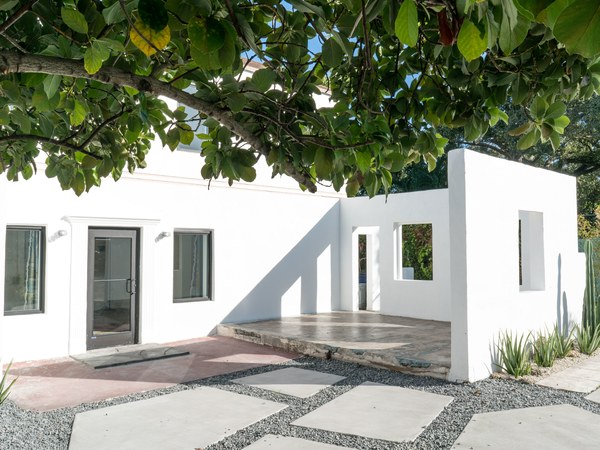 The expansion—executed by firm Charlap Hyman & Herrero—opens just in time for Art Basel Miami Beach
Text by Hannah Martin
"It's like living in a house before you renovate," explains Miami-born gallery owner Nina Johnson. "You have to spend a little time there to know what you want." She's talking about the once-residential building behind her Little Haiti gallery that has remained unfinished since she purchased the complex of four structures in 2014. "I always knew I wanted additional exhibition space, but I wasn't sure in what way."
After a few years to think on it, she called in architecture firm Charlap Hyman & Herrero. They had already elegantly transformed the street-facing storefront into gallery number one—an industrial space with a more commercial feel—and she was finally ready to get started on part two. This time, the commission was slightly different: a sensitive restoration of the two-story residence that would preserve its domestic scale and sense of history. The due date? In time to host Johnson's ambitious show of works by Judy Chicago (also the subject of a show at the ICA Miami), which opened last week, just ahead of Art Basel Miami Beach.
"We approached it really differently than the original space," explains Adam Charlap Hyman. "We were excited to make a set of galleries with a very domestic scale. You still really see the ghost of a residence—the suggestion of home."
Architectural details like the circular glass-block window and the first-level concrete floors were kept intact, while plywood boards were laid for the floors upstairs, arched doorways added, and floor-plans reconfigured to better direct traffic flow.
"Artists need architecture to play off of," explains Johnson. "I think that's what our original space was really lacking. Adam and Andre were so brilliant in leaving certain features of this building present to give it a sense of place."
Charlap Hyman and Herrero had the chance to play off of that architecture themselves, at Johnson's invitation to curate an inaugural show for the downstairs gallery. For "Of Purism," which opened Monday night, they chose to mount a mix of two-dimensional paintings and photos alongside design and textile works that relate to the domestic qualities of the space. One of Cynthia Talmadge's eerie pointillist works and Pilar Almon's omnipotent eye paintings commune with a cheeky chandelier by Katie Stout, a Rorschach-like metal work by Anne Libby, and Nicola L's L'Oeil floor lamp. Outside, a lounge, planter, and table wrapped in resin-coated T-shirts by Emmett Moore are posted up in the new de Chirico–esque courtyard, which Charlap Hyman and Herrero created by removing all but two walls of the building's front addition.
"We thought there was something poetic about that," Charlap Hyman explains. "Like a ruin of a house."
For Johnson, that "ghost" is important, lest the gallery become yet another of Miami's pristine white, historyless buildings. "So often when galleries move into a neighborhood or residential area they create a space that, on the interior, feels so disconnected from the area you're in," she says. "It's important to recognize where you are—to maintain a sense of history and character. I didn't want visitors to suddenly feel like they're in a high-end boutique."
Speaking of the curatorial concept, Charlap Hyman explains, "We were looking at the way that a work can commune with tradition or history but also be radical."
But it's an idea that can apply to both the show, as well as the space.
Charlap Hyman laughs in acknowledgment: "Weirdly, it really is all one thing."
To read this article in Architectural Digest, click here.