It's a Snake! It's an Alien Afterbirth! It's….Some of the Coolest Furniture You've Ever Seen!
December 6th, 2017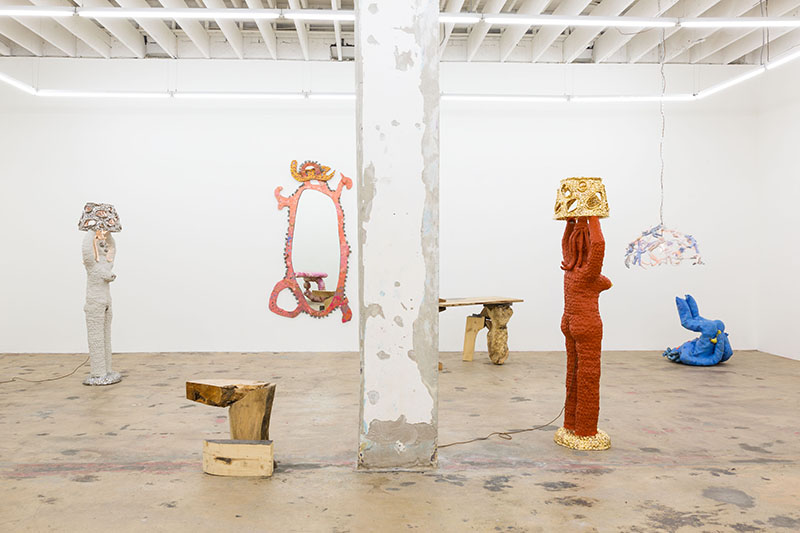 Katie Stout, whose new show just opened in Miami, makes delightful and bizarre furniture that looks like everything but.
As I walked from the Lorimer Street M stop to Katie Stout's studio—which, her publicist had told me, "is N Bedstuy/S Williamsburg (honestly cannot tell which)"—I found myself imagining what it would be like to be Katie Stout. You could call Stout a furniture designer—and it's true, she was a furniture design major at RISD, class of 2012, and three years later she was a contestant on the short-lived HGTV series "Ellen's Design Challenge", "Ellen" being Degeneres. She even won Ellen's design challenge, with a series of pieces that included a striking, streamlined wooden console. But, left to her own devices, Katie Stout makes furniture that does not; Katie Stout's furniture doesn't even always look like furniture, which led me to believe that being Katie Stout is not like being other people.
While preparing to meet her, I'd read an interview in which she said that her practice of making truly and delightfully bizarre, often melted- and misshapen-looking objects is inspired by "everything." And so, making my way down Union Avenue, I tried to be inspired by everything. A huge, empty dirt lot, caged in by a chain-link fence topped with barbed wire and draped in a sheer black, orange-hemmed fabric. A shiny red segment of a new bridge (or a roller coaster?) perched on a flatbed truck. Graffiti on a concrete barrier: "GOUGE → GOUGE →". A pair of rusted, oversized metal bolts driven into a flower bed. A weird little cartoon man made of fruit, with an apple for a torso and a strawberry for a hat and a speech bubble saying "Shop & save," on the side of a flattened cardboard box from an Orthodox Jewish grocery store. It worked: suddenly, everything seemed mysterious and magical.
And the closer I got to Stout's studio, on the third floor of an enormous, hulking, half-abandoned looking stone building, the more intensely I felt it. Stepping through the building's dusty entrance, I got the distinct feeling that people inside were up to no good. Towering stacks of boxes labeled "CLEAR PET CUP 16 oz" stood near the elevators, which were blocked by two yellow metal poles. I slipped through them and rode up, then wandered down the creaky, dilapidated hallway, past a door with a sign reading "Preventive Diagnostics" (which, especially after Googling, I feel certain is a front), and another door painted with the word "PHISH," and another that said "Crisis," in pink. In a corner, under a fire alarm, sat a dusty old leather briefcase and some water-stained pieces of wood. I reached a stairwell, beneath an EXIT sign, and there, across the landing, was a door that didn't look like the other doors, big and metal, like an old-school vault, and painted an invitingly deep shade of blue.
On the other side of it was Katie Stout, who started laughing—at herself, at me, at her studio assistants, at the world—almost immediately after I met her, and rarely stopped, her infectious cackle becoming something I craved and luxuriated in. Stout, who has twinkly blue eyes and thick bangs and a full-moon face and looked, that day, like a very chic child in a covetable pair of gray corduroy overalls and a fuzzy sweater, was deep into the process of preparing for a show of new work, called "Narcissus," at Nina Johnson Gallery in Miami, which would open in a few short weeks, on December 4 (on view until January 6; earlier this week, Frank Ocean was spied looking at her work at R & Company's booth at Design Miami). Though her pieces are almost always functional, all of her work is made by hand—by Stout and her assistants and the occasional commissioned outside artisan—and it makes more sense to think of it as art, displayed and sold as such.
"Everything's on track and getting finished!" she crowed, laughing at the disaster zone that is a studio on deadline. "This is a frame, like for a mirror," she said, pointing to a giant, coral-and-pink asymmetrical oval propped up on paint cans. "It's really weird. It's papier-mâché. I just was like, 'I think papier-mâché is great.' I was making these, like, paper pulp shelves, I guess, and then I started a papier-mâché treatment because I liked how painterly it looked." Beyond it was a bulbous desk, papered in pinks and mauves, with legs that coiled lazily at the ground, like frosting piped from a plastic bag.
When she showed me a rough-hewn wooden stool, I asked what seemed like a stupid question: "Where did that wood come from?" But Stout, it turns out, has great answers to everything. "That came from Maine," she said. "I met someone on Tinder when I was in Portland and then, he was a furniture designer, and I was like, great, will you make some stuff?" Was there a romantic connection? "No…" She laughed. "Not on my end. Tinder's great. I was like visiting my friend's mom and I was like, swipe, swipe, swipe." (She named the stool and a matching desk "Swipe Right," and later told me that she and her friend Misha Kahn, also a designer, have an idea for a TV show in which they use dating apps to find employees. "It's sort of like Amy Sedaris meets Nathan For You.")
Speaking of wood, "I had these plans to do some chainsaw stuff," she told me, "and as I was chainsawing, I was like, 'you know...I'm not sure I'm, like, fully qualified to do this.' So then I hired someone in Duluth, Minnesota to make the stuff, and they are SO funny." She hadn't seen the results in person yet, but "they're finished," she said. "Well, I have to do some work on them, because they look like a bald eagle mated with a garden gnome, which is like sort of the aesthetic?" "They" turned to be "girls lying in the fetal position," and "some work" meant making them look a little less like bald-eagle-garden-gnomes, and also painting them. "It's sort of like how I've been feeling," she said. "Just like, I want to curl up. They're a little uncomfortable to me."
Many of the pieces for the show feature Venus-figurine-like women in awkward positions: a big, domed lamp shade made from small clay ladies fused to each other at the hands and feet; two-waist high papier-mâché gals with their knees slightly bent holding up a mirror with their backsides. Of a blue papier-mâché chair that looks like a woman lying down and propping up her lower back with a banana, as if to hoist her legs over her head (you sit on her butt), Stout said, "This makes me feel weird. She can go in every position. It's like an Allen Jones deformation. It's more of a perch. It's not the most comfortable thing."
Comfort was, in fact, the exact opposite of what she's been going for lately. "I'm sort of into that feeling of when you look at something, it's like at a garage sale, and you're like, 'Uchhh, I can just imagine the nasty basement that's been living in.'" And you want that feeling?, I asked. "I don't know if I want it, but it just keeps coming to me. And so I'm just like, alright, I'll just, like, do that." She laughed. "It's like so gross, everything is like so gross. I don't know what happened. I think I'm reacting to like, that." She gestured to a recent commission, a light fixture waiting to go to its new home in Tribeca. "They were like, you can do whatever you want, we love your creativity. And I was like, 'Annnnnything...?' and then I like handed them this weird booger. I was like, I think it should look like THIS, and it looked like this alien afterbirth thing. And the interior designer was like, 'Ummmm...actually can you make it more like your old school stuff?'"
The finished product was colorful and cheerful and goofy-looking. "I really like it, but it's, like, too Memphis, and sort of, 'I'm cute and could be in PeeWee's Playhouse!' I'm just constantly reacting to things that I'm doing. It's this ricochet thing. I'm sure after this, I'm gonna be like, actually, I'm gonna do some minimalist shapes, like really clean."
I pointed to an enormous shrink-wrapped surfboard and asked if it was for work or pleasure. She laughed. "I'm going through a little bit of a phase right now." Where…? "Where...I think I surf. It's from Costco. I was surfing this summer, and I was like, I want to get this Costco Wavestorm board because it will look really good with my Citibike and it's so cheap." She was going to carry the surfboard on her Citibike? She laughed, "No, this is like my reaction. Even on the background of my phone—it's just like the default wave. I'm sort of really into this corporate aesthetic that's always like blue, and like, aggressively inoffensive." She told me a story about going into an office at a Bank of America branch and asking the employee if he was allowed to personalize his workspace. He wasn't, not even with pictures of his family, and the only decoration was a generic photograph of a wave. I thought about a city bus I'd seen on the walk to the studio: I'd noticed that its bottom half was patterned in an aggressively inoffensive blue and white design. Stout looked at the surfboard. "I'm never gonna open it," she said. "I'm actually selling it to someone who's going to give it to their dad for their birthday. We met on Tinder."