Jamilah Sabur's Video Art Commission for Forty Five Ten Now On View
May 3rd, 2019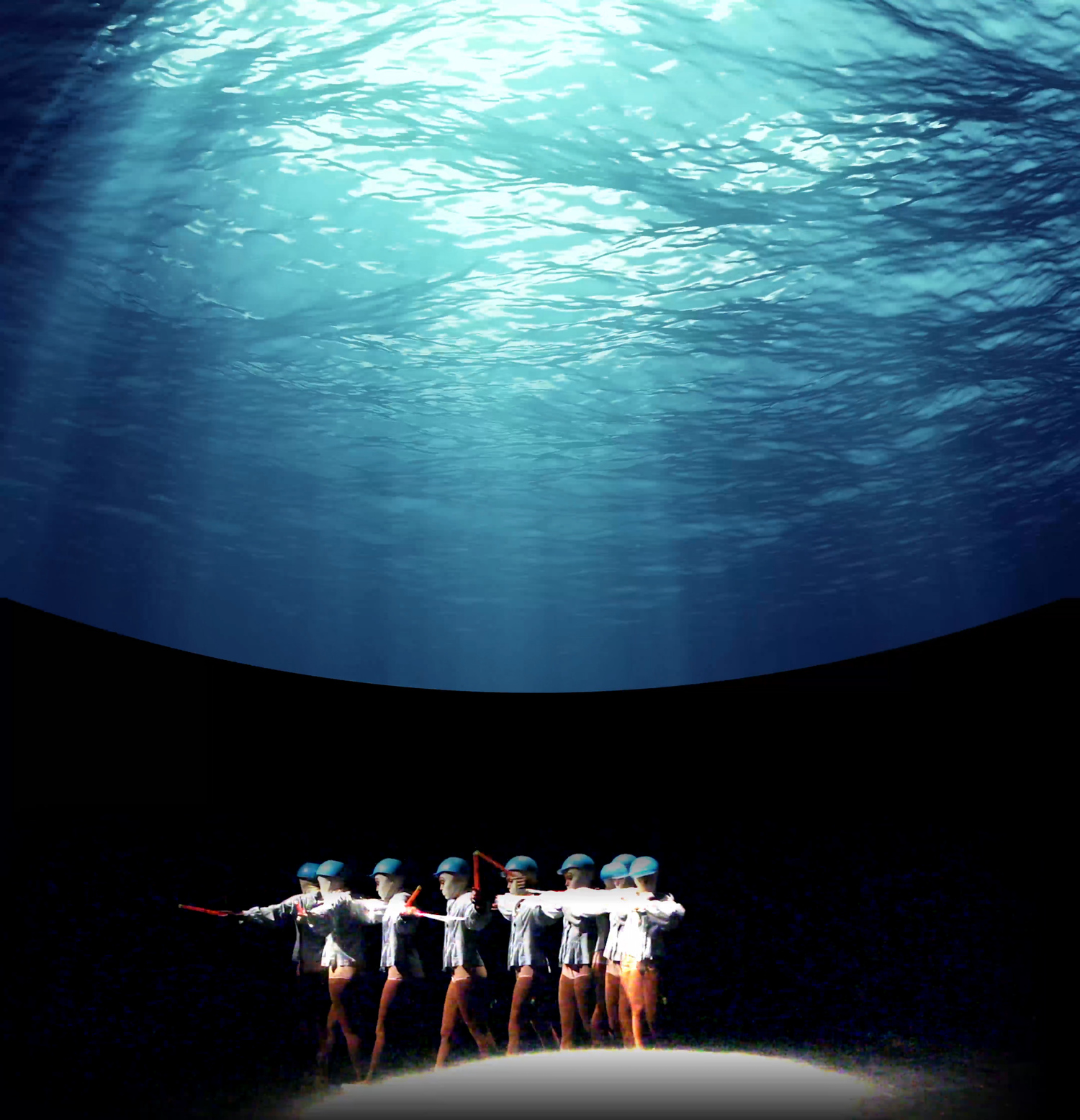 caryatid (car·y·at·id) -
a pillar in the form of a female figure used in classical architecture

curyatid (cur·y·atid) -
a pillar in the form of video art by female and gender nonconforming artists commissioned by Forty Five Ten

Forty Five Ten is pleased to debut Jamilah Sabur's video artwork, Tidal locking, for Curyatid, an ongoing video art series commissioned for the art and fashion brand's first New York flagship. The artwork is on view exclusively on the first floor of Hudson Yards near the northeast entrance. 2019 Curyatid artists include Hayden Dunham (April), Jamilah Sabur (May), Andrea Bergart (June), Emily Sasmor (July), and Amy Globus (August).

Enamored with ocean landscapes, for her 5-minute Curyatid video artwork, Sabur imagines the speculative subsurface ocean world of Triton, the largest moon of the planet Neptune, and the only large moon in our solar system that orbits in the opposite direction of its planet's rotation. Continuing her explorations in movement, geology, and planetary geology, the sequences in her stream of consciousness vertical film are inspired by tidal locking and the rudimentary cells structures of oceans. "Jamilah Sabur's multidisciplinary approach to exploring new worlds is inspiring and beautiful," said Kristen Cole, Forty Five Ten President & CCO. "With Curyatid, we hope to help introduce rising stars like Jamilah to our curious and discerning audiences."

Enveloping Forty Five Ten's two-story, 28 screen pillar on Hudson Yard's Level 1, Curyatid features original artworks by women and gender non-conforming artists each month. The series' title is a portmanteau of "curated" and "caryatid," a type of stone carving in the form of a draped female figure that functions as a column in classical architecture. The base and top of the video column features glass bricks by Snarkitecture, designed exclusively for the exterior of Forty Five Ten's store on Level 5 and the column on Level 1.

About Jamilah Sabur
Jamilah Sabur (b. Saint Andrew Parish, Jamaica) is a multidisciplinary artist based in Miami, FL. She received her MFA in Visual Arts from the University of California, San Diego in 2014 and her BFA in Interdisciplinary Sculpture from Maryland Institute College of Art in 2009.

Selected recent exhibitions include Hammer Projects: Jamilah Sabur, Hammer Museum, Los Angeles; Ibine Ela Acu/Water Sun Moon, Cornell Fine Arts Museum, Winter Park, FL; Augmented Sunrise Beneath the Skin, gr_und project space, Berlin; Seances for the Living, SBC galerie d'art Contemporain, Montreal; Deconstruction: A reordering of life, politics, and art, Frost Art Museum, Miami; Between a view and a milestone, Oolite Arts/South Florida; SCORCHED EARTH, Current Projects, Miami; The World's Game: Futbol and Contemporary Art, Pérez Art Museum, Miami. She was an artist in residence at the Crisp-Ellert Art Museum in 2017 and has given lectures at Design Miami; Coral Gables Museum, Florida; Innis Town Hall, University of Toronto and Flagler College, St. Augustine. Sabur is currently an artist in residence at Oolite Arts/South Florida.