Katie Stout in Architectural Digest
August 16th, 2017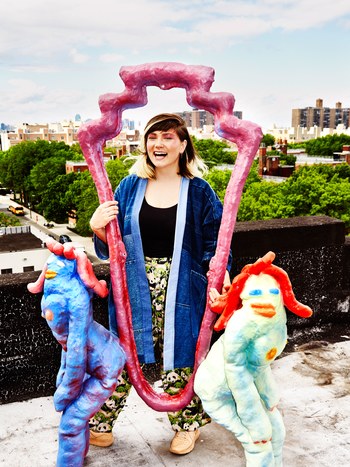 Katie Stout is preparing for emergency sofa surgery. "Pepita got scalped!" the artist/designer cries with a giggle during my visit to her Brooklyn studio, explaining that an accident ripped the hair and forehead off a cherished new creation—a couch shaped like a recumbent nude and named after one of Goya's supposed models. The next day, Stout will rush to its side at the Museum of Contemporary Art Santa Barbara, where the piece is set to appear in a group exhibition devoted to the theme of play. For now, though, she is giddy as she discusses her September solo debut at R & Co., the Manhattan gallery whose roster she joined last fall.
She shows me the doll-like maquette upon which Pepita is based, moving its arms and legs into different positions and imagining new pieces. "Now she's a bench, now she's a chair," Stout muses. "I definitely feel a deep connection to her and the other girls." The squad in question is a series of cartoonish lamps and mirrors, the naked female forms of which Stout sculpts in clay and paints candy colors. One girl does a headstand; another sits on a friend's shoulders. Wires go in and out of bodies; nipples at times double as touch sensor switches. "It's not about being sexy," Stout says. "The girls are just having fun."
The same could be said of her. In the past few years, Stout has taken the art and design worlds by storm creating furnishings that seem to laugh in the face of convention, all the while letting you in on the joke. A shaggy armoire is clad entirely in tube socks; braided rugs take the form of eyes or lips; chairs are at turns ­unexpected—stuffed with fabric, wrapped in vinyl—and ­provocatively functionless, their upholstered frames totally limp. This off-kilter sense of beauty has quickly won over ­daring aesthetes such as fashion iconoclast Jeremy Scott and AD100 ­designer Kelly Wearstler, who notes, "Katie has a truly unique point of view. She pushes materiality and takes major risks. Her work is confident and a little punk."
Making furniture has long appealed to Stout, who studied at Rhode Island School of Design. "RISD was soooo emotional," she says with the kind of easy laugh that only time and distance can afford. Freshman year her mother passed away, after which Stout dropped all but one of her classes, eventually regaining her footing in the furniture department. "I've always been obsessed with the domestic world," she reflects. "Furniture opens people's minds as to what a home life can be. It's my way of lightening the mood."
At school, she developed the technical expertise that would later help lead her to victory as the winner of the first season of Ellen's Design Challenge. "RISD's furniture department was very traditional," she says of her training. "You'd learn how to execute a design—how to draw, how to build." Her first piece of furniture was a wood table in the shape of an udder, the maternal metaphors of which are not lost on her. "I was looking at it recently and thought—Wow, nothing's changed, but everything's changed."
For her exhibition at R & Co., opening September 26, Stout envisions a kind of slumber party. "Sleepovers are a place for weirdness and conversation," Stout explains. "There's always some sort of ­revelation." In the works are a number of creative departures, including girls woven out of wicker, jute rugs, a sequined bed frame, and a dining set in extruded plastic. She's also collaborating with stone ­fabricators to translate tiny clay models into full-size marble seating. "Everything will talk to each other but be experimental in its own right," she says, suddenly wistful at the thought of parting with her pieces. "I need to be less emotional about the things I make."
To read the full article in Architectural Digest, CLICK HERE.