Katie Stout in Architectural Digest's The Report: How Boobs (and Other Parts Women's Bodies) Became a Design Trend
November 15th, 2017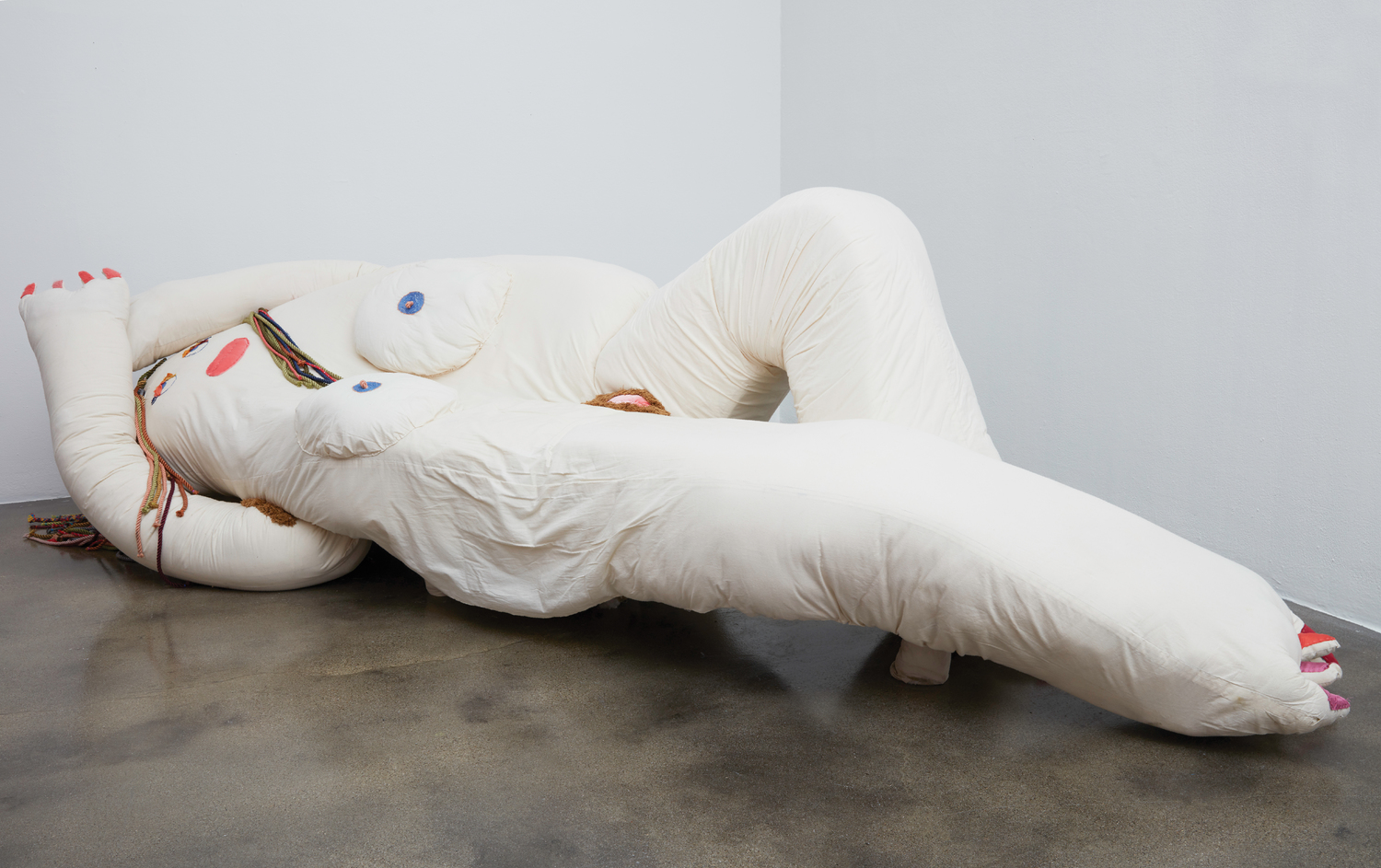 How Boobs (and Other Parts of Women's Bodies) Became a Design Trend
And what it says about our titillating times
TEXT BY
"I just, like, love how worn the nipples are," says Brooklyn-based furniture designer Katie Stout. "They've been so used that they had to get epoxied back on."
We're standing in front of Little TV Woman: 'I Am the Last Woman Object,' a sex doll turned TV cabinet by the relatively unknown French-Moroccan artist Nicola L. She (the cabinet, that is) has two soft drawers for breasts. The work sits among a cast of functional sculptures (a woman-shaped dresser; a lip lamp; a cocktail table filled with eggs) and conceptual art pieces in Nicola L.: Works, 1968 to the Present, an exhibition at the SculptureCenter in Long Island City.
The artist's own voice reads the words on screen: "I am the last woman object. You can touch my lips. Touch my breasts. Caress my stomach. My sex. But I repeat it. It is the last time."
Fast-forward to 2017: As pink-hatted protesters fill the streets, long-stifled cases of sexual misconduct come to light, and a surge of body positivity chips away at long-held standards of beauty, a surprising trend has tiptoed into the world of home design: Boobs (and other previously unmentionables) are budding from decorative objects left and right. What's that on the bath mat? Boobs. Sprouting from your planter? More boobs. Painted on the new china? Gilded nipples. Suddenly—like Nicola, 50 years before them—a range of female artists and designers have begun objectifying their bodies on their own terms.
Stout, who gave a tour of the Sculpture Center exhibition this evening, has long admired Nicola's prescient work. And, certainly, elements of Nicola's feminist thinking (though she might not have called it that) can be spotted in Stout's own doughy, lumpy "girls," which recently starred in an exhibition at R & Company and will become full-size floor luminaries at Nina Johnson's Miami gallery for a show that opens December 4.
"I posted a photo of this on Instagram like two years ago," says Stout of the Last Woman. Notably, she has never met Nicola (who is currently living in Los Angeles) and didn't encounter her work while studying at RISD: "I learned about all of those midcentury-modern men and they, like, tossed in Charlotte Perriand." But she devoured what images of Nicola's oeuvre she could uncover at design dealer Patrick Parrish's gallery and obsessed over pieces owned by some of her friends—"Jim [Walrod] had this cabinet [the La Femmecommode]; Adam [Charlap] has the eye."
In Stout's work—where a lounging nude becomes a comfy sofa; or a nipple the subtle on/off switch of a lamp—there are easy similarities. And her creations, much like Nicola's, hover in the murky waters between art and design. "It's 50 years later, but Nicola's work makes such a relevant statement," says Stout. "I mean, it's almost like nothing has changed."
But the mounting number of artists and designers reclaiming the female form proves evidence enough of some small sea change. After scrapping several abstract rug designs for being "too booblike," designers Phoebe Sung and Peter Buer of Cold Picnic decided to just go with it, consciously embracing the boob and slapping it on rugs and bath mats.
"The reception was great," says Sung, who notes that buyers are mostly women. "Which was a relief. We'd created them in the spirit of celebrating something we'd originally felt self-conscious about, but it took a little while to fully shed that self-consciousness."
Now that boobs are everywhere, she says, there's less to feel shy about.
To read the full article in Architectural Digest, CLICK HERE.