Katie Stout in Vogue
September 26th, 2017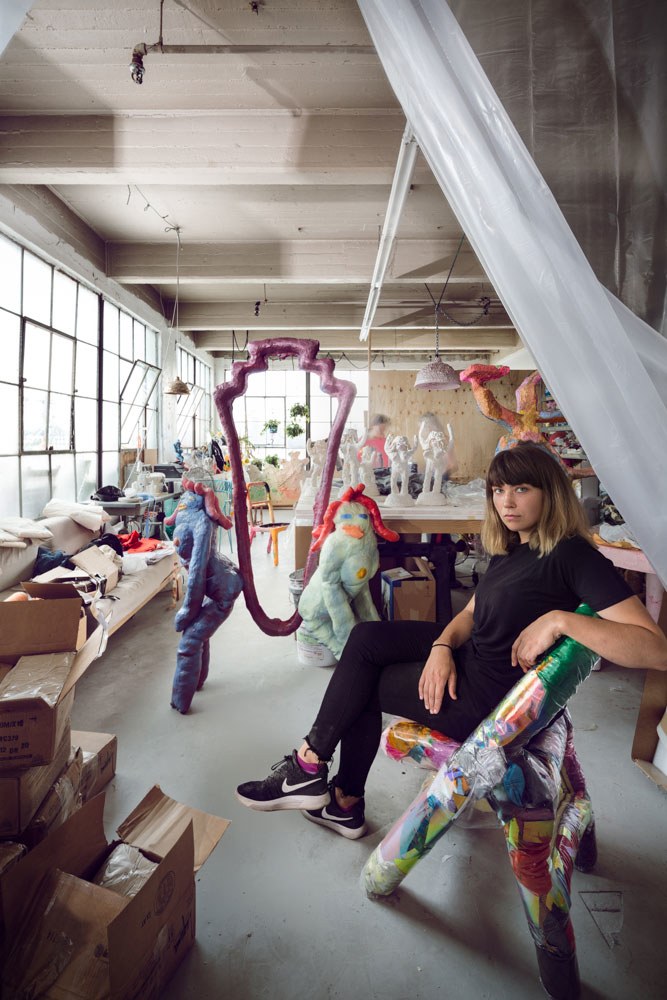 This Designer's Provocative Wallpaper and "Girl Lamps" Will Help You Feel Better Naked
Tonight, when Katie Stout's debut solo show, "Side Dish," opens at the Manhattan gallery R & Company, you can expect an uninhibited crowd. No, not the thrum of downtown creatives spilling out onto Franklin Street. I mean Stout's "girls," as she calls her latest cast of lumpy, bendy women fashioned into ceramic lamps or sketched in watercolor. "They're unapologetically themselves: That's what I like about these girls," the Brooklyn-based designer explains during a break from her last-minute fine-tuning. After all, it takes a certain gall for a nude figurine—dressed only in head-to-toe blue paint and strategically placed gold luster—to curl her lower half like a scorpion and grip a vanity mirror between her legs.
"The nice thing about furniture and art and anything you live with on a daily basis is that it affects you subconsciously every day," Stout says, singling out Girl Wallpaper, a new collaboration with the Brooklyn studio Flavor Paper, which lines the exhibition space. Who knows? Maybe waking up to this curious montage—ladies squatting in goddess pose, lounging odalisque-style, or standing spindle-legged—will make someone "more body-positive or more confident to be themselves," she muses.
It's a tall order for wallpaper, sure. But Stout has a way of subverting the expected. Five years out of RISD, where she studied furniture design, she has established herself as a playful provocateur—someone who created an anthropomorphic light fixture with a "nipple sensor, so every time you tap it, it gets brighter," she explains of a recent commission. And someone who expediently chopped up her king-size Casper mattress to stuff a sofa shaped like a reclining nude, which she nicknamed Pepita after a Francisco de Goya model. Timed with the upcoming Design Miami fair, the jewel-box gallery Nina Johnson is organizing a solo show for Stout, who plans to unveil Pepita-like chairs. "I think [they] will be loungier, if that makes sense," the designer says, "like the girls are maybe going to have a few more secrets."
In the meantime, Stout is happy to bring the lady lamps to light at R & Company—along with spiky ceramic mirrors, psychedelic botanical rugs, and her first furniture in marble, recreated from idle-handed blobs she made out of Sculpey clay. Here, Stout talks about the female form in home design, co-opting the term "girls" in relation to women, and why too much makeup makes her feel like an adult Honey Boo Boo.
It's your first solo show with R & Company. What pieces are you most excited about?
There are a bunch of new girl lamps, and these, I think, are really interesting because they're more of a collaboration with my assistants and people who had come to the studio. I'd have other people make their interpretation of the girl lamp. I originally wanted the show to feel like this giant sleepover—when you're with a bunch of friends and you get delirious and make something super strange. I didn't really give that much instruction, and it's really interesting, finishing pieces that someone else's hand has made. The lamps stopped being about what they look like—because I sort of didn't have any control over that—and they started being about what the girls need [laughs].
And what did the girls need?
We were embroidering the lampshades, and Mira, my assistant, and I were like, 'This girl needs a little sack of pebbles. This one loves seashells.' We ended up turning the lampshades inside-out, so that all of the things embroidered on the lampshades was just for the girls. When R sent their art handlers to come pick them up, I sort of started to tear up because I realized that I was unhealthily attached to them [laughs]. They had weirdly become these self-portraits of me! [Later] at R's warehouse, I saw them all on the table, and I couldn't help but sort of smile and giggle at them. They're great company.
I love that. Tell me about the wallpaper collaboration. I feel like we're in a golden age of the female body as decoration, with things like Group Partner's boob pots and Cold Picnic's bathmats.
Yeah, it's so cool that the female form is sort of owning the home space and [redefining] the objectification of women. The wallpaper was very much like the lamps: All of those girls are painted by different people. They're an unlikely group, I think, but they make so much sense together. It's a super cool moment [for women], and I think that it's especially important just because of all of the heinous politics. People love to call women "girls" [as though] they're subconsciously diminishing them somehow. I think it's equally empowering to let yourself loose and be silly.
Are there people in the history of furniture design whose work resonates with you in terms of how they spotlight the female body? Like Nicola L.
I love Nicola L. She has some great work at the Sculpture Center right now. I feel like [her pieces] are really body-positive. They're sort of disjointed; they're really humorous.
And are there shades of Allen Jones in your Lady Perch chair?
Yeah! That was my Allen Jones reference. That woman doesn't seem very happy to me, the Allen Jones one, so I made my own version of this girl who's silly and a little wrinkly and sort of gross-looking [laughs]. Totally less S&M-y.
How does an appreciation for the unapologetic play into your own self-styling? Did you go through phases where you experimented with colored hair or makeup?
Yeah, I went through a phase where I was wearing crazier clothes, and every time I would go get my hair cut, I had this new idea for the person cutting it. They would always be like, 'I don't think that's a good idea,' and I'd be like, 'Yes, do it! I want bangs all the way around my head!' And then it would never really look good. I have never really worn that much makeup. I'm not anti-makeup or anything; I just am so low-maintenance. Recently, for [an] article they did my hair and makeup, and I thought I looked like an adult Honey Boo Boo [laughs].
What about selfies, in terms of sharing yourself with the world? Is there any hesitation for you, or is it automatic?
Oh my gosh, I don't really know where I stand on the selfie. I still think they're really funny, just in general. But also I know my angles [laughs]. I probably will never post, like, a naked selfie. I think it's cool when other people do it, but I feel like I do that with the girls. Sometimes I don't feel like the girls learn from me; I feel like I learn from them [laughs].
What do you learn? I love the idea of creating something that then teaches you things.
Sometimes I get caught up in minor details, like this low-grade nagging, moments of self-doubt that come out in small ways. But I feel like the girls, they don't have that. They don't carry that kind of weight around. [...] They just carry a lampshade!
To read this article in Vogue, CLICK HERE.