Katie Stout responds to the world's chaos with absurdity
February 19th, 2020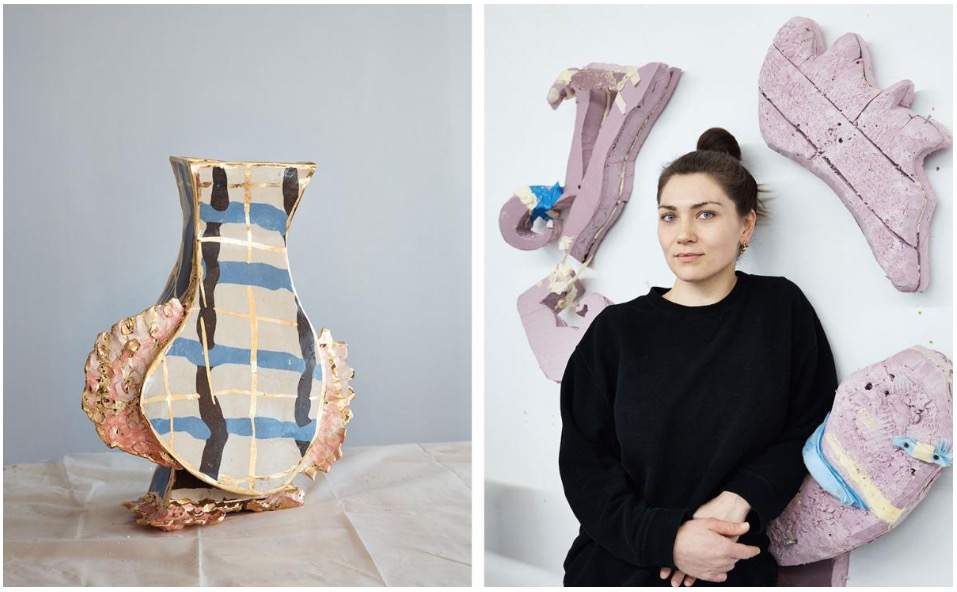 BY ROSA BERTOLI
At Nina Johnson in Miami, Brooklyn-based Katie Stout presents a new body of work, titled Sour Tasting Liquid, that melds worlds of design, art and craft
Miami gallerist Nina Johnson presents a new body of work by Brooklyn-based designer Katie Stout. Titled Sour Tasting Liquid, the collection is an in-depth exploration of themes recurring throughout Stout's career.
One of the most exciting voices of contemporary American design, Stout has always eschewed a label for her work, operating somewhere at the meeting point of design, art and craft. This new show demonstrates her eclectic eccentricity, with over 20 pieces including anthropomorphic and abstract sculptures as well as functional design objects such as lamps, stools and mirrors.
The pieces, Stout explains, start from an exploration of her relationship to clay, a material recurring throughout her work. Experimenting with craftsmanship, she looked at traditions from Japan to America, combining clay with mosaic, porcelain and wicker. The show has two distinct directions: on one side, mundane everyday furniture and objects with rigid construction, rational forms and a hint of symmetry; on the other, free-formed abstractions, whimsical human figures and playful sculptural shapes. Stout unifies the two with her unmistakable style – a playful approach to color and forms, the result of extensive experimentation and careful consideration of context and influences.
'American craft is a synthesis of various cultures and their distinct traditions and influences,' says Stout. 'This particular body of work is a reaction to the tendency toward reacting against the chaos of our world with absurdity.' An example, her Giuseppe Arcimboldo-esque 'fruit ladies', a new type of work for Stout, exemplifying 'the human attachment to crafted objects and a certain sentimentality with trinkets and souvenirs.
'These pieces are a way for me to reclaim my sanity and my role as an artist based in [the USA]', she continues, 'by connecting back to historic forms of creation and being proud of their multi-cultural references. All of the works in the exhibition are fragmented, fractured and re-composed: going through that process is a sort of catharsis.'