Katie Stout "Verdant Malformations" now open at Venus Over Manhattan
April 6th, 2021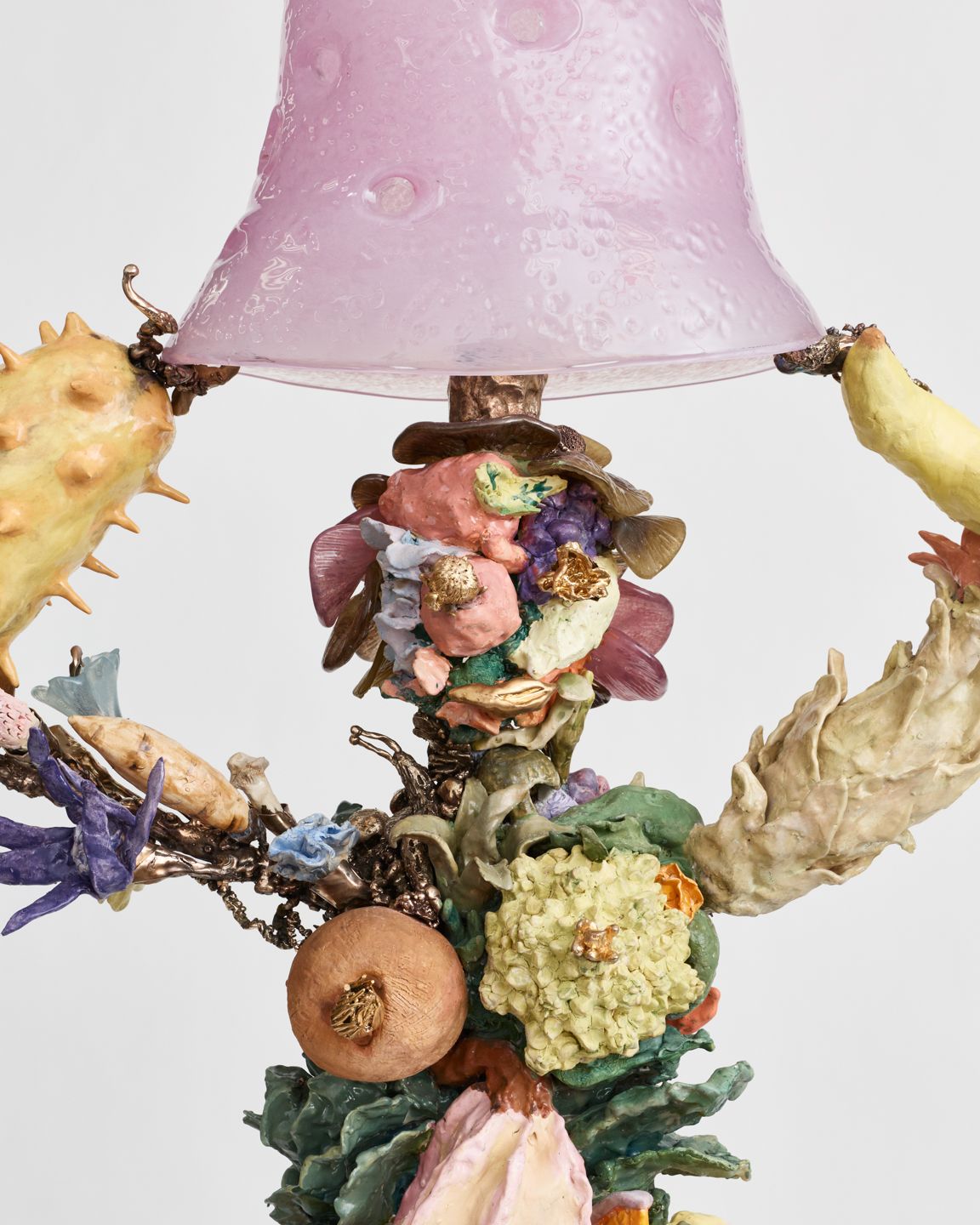 Katie Stout: Verdant Malformations
Opening: Tuesday, April 6, 2021
(New York, NY) – Venus Over Manhattan is pleased to present Verdant Malformations, an exhibition of new works by Katie Stout.
Throughout her career, Stout has continually redrawn conventional boundaries between art and design, using function as the starting point for exquisitely crafted sculptural works. For her first exhibition at Venus Over Manhattan, Stout has developed a new group of her iconic "Lady Lamps." In this new iteration, these intricately sculpted works are rendered in glass, ceramic, and bronze, elements introduced into the series for the first time.
Stout's sculptures, referencing the excessive detail of Giuseppe Arcimboldo's still-life portraits and the dystopian visions of Hieronymus Bosch, evoke states of material decay, and regeneration. Her over-ripe, perishing natural forms serve as memento mori, but also as a reminder of life's resilience. Bold but delicate, these constructions advance Stout's ongoing exploration of the female form as a site upon which our culture enacts its preoccupations with ornament, allure, and value.
The "Lady Lamp" sculptures—figurative, womanly depictions characterized by playful, provocative body positions that simultaneously convey animation and provide structural support—are representative of Stout's broader practice. As with all of Stout's work, the vibrantly colored objects on view at Venus Over Manhattan are inflected with both joy and degrees of pathos achieved through irregularity of form.
Verdant Malformations will also debut new small-scale sculptures referred to by Stout as "wall jewelry" — accretions that commute the artist's chosen materials of bronze and glass beyond the physical confines of her lamps, in order to engage the space around them.
Click here for the full release
About the Artist
Katie Stout (b. 1989, Portland, ME) lives and works in Brooklyn, New York. She holds a BFA from the Rhode Island School of Design. She is at the forefront of a generational shift towards a maximalist, expressive mode in sculpture and design. In refusing to reside in one category, her work transcends the longstanding debate about the boundaries between art and design. In particular, Stout's work reinforces her commitment to
the centrality of craft in contemporary art.
Regarded as one of the leading designers of her generation, Stout has exhibited her work at institutions including the Dallas Museum of Art, the Museum of Contemporary Art, Santa Barbara, and the Swiss Institute. Her work has featured in major group exhibitions, inluding recent presentations at Jeffrey Deitch, Tina Kim, Nina Johnson, Friedman Benda, and R & Company. She is represented by Nina Johnson and R & Company. Her work is held in the collections of the Dallas Museum of Art, Texas; Museum of Art and Design, New York; and San Francisco Museum of Modern Art, California.