Martine Barrat's "Do or Die" at "What They Saw: Historical Photobooks by Women" Reading Rooms
May 19th, 2022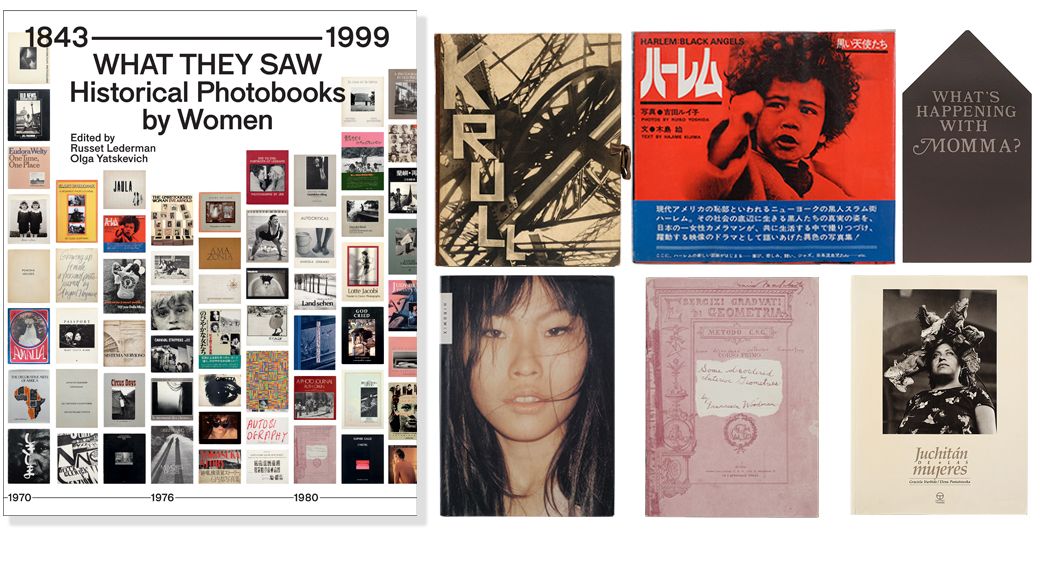 In collaboration with 10×10 Photobooks, The New York Public Library's Wallach Division of Art, Prints and Photographs is pleased to host the "What They Saw: Historical Photobooks by Women" Reading Rooms, two spaces to browse and view 200 photobooks from the period 1843–1999, open May 19–21.
A drop-in, hands-on experience will take place in the Center for Research in the Humanities, with rare books accessible for viewing in the Prints & Photographs Study Room. Both reading rooms are free and open to the public, but advanced registration is required to visit Room 308 by emailing photography@nypl.org with subject heading "What They Saw."
Reading Rooms: Thursday, May 19–Saturday, May 21
Programs through Monday, May 30
10×10 Photobooks and The Miriam & Ira D. Wallach Division of Art, Prints and Photographs have organized "What They Saw"—a hands-on reading room, a rare book reading room, an associated award-winning publication and a series of public events—to explore the distinctive qualities of photobooks created by women photographers.
The "What They Saw" Reading Rooms are supported by an anonymous donor, Evan Mirapaul, Stuart Richardson and Grace Jones Richardson Trust.
For more information: art@nypl.org or info@10x10photobooks.org.
What They Saw, the latest project in the nonprofit 10×10 Photobooks' ongoing series of reading rooms and publications on photobooks by marginalized communities, presents a global range of 200 photobooks by female photographers from 1843 to 1999. With the first photographically illustrated book self-published by British botanist Anna Atkins in 1843, women have consistently contributed to the rich history of photobooks. However, their contributions have not always been recognized. The "What They Saw" Reading Rooms showcase this history and share both historically significant and under-appreciated photobooks by women. Presenting a diverse geographic and ethnic selection, the photobooks included in the two reading room spaces interpret the concept of the photographically illustrated book in the broadest sense possible: classic bound books, portfolios, personal albums, unpublished books, zines and scrapbooks. Some of the books documented are well-known publications such as Anna Atkins' Photographs of British Algae: Cyanotype Impressions (1843–53), Germaine Krull's Métal (1928) and Diane Arbus: An Aperture Monograph (1972), while other books may be relatively unknown, such as Varvara Stepanova's Groznyi smekh. Okna Rosta (1932), Eslanda Cardozo Goode Robeson's African Journey (1945), Fina Gómez Revenga's Fotografías de Fina Gómez Revenga (1954) and Ruiko Yoshida's Harlem: Black Angels (1974). The glaring gaps and omissions in current photobook history are apparent through this overview, particularly the lack of access, support, and funding for photobooks by non-Western women and women of color.
Established in 1987 thanks to a gift from the Wallach family, The Miriam and Ira D. Wallach Division of Art, Prints and Photographs unites what had formerly been three separate departments under a single banner. Divisional holdings comprise works of art as well as reference materials on painting, sculpture, drawing, printmaking, photography and the history of architecture from prehistoric times to the present. The quality, depth and scope of these holdings have earned the Wallach Division an international reputation among a broad variety of scholars and lovers of art.
10×10 Photobooks is a nonprofit 501(c)3 organization based in New York City with the mission to foster engagement with the global photobook community through an appreciation, dissemination, and understanding of photobooks. Founded in 2012, 10×10 offers an ongoing multi-platform series of public photobook events, including reading rooms, salons, publications, and partnerships with arts organizations and institutions.