Nadia Ayari: Glitches, Amplifications at cadet capela, Paris
September 6th, 2023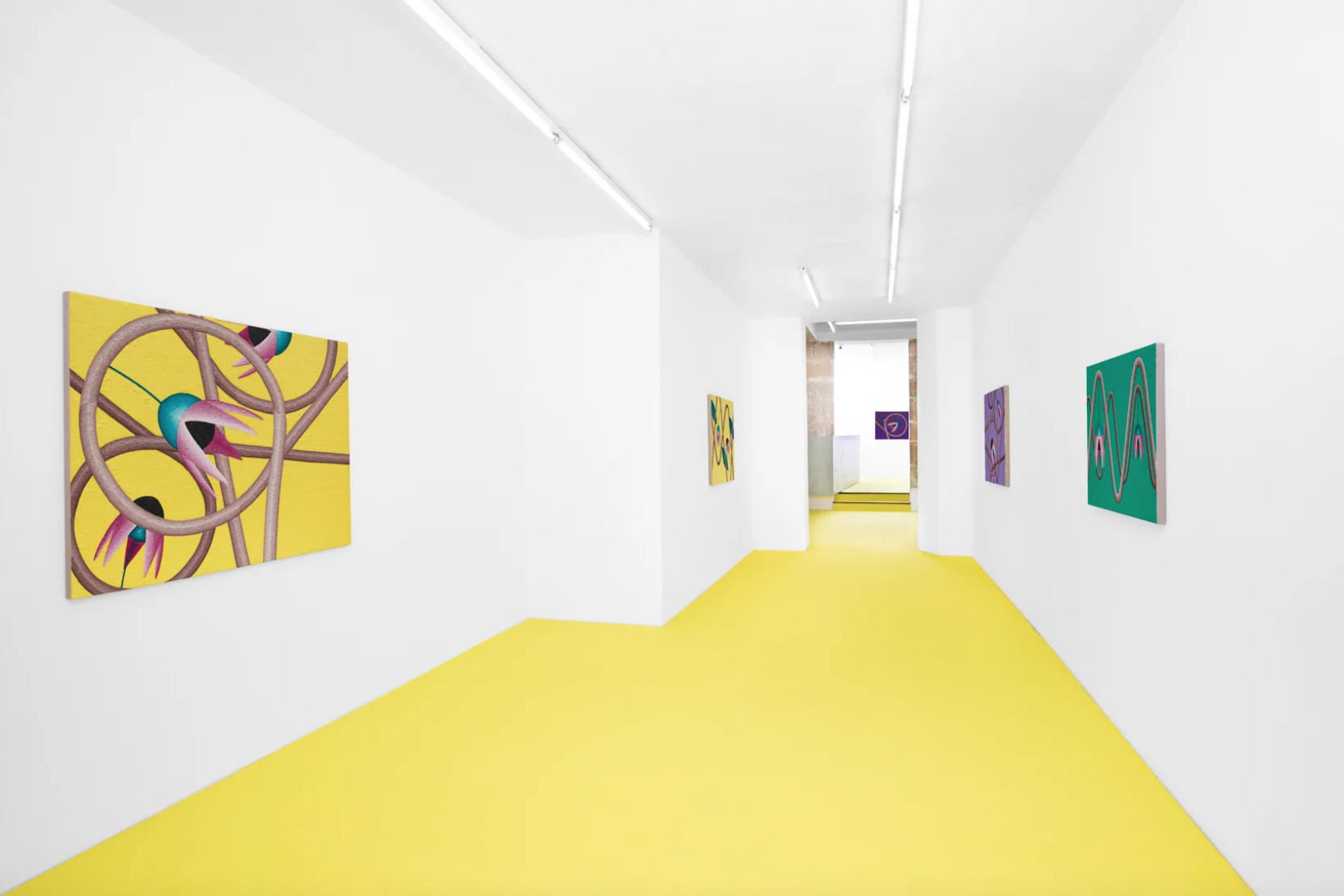 September 2nd – October 7th, 2023
​​cadet capela is pleased to announce the first solo exhibition in France of the Tunisian-American artist Nadia Ayari. For this occasion, the artist unveils new paintings with the unique set of characters inspired by the flora of her native Tunisia: the pink flower, the branch and the leaf. With their symmetrical forms and soft curves, these floral protagonists intertwine with each other in front of the vibrant backgrounds of ingenious colors creating an otherworldly looking landscape.
As a compelling extension of her paintings, the presence of a yellow carpet is a tactile and visual complement that elevates the exhibition experience. The carpet's color harmoniously resonates with the artworks, enhancing the contrast against diverse backgrounds, and intensifying viewers' engagement. Its soft texture is meant to engage visitors' bodies to potentially create a tangible connection with the carefully crafted impasto of Nadia Ayari's pieces.
Nadia Ayari's artistic process, characterized by its meticulous layering and richly textured aesthetic, masterfully addresses the dimension of time. Each character within her oil paintings is meticulously constructed, layer upon layer. The artist aims to give each of her painting's protagonists a "significant skin", as physically tangible as possible, formed by hundreds of strokes that are visible when seen up close. The viscosity and thickness of oil paint strokes are enhanced by the reflection of the light, which almost makes the paintings shimmer.
The floral motives seem to be an ideal version of the real plants. They are symmetrical and uniform, free of imperfections and without any potential to faint. Flowers usually have an ephemeral meaning, but in the case of Nadia Ayari's paintings, they are frozen in time, at what appears to be their most lush phase. Floating in an undefined space, these floral motifs create a dreamy atmosphere. Some of the work in the exhibition presents a dissonant perspective for the first time, creating a new sense of movement.
Nadia Ayari's art delicately intertwines personal and political narratives. Since moving to the United States from Tunisia, she has been engaged in an exploration of multivalent narrative and form through paint. Her commitment to this practice is motivated by a belief that creative satiation makes her more available to consider and address personal and political contexts. Thus, form and craft have become the leading narrative forces in her expressive paintings.