Nicolas Lobo Featured in Forbes
April 21st, 2015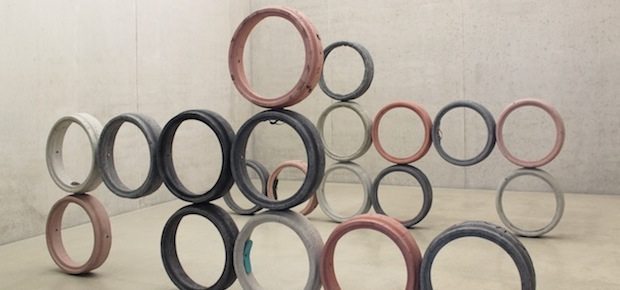 For his first museum show at the Pérez Art Museum Miami (PAMM), artist Nicolas Lobo made a peculiar proposal: "mass produce storm drain parts using garden statuary molds with a swimming pool. The curator, Rene Morales went with it. "It started like most of my projects, with an idea for a new industrial process," said Lobo. "Something related to the body but very much featuring mechanical, chemical and logistical forces."
Lobo titled the site-based installation, which is on display at PAMM's project gallery through December 13, The Leisure Pit. The connection between the swimming pool studio and the storm drain-like rings act as a commentary on the way private leisure activities burden public infrastructural systems.
Lobo ditched the idea of using garden statuary molds and decided found inspiration in the Versace Medusa. Then, Lobo looked to another object that depicted Medusa: an ecstasy pill. "The pill shaped medusa mold was carved to my specs out of E.P.S. foam by a friend of mine and then I took it to an architectural foam company to have it coated with an outdoor finish similar to some types of statuary and architectural details you might find in a McMansion," said Lobo, who then added a flexible urethane mold that turns the form into a storm drain-like ring that Lobo based on the shape of the openings of Miami's storm drains, before casting them in "concrete with various pool chemical additives and include glass pool tiles from the mosaics based on the movie Titanic from the pool that he used as his studio, shrimp, French fries and pigment. Lobo then put flip-flops on the ring. "I feel like the ring sculpture is basically figurative without actually showing a figure, so the flip-flops also add to that," said Lobo.
One would have never thought that the story behind a series of minimal ring sculptures is actually a discussion about the way private leisure activities connect with public infrastructural systems.
The Leisure Pit is on display at the Pérez Art Museum Miami through December 13.