Nicolas Lobo Featured in Interview Magazine
April 16th, 2015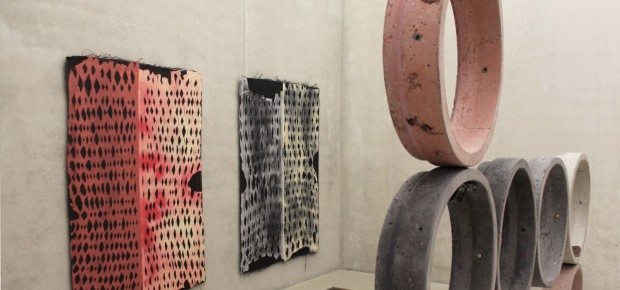 For his latest project, Miami-based artist Nicolas Lobo used a swimming pool
as his studio. Over the course of four months, Lobo employed experimental techniques in order to cast three-dimensional concrete rings—which he interlocked for one cohesive sculpture—and create carbon fiber wall hangings. The result is an immersive, site-specific installation and exhibition, "The Leisure Pit," which opens today at the Pe?rez Art Museum in Miami.
Lobo, in previous series, worked with materials ranging from grape-flavored cough syrup to Play-Doh, terrazzo, and Napalm, and his research- and process- based practice has focused on a variety of topics, including illicit pirate radio, illegal drug making locations, and the Go-Go dance scene. No matter the topic of discussion, however, one thing remains continuous: the artist's attention
to and fascination with the intersection and changing natures of cultures and consumption.
With this series, the artist uses the swimming pool as a point of contention, sparking conversations about the ways in which Miami has changed and the city's ubiquitous sense of luxury. The image inscribed on the outer shell of the mold used to cast each ring assumes multiple identities—one might see the head of Medusa, the Versace logo, or an outsized pill representing a legendary strain of ecstasy— just like the city itself.