Nina Johnson-Milewski Featured in Flair
December 30th, 2014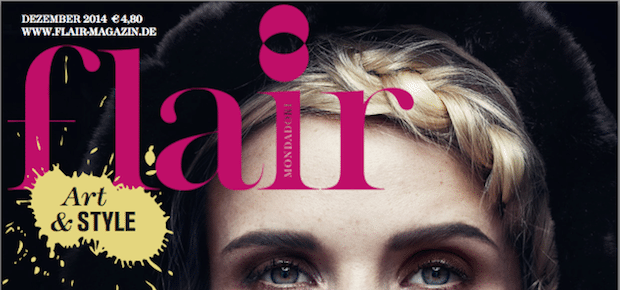 Usually it's about the images that they issue. Here, a look at their looks is just as exciting: flair emerging and established gallery owners from Berlin to Miami interviewed about their personal style.
With a skilled mix of contemporary artists of Christy Gast to Charley Friedman, internationally established guest curators and her good sense NINA JOHNSON MILEWSKI took her Gallery Diet to one of the top galleries in North America. Besides, she is also the editor of the art journal The Miami Rail. GALLERYDIET.COM
Your view on fashion as their view of art:
humorous, internationally and especially to experiment
Please describe your style in one sentence.
I always try to find a balance of fun, versatility and a sophisticated aesthetic.
If you look in your closet, what your gaze will fall first?
On tons of patterns.
A piece of which you will never part?
The pink Chanel bag my mother.
Who has influenced your style?
My grandmother and pop culture of the 90s.
What you can not buy in style with money?
Sense of humor.
A trend that is overrated?
Flat shoes.
At the Venice Biennale I wear …
… high-waisted linen shorts, a crop top, wedge sneakers and
a Panama hat.
Art Basel in Miami I wear …
… A suit by Maison Martin Margiela.
Gallery Weekend Berlin I wear …
… A pair of jeans from imogene + willie, a white button-down shirt and heels.
Three your favorite designers?
Marni, Maison Martin Margiela and Victor Costa.
Which artwork reflects your fashion style resist the most?
My coffee table by Emmett Moore because it's made of mirrors.
The last picture you have hung in your home?
A Barbara T. Smith Photograph.
Three young artists, of which you should keep an eye?
Katie Stout, Christy Gast and Benny Merris.
Download PDF HERE