Peter Shire Thought Memphis Would Be out of Style by Now
September 5th, 2018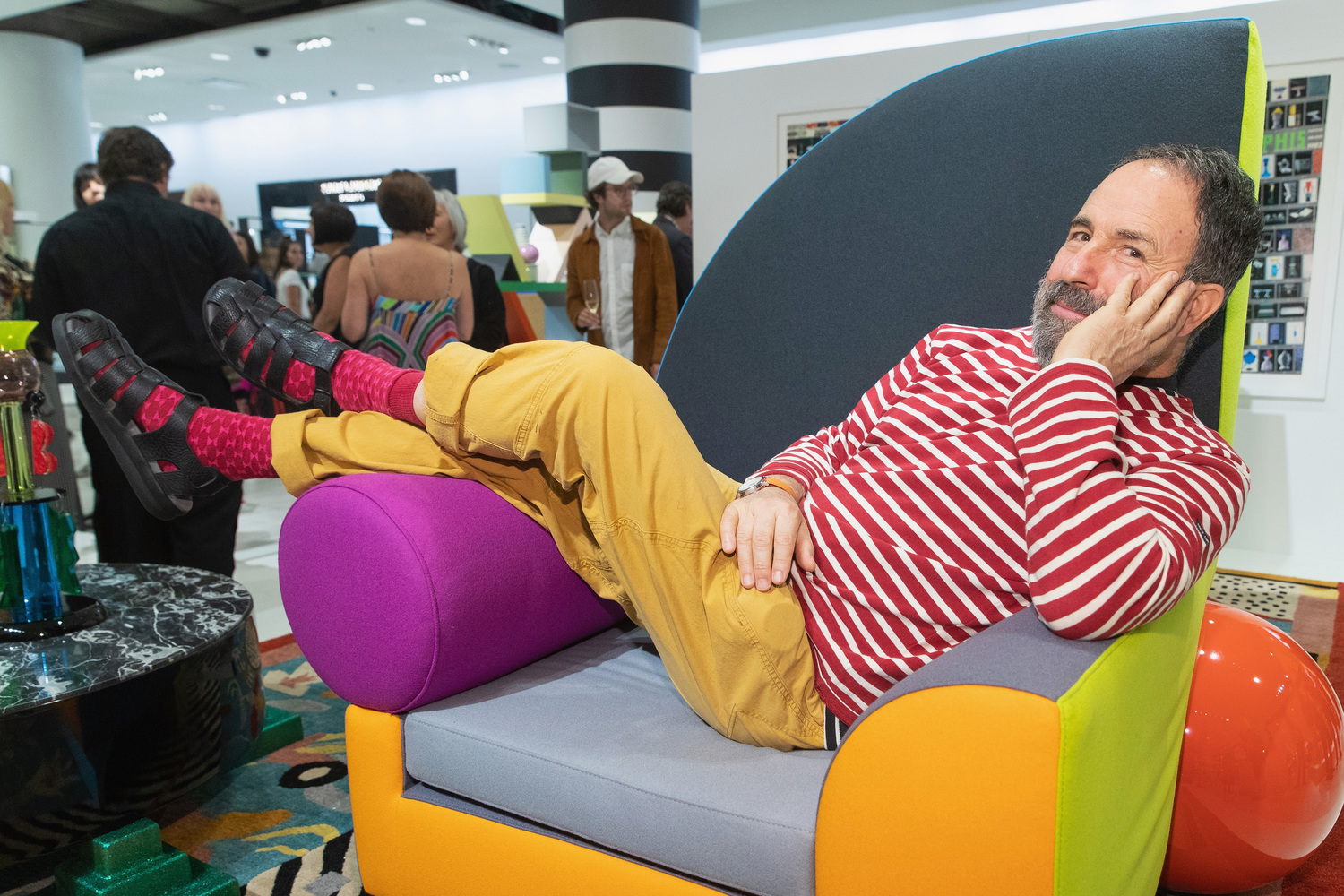 Consider it a visual pushback to the ubiquitous gray interiors of the past decade: Ever since the Met Breuer's show last spring of Memphis founder Ettore Sottsass, the '80s movement has been undergoing a renaissance as a new class of creatives, from textilemaker Dusen Dusen to streetwear label Pigalle, put their own modern spin on it. This energetic resurgence might owe its existence to one Echo Park, California, artist: Peter Shire, who was one of the group's founding members.
Often pegged as the only American in the Memphis Design Group—something that the 70-year-old visual artist and furniture designer dismisses as "a journalistic flourish" (he prefers to be singled out as "one of two non-architects")—Shire is still one of the group's most active members. His prolific body of work, which is unmistakable with its stripes and acerbic colors, was recently put on display by MOCA and is the subject of an upcoming coffee-table book by Hat & Beard Press as well as shows in Milan and in Miami at Nina Johnson Gallery this fall. Not to mention, Shire's 1982 Peninsula Table (almost as iconic as his Bel Air chair from that same year) was recently spotlighted in Raquel Cayre's SoHo Dream House, the exuberant living installation of her Instagram handle @ettoresottsass. Ask Shire about his and Memphis Design's resurgence, though, and the Los Angeles native laughs, "Oh, can't get away from it." (Though he adds, "I love it. It was a great moment in my life and it continues to be great.")
Like his art, Shire is as eccentric as they come. When I arrive at his eastside L.A. studio, tucked off the street behind a yoga center and identifiable from the outside solely by one of his striped towers—the focus of his forthcoming book—Shire matches his surroundings in a striped bateau T-shirt, coordinated socks with sandals, and yellow pants. For Shire, even the mundane is fun: File cabinets are painted in the same shocking hues as Memphis Design's palette. He asks me to help move a bench before saying of the '80s movement, "I always knew it was something, but I didn't know it would be something to other people."
Part of the reason is that Memphis Design came from a consciously ephemeral place. When I ask about the debut collection's 1981 catalogue that read, "We are all sure that Memphis furniture will soon go out of style," Shire says his mentor and Memphis Design Group comember "Ettore [Sottsass] always talked about it. He said, 'It will be like fashion, it will be here for a year and then it will be gone.'" Shire recalls, before unpacking it in his affable manner: "In other words, we were going to let it all hang out, and if it didn't work out, we'd say that's what it was meant to be. It was a face-saving device," he quips. "It made it interesting and gave us a talking point—one of many."
Another talking point? The unignorable fact that Memphis Design's fans included David Bowie and Karl Lagerfeld, who famously redid his entire Paris apartment with pieces from the early '80s collections. Shire never met the Chanel design head, though. "I just missed him," he remembers, while scrolling through his personal snapshots from the era and remarking that Lagerfeld did "something so smart" in buying the entire collection.
"He had come into the showroom with Andrée Putman, swung his cape around, and said 'I'll take everything,' Shire recalls. "My black and white pots ended up in his apartment. With Bowie, Iman asked my friend [and his hairstylist] Teddy Antolin, who introduced them, what she should get for Bowie's birthday," Shire says. "He told her to get my Bel Air chair. I got this phone call from Iman and thought, 'Be cool. Don't act excited.'"
Shire's biggest missed connection from those magical days, though, was missing out on the famed photo shoot of the Memphis Design Group on Masanori Umeda's boxing ring–inspired Tawaraya bed. "I wasn't in Italy for that and I'm very upset about it," Shire says. "I don't think I've ever been in a group photo." But there may be one soon: Shire tells his assistant to arrange for everyone to come to L.A. for a group photo. "The people we don't have we'll get cutouts," he says with the same winking sense of humor—yet total earnestness—that informs all of his work. "It's about time."
TEXT BY