Reinterpreting Representations
March 3rd, 2023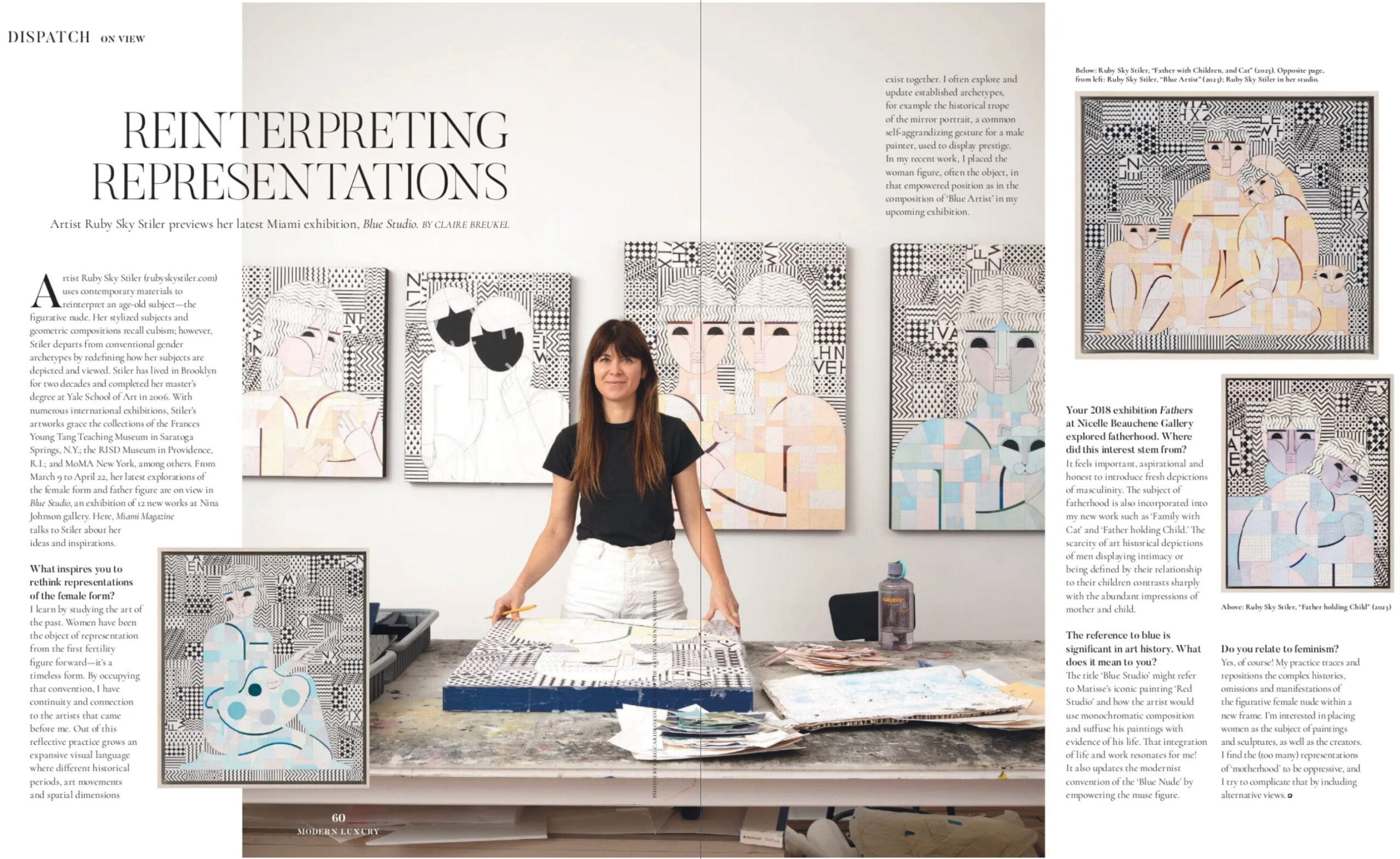 Artist Ruby Sky Stiler previews her latest Miami exhibition, Blue Studio. By Claire Breukel.
Artist Ruby Sky Stiler uses contemporary materials to reinterpret an age-old subject—the figurative nude. Her stylized subjects and geometric compositions recall cubism; however, Stiler departs from conventional gender archetypes by redefining how her subjects are depicted and viewed. Stiler has lived in Brooklyn for two decades and completed her master's degree at Yale School of Art in 2006. With numerous international exhibitions, Stiler's artworks grace the collections of the Frances Young Tang Teaching Museum in Saratoga Springs, N.Y.; the RISD Museum in Providence, R.I.; and MoMA New York, among others. From March 9 to April 22, her latest explorations of the female form and father figure are on view in Blue Studio, an exhibition of 12 new works at Nina Johnson gallery. Here, Miami Magazine talks to Stiler about her ideas and inspirations.
What inspires you to rethink representations of the female form?
I learn by studying the art of the past. Women have been the object of representation from the first fertility figure forward—it's a timeless form. By occupying that convention, I have continuity and connection to the artists that came before me. Out of this reflective practice grows an expansive visual language where diff erent historical periods, art movements and spatial dimensions exist together. I oft en explore and update established archetypes, for example the historical trope of the mirror portrait, a common self-agg randizing gesture for a male painter, used to display prestige. In my recent work, I placed the woman figure, oft en the object, in that empowered position as in the composition of Blue Artist in my upcoming exhibition.
Your 2018 exhibition Fathers at Nicelle Beauchene Gallery explored fatherhood. Where did this interest stem from?
It feels important, aspirational and honest to introduce fresh depictions of masculinity. Th e subject of fatherhood is also incorporated into my new work such as 'Family with Cat' and 'Father holding Child.' Th e scarcity of art historical depictions of men displaying intimacy or being defined by their relationship to their children contrasts sharply with the abundant impressions of mother and child.
The reference to blue is significant in art history. What does it mean to you?
Th e title Blue Studio might refer to Matisse's iconic painting Red Studio and how the artist would use monochromatic composition and suff use his paintings with evidence of his life. Th at integration of life and work resonates for me! It also updates the modernist convention of the Blue Nude by empowering the muse figure.
Do you relate to feminism?
Yes, of course! My practice traces and repositions the complex histories, omissions and manifestations of the figurative female nude within a new frame. I'm interested in placing women as the subject of paintings and sculptures, as well as the creators. I find the (too many) representations of 'motherhood' to be oppressive, and I try to complicate that by including alternative views.