R.M. Fischer's Lampworks featured in Architectural Digest
September 22nd, 2017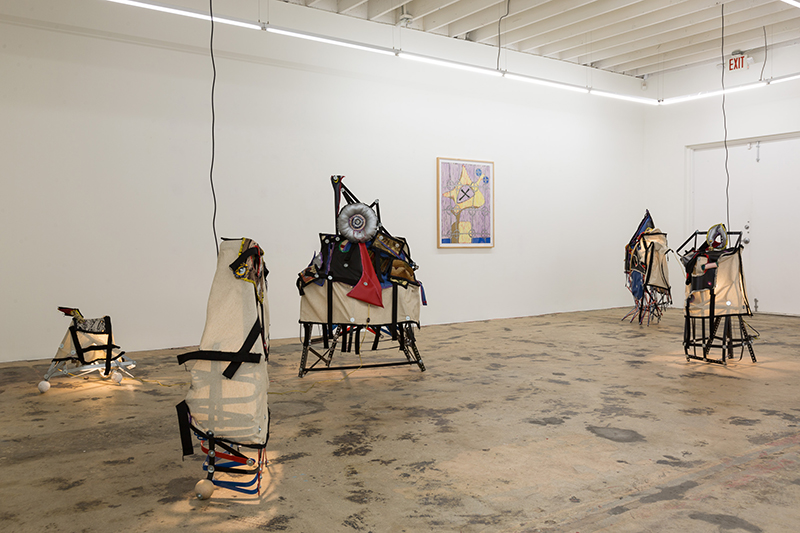 Miami Gallery Nina Johnson Rediscovers the Work of R. M. Fischer
The New York artist's crude light sculptures find new relevance.
"These things never come here," gallerist Nina Johnson recalls telling the artist R. M. Fischer last Tuesday, as Hurricane Irma hurdled toward Miami, where he would mount his first show of Lampworks in more than two decades. Yet "by the time he landed, we were already trying to find him a flight out." But during what turned out to be only a brief layover in the southern city, they got to work: "We installed the whole show, took photos, locked up, and left, our fingers crossed that it would be here when we got back." The opening was postponed to this Saturday.
Thankfully, the gallery weathered the storm with no trouble. (And to help those who didn't, it'll donate a percentage of proceeds to a charity in the Keys.) Of course, the work itself—lights that balance on legs of powder-coated steel, aluminum, and wood, bound by industrial bolts, screws, and haphazardly stitched fabric—look something like the carnage that might remain after an apocalyptic storm.
Johnson stumbled on Fischer's oeuvre somewhat by accident. At a Peter Halley opening in New York, Halley's wife told Johnson she had to meet someone named Ron. He was making a chandelier for their dining room. Ron—as it turned out—was the artist R. M. Fischer, and Johnson quickly made an appointment to visit his New York studio.
"The work immediately resonated with me," she says, describing her first visit to the gallery. "It plays at that intersection of culture, design, and function, balancing what makes an "attractive" object with what makes an "ugly" object. I thought, This could really be a model for someone like Katie Stout"—a burgeoning talent whom she represents at her gallery.
Johnson immediately offered him a show. "The entire body of work that we're showing was there that day I visited," she says.
Fischer started making work in the 1970s when, sick of the cold conceptualism that dominated the scene, he began crafting sculptures that were warm, tactile, and illuminated. But after those works rose to public attention in the '80s, he became involved in a series of public art projects that consumed the next few decades of his career: the Brooklyn–Battery Tunnel Clock in 1992; Sky Stations in Kansas City in 1994; a never-realized flight tower for the Miami International Airport in 1999. Now, as the design world finds itself reacting to a similar brand of bland, some of the stuff he was doing decades ago is suddenly resonating again. His work was recently featured in a New York exhibition jointly organized by Maccarone and Salon 94 and will be mounted at Southard Reid in October.
"All of these things are cyclical," Johnson explains. "When he first started creating these, there was this really primal idea of a fire as an object to gather around. Maybe we're back to that place again."