Sarah Trigg: Exploring the rituals of artistic creation
October 27th, 2013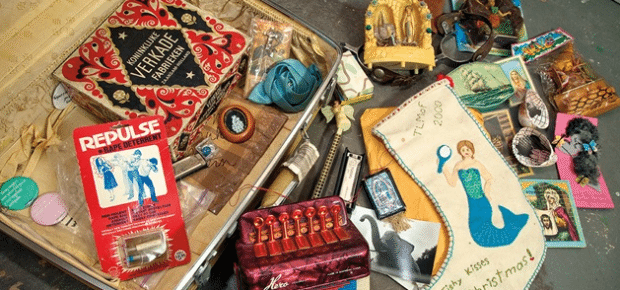 – A giant stuffed polar bear wearing a tutu and blue cone-shaped hat serves as the studio mascot for California sculptor, filmmaker and performance artist Marnie Weber.
– When making marionettes, Miami puppeteer Pablo Cano uses many donated items, including cigarette pack foils collected by Myra "Yo Momma" Wexler, and contributions from an elderly neighbor, who tosses objects she think may interest Cano over the fence and into his yard.
– Los Angeles artist Adam Janes hangs upside down from a horizontal bar in his studio whenever he needs a break.
These are just a few of the informational gems that Brooklyn painter, writer and photographer Sarah Trigg unearthed during The Goldminer Project, billed as "an anthropological approach to observing the practices of visual artists."
Over three years, the project took her into the studios of 200 artists across the United States, including 25 in Miami.
During these visits, Trigg took photographs and talked with the artists, keeping the focus on their significant objects and work-related rituals rather than the art. She then documented her findings through photographs and written accounts, half of which appear on the project's website (Thegoldminerproject.com) and half of which are included in Studio Life: Rituals, Collections, Tools, and Observations on the Artistic Process, a book published last month by Princeton Architectural Press.
See full post HERE