Spring shows featuring Nicole Wittenberg
April 11th, 2022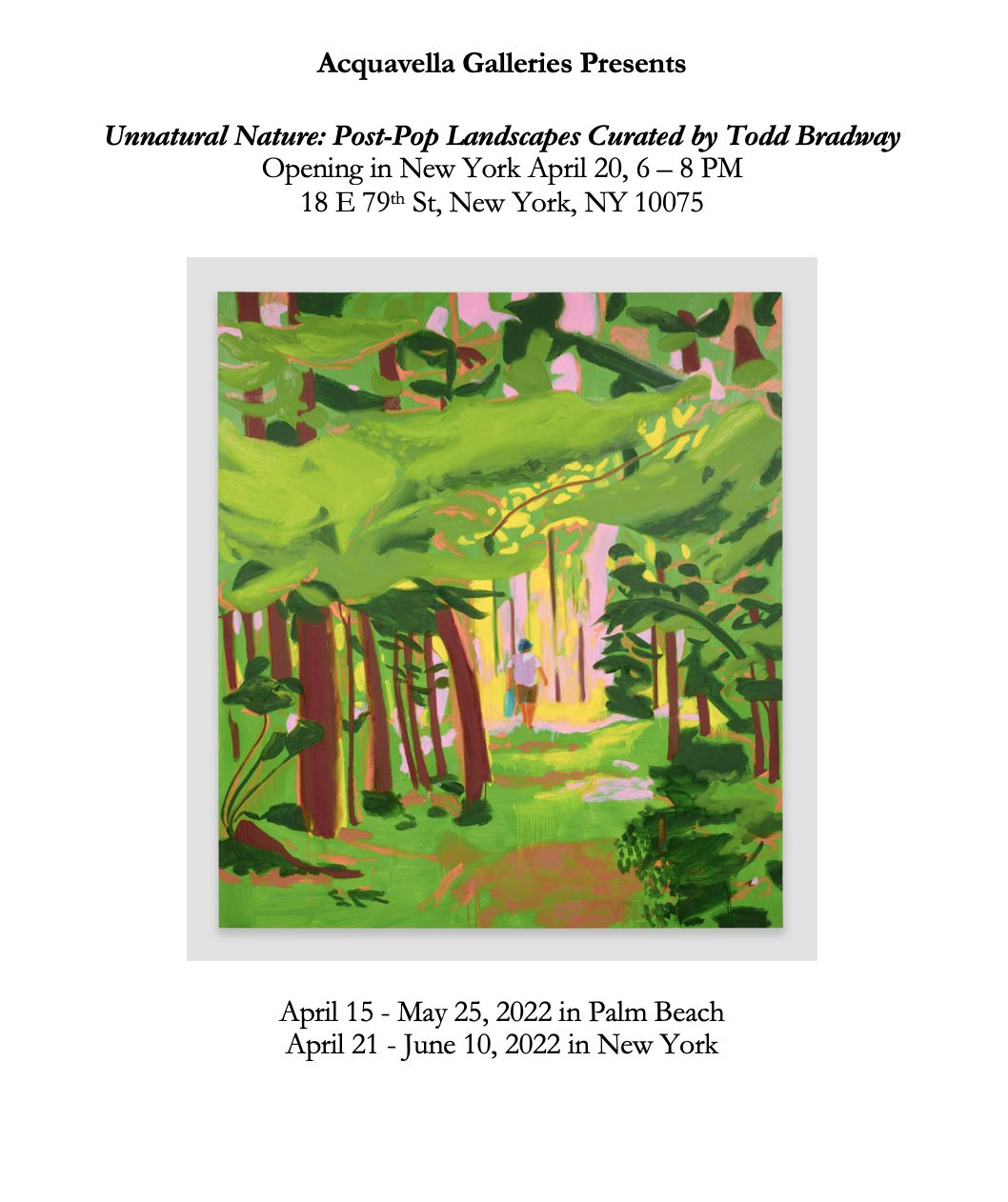 Acquavella Galleries presents Unnatural Nature: Post-Pop Landscapes Curated by Todd Bradway
April 15 – May 25, 2022 in Palm Beach
Acquavella Galleries is pleased to present Unnatural Nature: Post-Pop Landscapes, a group exhibition presented concurrently at both its New York City and Palm Beach locations from April 21 to June 10 and April 15 to May 25, respectively. The exhibitions are curated by Todd Bradway, editor of Landscape Painting Now: From Pop Abstraction to New Romanticism (D.A.P., 2019), and feature works by 28 contemporary artists.
As viewed through the lens of Unnatural Nature, it is clear that the genre of landscape painting continues to thrive in the 21st century. This exhibition is influenced and based, in part, on Bradway's research for Landscape Painting Now. Presenting myriad conceptual and formal approaches for picturing our natural world, the works on view are united in their highly stylized approach to depicting landscape, as well as a hyperreal sense of color, form, and perspective, which together serve to create heightened and vivid representations of our modern world.  The exhibition features a diverse group of paintings, including those that skew more towards more traditional, perceptually driven, though often distorted,  portrayals of our surroundings to others that exhibit a more abstracted, expressive flatness, connected by their shared mediation with modern modes of perception, such as photography, the iPhone, billboards, video games, and television.  The subjects of these works themselves are as diverse as the methods to depict them, ranging from dreamlike forest scenes, moody nocturnals, and dramatic aerial views of the world, to perspective shifting cityscapes and hallucinatory, yet melancholic, views of the sea.
With artists ranging in age from 35 to 95, Unnatural Nature considers the vibrant work of a new generation of artists pushing the genre forward, alongside significant works by a more established generation of painters including Adrian Berg, Lois Dodd, David Hockney, Yvonne Jacquette, Alex Katz, and Wayne Thiebaud, whose enormous influence on the history of landscape and modern painting is difficult to overstate. For some of these artists—for example Jennifer Coates and Daniel Heidkamp—an exploration of the history of art itself becomes a key subject of their canvases, whereas others focus on the emotional potential of painting and memory, as in Jon Joanis' otherworldly scenes using non-traditional materials, such as coffee grounds and glow-in-the-dark paint, as well as Nicole Wittenberg's gestural, immersive canvases that place the viewer firmly within seductive, swirling vistas. Considered in totality, Unnatural Nature, which consists of major new works brought to the gallery straight from the artists' studios as well as important loans from estates and private collections, gives us a deeper understanding of our place in the world while further reinforcing the ongoing potency of contemporary painting.
Click here for the full press release
SFA Advisory presents Nicole Wittenberg: Pastels
April 13 – May 25, 2022 in New York City

…there is something compelling about seeing the grandness, the intimacy and individuality of the natural world.  It gives me an immense amount of energy, the kind that compels me to make art.
-Nicole Wittenberg
Click here for more information