The Art World Opens Up to an Underrepresented Group
October 20th, 2023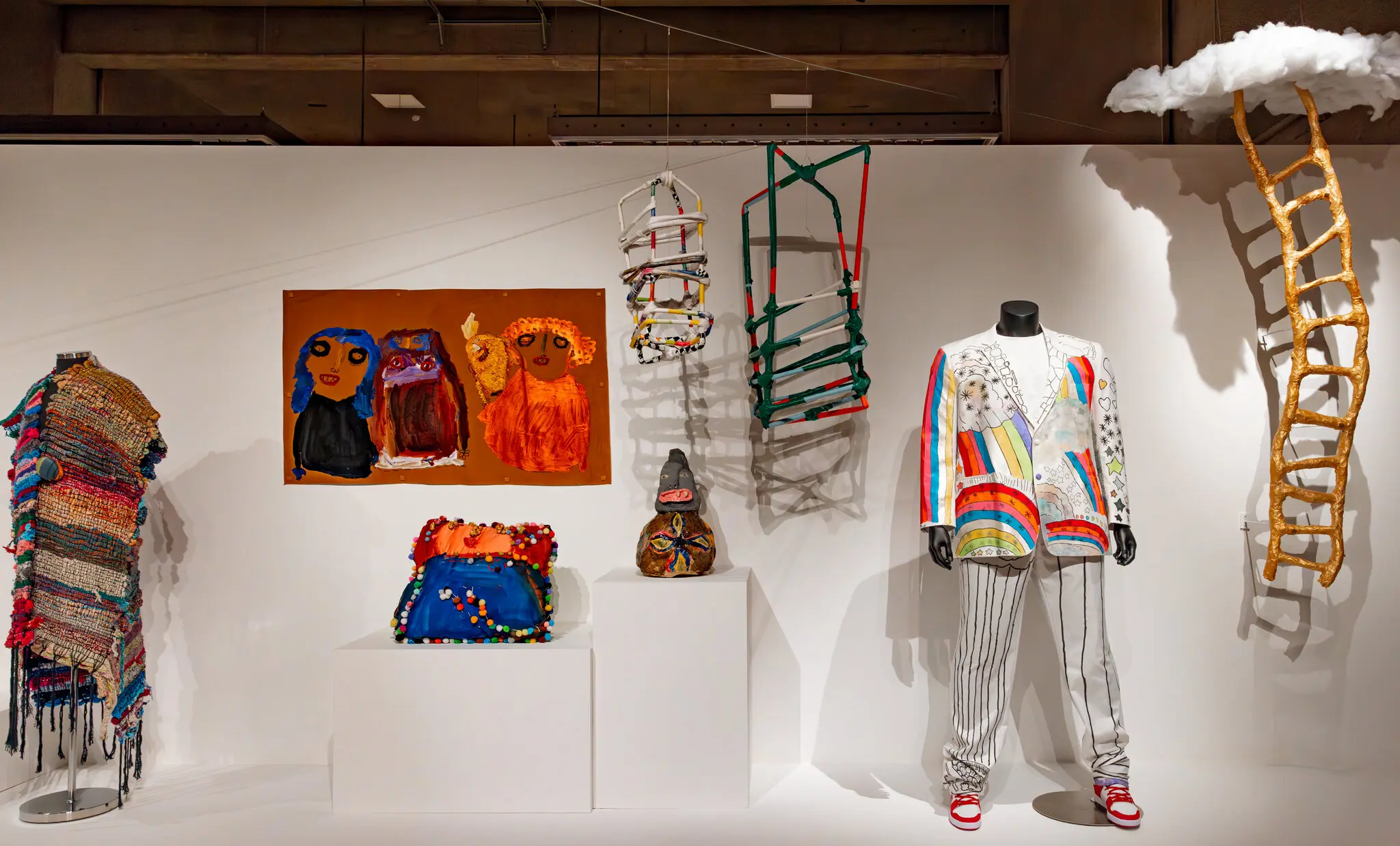 Museums and collectors are showing interest in works by developmentally and intellectually challenged artists, many of whom were nurtured in a vibrant Oakland, Calif., center.
By Michael Janofsky
It was 2:15 on a late-summer Friday afternoon, time for Creative Growth's weekly dance party. The artists gathered in the lunch area and began gyrating to tunes from a boom box. Soon, a conga line formed. Chugging along, they snaked their way through their work spaces, then out the front door and back, synchronicity more evident in happy faces than footwork. It was a joyous way to celebrate another week of artistry.
Creative Growth is a sprawling art center and gallery near downtown Oakland in a building long ago converted from an auto repair shop. Far more than the dancing on Fridays, what happens here every day is a celebration — of art, of life, of the human spirit. It's foremost a tribute to the mystery and marvel of the brain's capacity to overcome deficits and, through artistic endeavor, open a window onto an inner self.
The artists here have intellectual and developmental disabilities, some with autism, some with Down syndrome, some nonverbal, some blind, some deaf and many who communicate better through the work they produce. Untrained in the conventional sense of art schools and mentors, they respond, instead, to an inexplicable force that guides their eyes, hands and instincts.
Monica Valentine, 68, originally from San Mateo, Calif., whose creations have reached museums around the country, slides beads onto pins, then inserts the pins into Styrofoam blocks, careful to somehow keep color groups in specific design patterns. How does she do that; she has been blind since birth. "I feel their temperature," she says of the beads.
John Martin, 60, born in Marks, Miss., who lives with a complex developmental disability, molds ceramic pieces into what appear to be colorful everyday objects like pliers, wrenches and keys, only some of them have faces.
Like Ms. Valentine and Mr. Martin, who both now live in Oakland, each artist creates according to a particular muse with no outside instruction. As many as 90 artists a day, five days a week, immerse themselves in media of their choice — painting, drawing, sculpting, weaving, sewing, woodwork, beadwork, ceramics, video. For most of them, it's their job; some have been coming here for decades.
While many of the finished pieces get only as far as an exhibition in the center's own gallery, some artists have achieved international acclaim, their works regarded as on par with those by artists without disabilities and with more formal training. Pieces by Creative Growth stars — Judith Scott, Dan Miller and William Scott (no relation to Judith), among them — are eagerly sought by private collectors and leading gallerists. Some of their pieces sell in upper five figures.
They and other Creative Growth artists are also part of major museum collections, including the Pompidou Center in Paris, the National Gallery in Washington and the Museum of Modern Art (MoMA) in New York. The State Department has secured on loan 100 pieces to display in American embassies around the world as part of its Arts in Embassies program.
On most days, Creative Growth artists' works are on public view somewhere in the United States. In addition to the center's gallery, their works are now at the San Francisco Museum of Modern Art (SFMOMA); the American Visionary Art Museum in Baltimore through June 30; Sargent's Daughters West in Los Angeles through Oct. 28; the largest current exhibition, at the Oakland Museum of California through Jan. 21; and the Outsider Art Fair in New York, Feb. 29 through March 3.
The Oakland show, "Into the Brightness," is a presentation of nearly 300 artists working at Creative Growth and its two Bay Area sister organizations, Creativity Explored in San Francisco and NIAD (Nurturing Independence Through Artistic Development) in nearby Richmond. All three were founded as nonprofits by the late Elias Katz, a Bay Area psychologist, and his artist wife, Florence Ludins-Katz, who
pushed to expand rights and quality of life for disabled people through art as an essential human experience. Creative Growth was the first to open in 1974, followed by the others in the early 1980s.
While all three studios share the same mission, Creative Growth has been the most aggressive in promoting artists beyond the region with an expectation they will be appreciated — and sold — more for the quality of the work than for the disability of the artist, much as Frida Kahlo's paintings are revered for their brilliance and imagery, not the ill health she suffered much of her life. (She died at age 44 as a result of injuries from a streetcar accident when she was 18).
It's a critical distinction that helps move disabled artists closer to the contemporary art mainstream, mirroring the experience of other minority groups, whose early works might have been venerated more because of the demographic of the artist.
"What you lead with matters," said Tom DiMaria, Creative Growth's director since 2000 and chief marketer. "If it's the art that interests you, then the conversation is first about who made it and the story behind it. If disability leads, then it's a charity case."
The public will soon have a big opportunity to contemplate the difference. Starting April 6 and continuing into October, SFMOMA will celebrate Creative Growth's 50th anniversary with a major exhibition of 113 pieces by 10 Creative Growth artists, all but two of them still working; Judith Scott died in 2005, Dwight Mackintosh in 1999.
Unlike the Oakland museum, which is buying 20 pieces for its own collection and returning the others, SFMOMA has purchased the entire Creative Growth exhibit, plus an additional 43 pieces from Creativity Explored and NIAD, for $578,000, the largest acquisition of works by disabled artists by any American museum. The museum is dedicating three galleries to the Creative Growth show with all the works remaining in SFMOMA's permanent collection for inclusion in future exhibits.
The genesis of the Creative Growth exhibition came last year through an "open letter" on Instagram from Matthew Higgs, director of White Columns, New York's oldest gallery for alternative art, to Christopher Bedford, then the newly-installed director of SFMOMA.
Mr. Bedford had served the previous six years as director of the Baltimore Museum of Art, where he campaigned for greater diversity on the walls and staff through deaccessioning older works. In his boldest effort, he proposed selling paintings by Brice Marden, Andy Warhol and Clyfford Still to buy works by minority artists. The plan was abandoned after fierce backlash; less than two years later, he left for SFMOMA.
Mr. Higgs said he discovered Creative Growth in 2002, when he was curator for contemporary art at the California College of Arts in San Francisco. Walking past the center one day, he peered through the windows to see a lively scene of creativity. "It was immediately apparent that something amazing was going on," he said in an interview. He called it "the most transformative moment in my career in art."
His message to Mr. Bedford included a photo of the Katzes, who did pioneering work on behalf of disabled artists at a time the Bay Area was at the forefront of movements for gay rights, women's rights and civil rights for minority groups. He implored Mr. Bedford to acquire and exhibit works from Creative Growth and the two other area studios, predicting it "would have a transformative impact on the museum, its audience and ultimately art history."
"If you do one thing," Mr. Bedford recalled Mr. Higgs telling him, "do this."
Weeks later, Mr. Bedford and a team from SFMOMA visited the center.
They were blown away. And money was available for a large purchase through the museum's de-accession fund, used to diversify the collection with underrepresented artists. This would fit the mission.
"It was transformational for me to experience the artistic work and to connect with the place and its deep history, one that admittedly I didn't know enough, or really anything, about," Mr. Bedford said in an interview. "These are artworks and narratives that disrupt our common understandings of the trajectory of art and deserve su-bstantially greater presentation and public engagement."
Many of the pieces selected for the SFMOMA exhibition are fanciful representations of people and objects that reveal almost nothing of the artist's life. Judith Scott's oeuvre — random objects wrapped in yarn and fabric, now prominent in galleries and museums worldwide — offer no clue that she was born deaf with Down syndrome and was institutionalized for most of her years until her fraternal twin sister Joyce moved her from Ohio to California and into Creative Growth in 1987.
Others works offer hints of an atypical life. Mr. Miller, an autistic person who works wearing a helmet to safeguard against an epileptic seizure, marries swirling patterns in ink and paint with images and words that are sometimes typewritten, sometimes scrawled, but each included for reasons known only to him: "light bulbs," "electrical sockets," "drill," "string," "metal." His works are in the permanent collections of the Smithsonian American Art Museum, the Pompidou, MoMA and Collection de l'Art Brut in Lausanne, Switzerland, and he exhibited at the Venice Biennale in 2017. David Byrne of the Talking Heads has a Dan Miller. So does the photographer Cindy Sherman.
One of the more reflective artists is William Scott, who has autism, schizophrenia, a photographic memory and an easy smile. His whimsical and reverential paintings echo a wished-for more-perfect world with images of family members, celebrities, politicians, civil rights leaders and even himself as metaphors for rebirth and renewal.
In one piece planned for the SFMOMA exhibit, he renders a sad-faced self-portrait bearing scars on his chest from a fire in his childhood beside a similar figure with a slightly smiling face and no evidence of injury. In between he painted the words, "GOD'S PLAN."
A selection of his architectural images of hoped-for redevelopment in San Francisco is planned to be part of an exhibition next year at the Cooper Hewitt design museum in Manhattan.
"Are you famous?" a studio aide asked him playfully as he sketched buildings on an iPad with a $30,000 app used by architects that Creative Growth purchased for him.
"I'm famous," he said sheepishly. "I am."
Martin and Rebecca Eisenberg of New York, major collectors of contemporary art, own more than 50 works by Creative Growth artists, including one by William Scott and another by Judith Scott, both on loan to SFMOMA.
"We're in for a fight to get this population represented, the same way we did for women, artists of color and Indigenous Americans," said Mr. Eisenberg, who serves on two curatorial committees at MoMA. "It's important for a community to see their people up there."
With prices for disabled artists' work climbing, Mr. Bedford concedes that SFMOMA's purchase price was a bargain. As with all sales, the money is split equally between the studio and the artist, but a show of this size is almost certain to raise artist profiles, drive prices higher, increase public appreciation and, by extension, boost museum attendance.
"We show them. Dealers swoop in, want to represent the artists," he said. "Over time the value of the work increases. That's what happened with African American artists; it will happen with native American artists, and it will happen with these artists."