The Most Memorable Moments From Miami Art and Design Week 2022
December 9th, 2022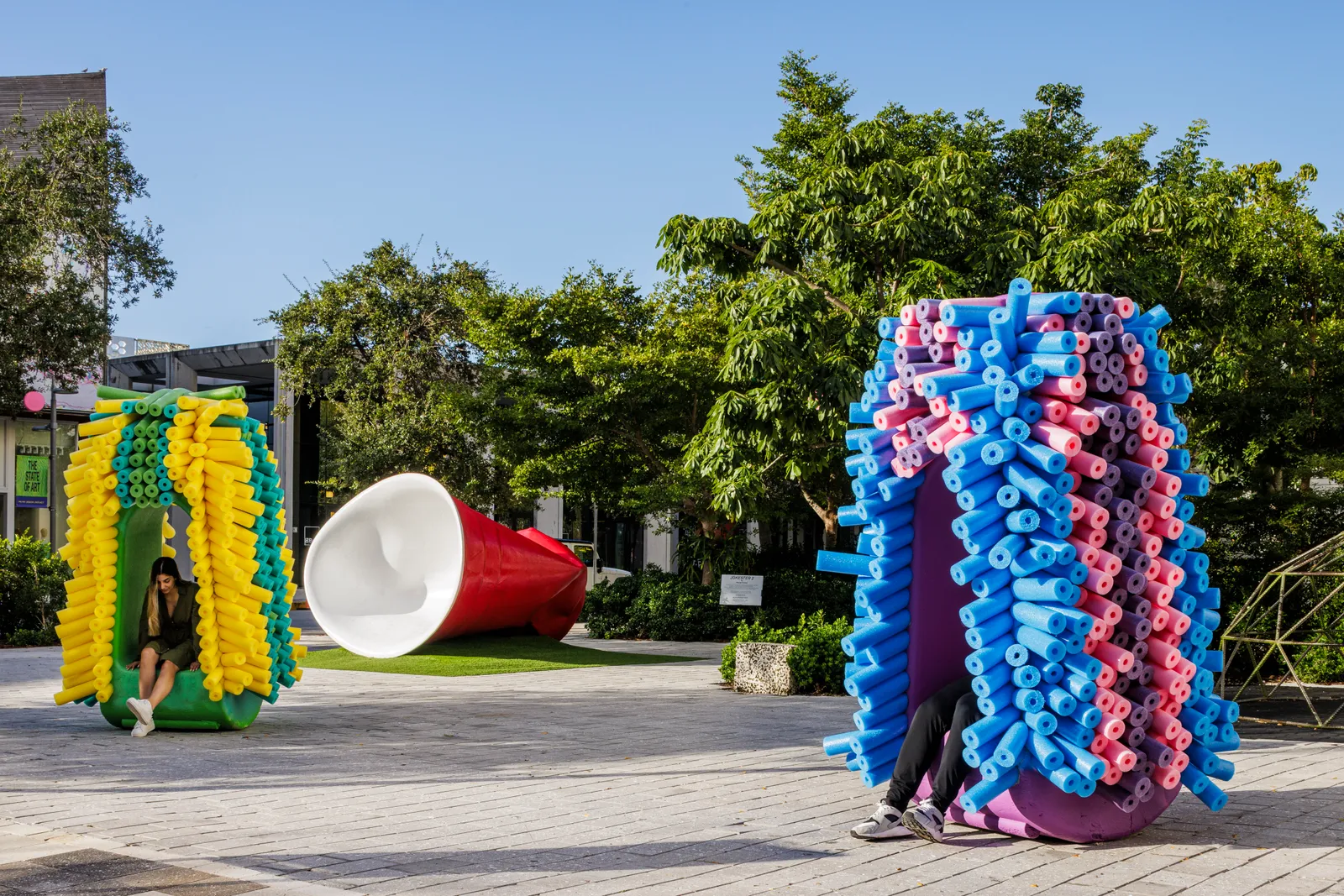 Here's what AD PRO is still thinking about, days after returning from a busy and buzzing Magic City
GQ writer Samuel Hine had it right when, earlier this week, he called the festivities surrounding Art Basel and Design Miami the "fifth fashion week." From the Design District to Miami Beach, plumage from makers, jet setters, and collectors was on full display—topped only by the wildly provocative installations, furniture, art, parties, and more taking place around the city.
Having had a few days to recover, here is what we at AD PRO are still thinking about from all of the showings at Miami Art and Design Week 2022.
Wynwood & Design District
With each passing year, more of our schedule is dominated by events on Miami's mainland, thanks in large part to the mushrooming Miami Design District, where art, design, and fashion seamlessly converge. As always, the streets of the District were dressed to impress—decked out by Miami-based architect Germane Barnes, who hung wind chimes from the trees and installed fanciful seating capsules around the neighborhood for his installation Rock | Roll. Made of cut-up pool noodles, the feathery pods were inspired by the elaborate costumes worn during Miami Carnival, a Caribbean tradition carried to the Magic City. Visitors could be seen sitting in the elaborate confections throughout the week, taking a moment to make a phone call or catch up on their emails.
Elsewhere Around Town
To celebrate her gallery's 15th anniversary, the beloved Miami-based art dealer Nina Johnson mounted a lineup of three stellar solo shows in her Little Haiti space, designed by AD100 talents Charlap Hyman & Herrero (CHH). Freaky and somewhat surrealistic flower paintings and cast glass works by Nadia Ayari filled the main gallery, while shimmering new sculptures and wall works by Raul de Nieves encrusted with sequins, rhinestones, beads, and buttons (each one is like a dense collage) dazzled upstairs.
Christening the newest space to her compound—the library, also designed by CHH and outfitted with modular and clear fir shelving—was her inaugural exhibition of work by the Korean artist Minjae Kim. Called IYKYK, the show was packed with subtle references to Kim's heritage—moon jars made from fiberglass and resin; pseudo lamp shades evoking Joseon-era hats are woven from window screen netting rather than traditional horse hair. Many pieces tipped (sometimes literally, like everyone's favorite lacquered wood rocking chairs) into functionality. AD100 designer Rafael de Cárdenas grabbed one of those fan favorites on Monday's opening night.
Johnson's gallery program and buzzy evening events were the talk of the town, and her booth at the NADA fair was a must-see as well. There, You Keep Our Spirit Safe Between All Within the Day to Night, a multimedia work by indigenous artist Patrick Dean Hubbell, was quickly acquired for the permanent collection of the Pérez Art Museum Miami.