Tom Scicluna's Site-Specific Installation #CAN1872P, on View in Miami Beach
September 1st, 2023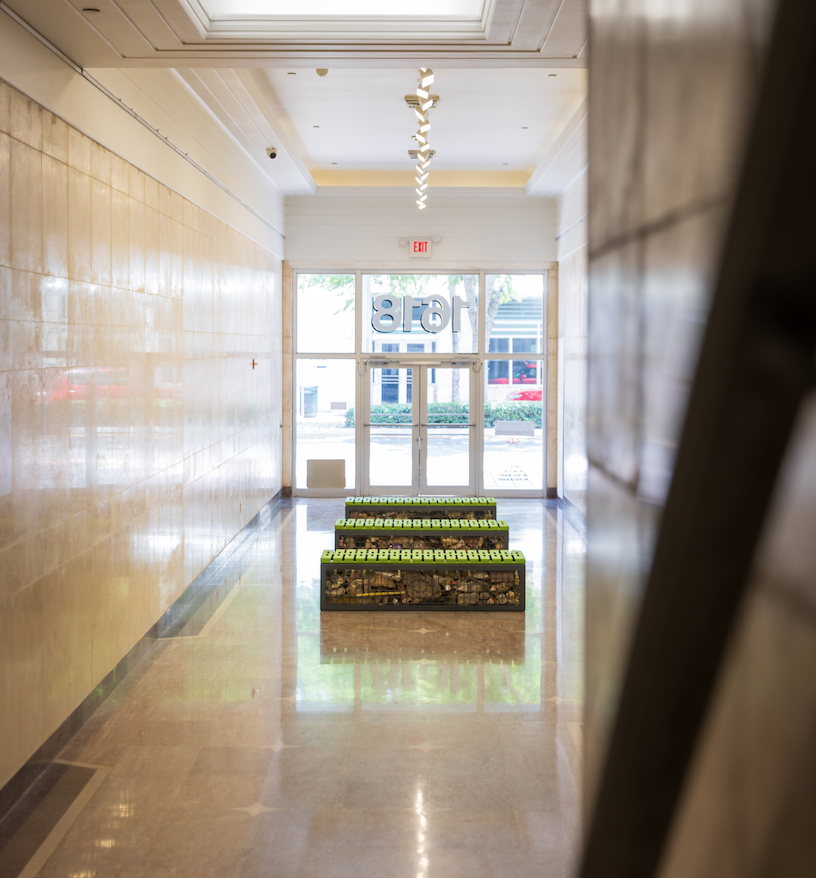 Opening August 21st, Miami Beach Urban Studios is pleased to present #CAN1872P, a new site-specific installation by Tom Scicluna. 
 #CAN1872P is a public project featuring interactive gabion-style benches that contain locally salvaged materials and debris. As a sculptural project, #CAN1872P refers to Robert Smithson's non-site containers – minimal shaped structures that function as abstract representations of actual physical places via the accumulation of materials (generally rock or sand) sourced from sites other than the place of exhibition. As opposed to a specific geographic or spatial displacement, the materials contained within #CAN1872P – chunks of construction-salvaged-Oolite and South Beach-found debris – derive from the broader South Florida environment.   
Of additional significance is the historical precedent and function of the gabion to civil engineering, road building, military, landscaping, and sea defense projects; a gabion is a cage or box that is typically filled with rocks, concrete, or sometimes sand and dirt, that is used as a barrier or fortification. The project title #CAN1872P is taken from the product reference number of the benches and reiterates the ready-made nature of the benches, which are commercially designed and sold via an online parks and facilities website.  
 Sited two blocks west of the ocean and installed within the iconic stone-clad 420 Lincoln Road/Washington Avenue gallery space – and with consideration to the social, economic, and environmental impacts of sea level rise upon the region – #CAN1872P invokes as well as questions binaries such as infrastructure and leisure, value and waste, development and entropy, site and non-site.  
Tom Scicluna lives and works in Miami, FL. Recent shows and projects include: Domain, Nina Johnson, Miami, FL; 2019 Atlanta Biennial: A thousand tomorrows, Atlanta Contemporary, Atlanta, GA; Some Aesthetic Decisions: Centennial Celebration of Marcel Duchamp's Fountain, NSU Museum of Art Fort Lauderdale, FL; and Climate Sync, a public artwork realized in conjunction with Miami-Dade Art in Public Places and installed at Oolite Arts, Miami Beach, FL. His work is in the permanent collections of ICA Miami, NSU Art Museum Fort Lauderdale, and the Pérez Art Museum Miami. Scicluna is currently an Assistant Professor of Sculpture at Florida International University and is represented by Nina Johnson Gallery, Miami, FL. 
#CAN1872P is funded by the Ellies, Miami's visual arts awards, presented by Oolite Arts; the City of Miami Beach, Cultural Affairs Program, Cultural Arts Council; and the Miami-Dade County Department of Cultural Affairs and the Cultural Affairs Council, the Miami-Dade County Mayor and Board of County Commissioners.