Tour a Waterfront Miami Abode Designed to House a Young Family—And a Sailboat
September 12th, 2023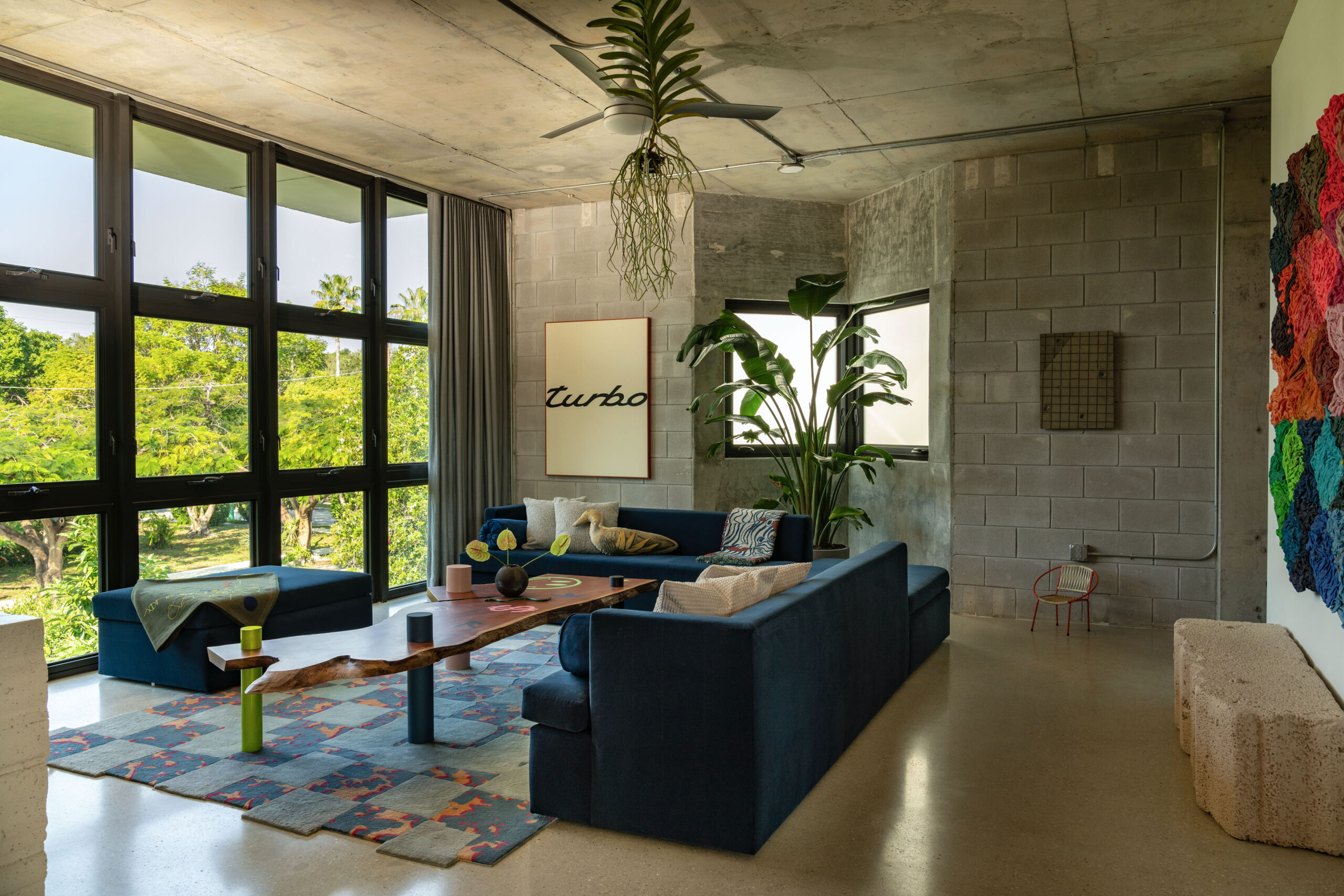 The concrete dwelling offers a Floridian take on high-tech style
When Emmett Moore, a furniture designer and sculptor, began planning his Miami house in 2014, he had one parameter: The ground floor needed to fit a sailboat. It wasn't entirely aspirational. His then girlfriend and now wife, Sarah Newberry Moore, is a professional sailor. (She's currently training for the 2024 Olympics.) An 18-square-foot box with 11.5-foot ceilings—large enough to store a catamaran—became the basic building unit of the home.
But the two-story concrete residence on the banks of the Seybold Canal keeps the sea top of mind in more ways than one. "In theory, you could launch a boat from our front driveway," says Moore, speaking to the inevitability of rising water levels. Working with the Miami-based firm Arquitectonica, Moore built the structure five feet off the ground and incorporated myriad strategies for coastal resiliency, among them catch basins, French drains, and an absorbent landscape of salt-tolerant plants. In dire conditions, the first floor (his studio) could even be relinquished to the tides, leaving the couple's top-level living quarters untouched. The place is also designed with passive cooling techniques, solar power, a rainwater collection system, and a garden that produces a bounty of fruits and vegetables. "The whole idea," he says, "was to consolidate our life into this one building."
Moore, who describes the house as "a balance between tropical modernism and light industrialism," took inspiration from the surrounding Spring Garden neighborhood, where warehouses and boatyards sit chockablock with single-family homes. "Many buildings erected along the nearby Miami River were simple concrete block structures, similar in material and form," explains Arquitectonica's Raymond Fort. The results are a South Florida riff on 1970s high-tech style, in which everyday materials mix with colors reminiscent of an airbrushed sunset, from the bright red front door to the pink deck ladder that leads to the roof. In keeping with indoor-outdoor connections, exterior stairs are the only link from first floor to second. Streamline Moderne accents like porthole windows and faux-terrazzo concrete floors further insert the design into a quintessentially Miami vernacular.
"Everything in the house has a very specific logic, a very local logic," explains Moore, who grew up here and studied at RISD, returning to Florida a few years after graduation. His work (represented by Miami's Nina Johnson gallery) mines touchstones of his beloved city. At home, the living room armchair is made from breeze-blocks, the kitchen chandelier from hundreds of old keys to a downtown building. The table and chairs on the screened-in porch, meanwhile, consist of stacks of T-shirts that he bought by the pound then slicked with epoxy resin.
When constructing the foundation for the house, Moore unearthed heaps of Miami limestone or oolite—many call it coral rock—which became a new fixation. "It's basically the reason Miami exists," he explains of the city's bedrock, often used (as he did) for retaining walls. He didn't want to use the actual stone in his furniture practice so he devised a proxy, sculpting scrap foam embedded with shells and fossils and coating it with polyurethane and sand-textured paint. When he and Newberry Moore needed a bookcase, this concoction passed the strength test. Now he's using it to make lamps and more.
Since their 2020 move-in date, the couple have turned the house into a playful backdrop for their lives, which now include two-year-old son, Iren. In the living room, a Moore-designed cocktail table, stamped with a smiley face, dollar sign, and Playboy Bunny logo, sits with woven-wool traffic cones by Katie Stout, Moore's longtime friend from RISD. Bumper stickers plaster the kitchen bar. And while there's presently no boat downstairs, a 2017 painting of one hangs over their bed. A wedding gift from their friend James A. Flood, the canvas depicts the couple sailing around Nantucket, a dreamy analogy for the home that has launched their lives.
This waterfront Miami abode appears in AD's October issue. Never miss an issue when you subscribe to AD.