Victory Garden by Emmett Moore at MOCA North Miami
February 8th, 2023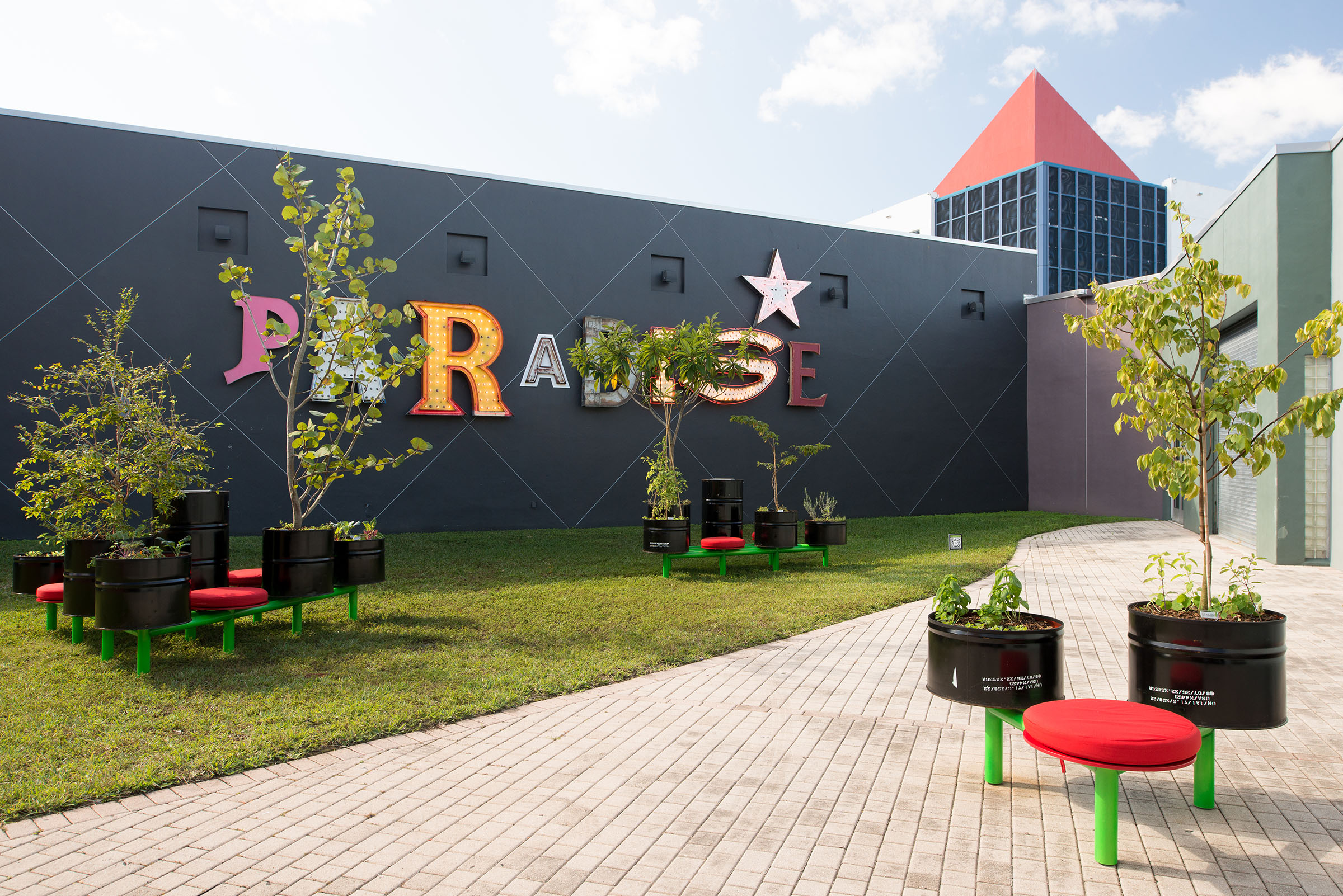 Inspired to find community solutions to the issue of food scarcity and increasing food prices caused by the Covid pandemic and rising inflation rates, artist and designer Emmett Moore (b. 1988, Miami FL) looked to the 20th century wartime model of home gardening as inspiration for this site-specific installation. Victory Garden activates MOCA's Paradise Courtyard using repurposed steel drums as material for large-scale sculptures that not only act as a conduit for connecting the North Miami community to food education resources, but also as a connection to the global community as steel drums are used in many contexts from steel pan instruments in Trinidad and Tobago and DIY planters around the world. Visitors can sit, relax and recharge in solar-powered spaces within the sculptures, which are planted with a variety of hardy, low-maintenance edible plants and grasses native to South Florida and the Caribbean. Through workshops and virtual guided planting resources, Victory Garden aims to empower visitors to start their own gardens, and features community organizations including Ready-To-Grow Gardens, Finca Morada and Urban Greenworks, that provide spaces for learning and creating dialogue. As the installation progresses, at harvest there will be a range of edible plants from cilantro to starfruit as well as plants that are helpful to pollinators. In this way Moore's project is creating a fuller ecosystem that encourages visitors to consider the ways we are all interconnected and how change can be both incremental and monumental.
Emmett Moore is a Miami-based artist and designer known for a technically rigorous interdisciplinary approach that challenges notions of functionality and fluctuates seamlessly between design and art examining our relationship with the built environment. Moore's work utilizes processes taken primarily from architecture and industrial design, working with found forms of everyday objects to speak to the universality and timelessness of the utilitarian and quotidian. His material language consists primarily of secondhand goods and refuse to break down inherent hierarchies within the physical world and elevate the mundane. His work has been shown institutionally at the RISD Museum, the Frost Art Museum, the Miami Art Museum, the Bass Museum of Art, and is in the permanent collection of the Perez Art Museum Miami. Moore's work has been covered by Art in America, The Guardian, The Miami Herald, Cultured Magazine, Architectural Digest, Artsy and The Art Newspaper among others. Moore was named the Miami New Times' Best Visual Artist in 2015 and 2021.
Welcome to Paradise is a new commissioning program that invites South Florida artists to create ambitious experimental projects that activate MOCA's Paradise Courtyard with temporary projects. For the 2023 season the thematic focus centers on artists working at the intersection of ecology and technology.