Water as Memory and Dreams: Jamilah Sabur Interviewed by Monica Uszerowicz
November 28th, 2018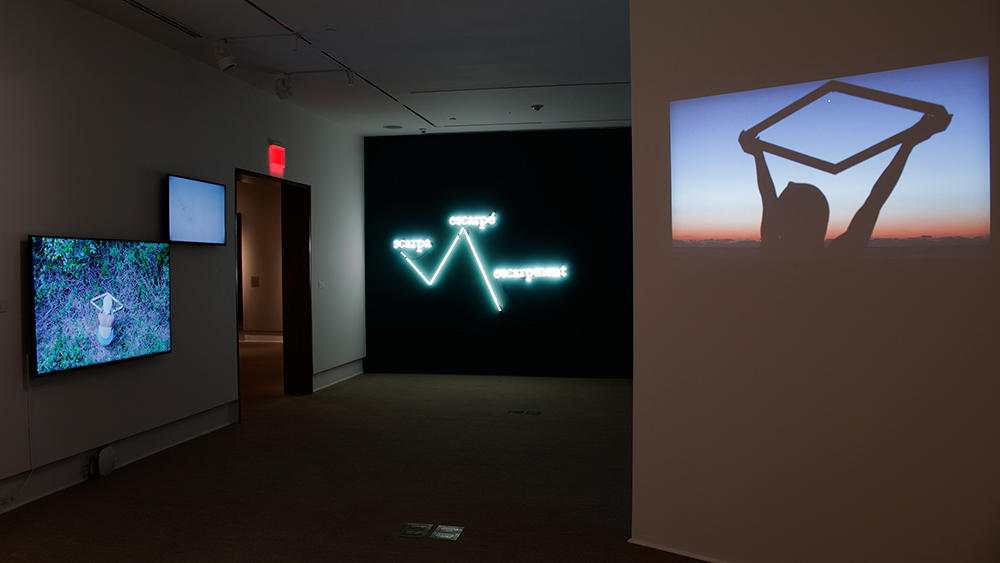 Water as Memory and Dreams: Jamilah Sabur Interviewed by Monica Uszerowicz
Historical currents reveal cultural trauma and methods of recuperation.
The word escarpment sounds like what excavation means, or what exfoliation feels like; when Jamilah Sabur describes it, she is rhapsodic and glowing, rasping the "car" and inflecting the "T" until it's crisp and shining. It means a very steep slope, the sort you'll find at a plateau's edge or in the sea, seemingly endless. "I love the texture of the word, the sound of the word," she tells me, wistful. "The word references geology; it's also related to the concept of armament, or the fortress. And it's very much related to time—repositioning how I think about this moment, this space. Escarpment as a metaphor for origin: imagining everything being borne of this slope. I've been interested in the mountain form; escarpment makes me think of the other side of the shape, or its interior. Now I'm below the surface of the water, this thing that's continuing and geographically infinite."
Sabur loves words. She becomes a cosmic etymologist when she talks about them; she likes the feel of the letters, their shape, the stories they avow. She slides down escarpment into the sea, into a bedrock of histories and populations terrorized, colonized, reshaped, bordered, whitened. She collects geological territories and languages. In performances, she dances with them, recites them, harkens back to her familial origins.
During a residency at Flagler College's Crisp-Ellert Art Museum in St. Augustine, Florida, she studied the landscape's early inhabitants, the Timucua, and their extinct language. When she became a United States citizen earlier this year, Sabur changed her middle name to Ibine-Ela-Acu, which in Timucua means Water Sun Moon. Ibine-Ela-Acu is also the name of her exhibition curated by Amy Galpin and currently on view at Cornell Fine Arts Museum at Rollins College in Winter Park, Florida. One piece, a two-channel video entitled A point at zenith (Cuando caen las flores) (2018) alludes to the 1656 Timucua Rebellion, overlaid with found footage of the Osceola National Forest. She moves slowly in another video, Untitled (rhombus: above Lake Apopoka North Shore) (2017), near the highest point in a flat state, holding a rhombus shape that moves like a portal.
Sabur, who was born in Jamaica, considered the Timucua a kind of entry point into understanding the territoriality of citizenship—particularly in a climate whose fealty to white supremacy grows invidiously more visible every moment. That the current administration wants to obliterate birthright citizenship is cruel and unsurprising; on stolen land, it's also preposterous. How we see the Americas, Sabur tells me, is farsighted, cluttered with a history that erases all who came first. How easy it is, we forget, to look more closely. To remember something nearer to the truth.
—Monica Uszerowicz
Jamilah Sabur, Ibine Ela Acu/Water Sun Moon, 2018. Installation view. Cornell Fine Arts Museum. Photo: Austin Reeves.
Monica Uszerowicz For you, geography and geology are often entry points to other ideas. Why is "underneath the water" a space of significance for you?
Jamilah Sabur I talk about Gaston Bachelard all the time—The Poetics of Space is my bible. I've always thought about analyzing something in its fullness: in Poetics of Space, Bachelard describes the structure of the house, its top layer, its basement layer. Thinking about what's underwater comes from a desire to re-shift and re-orient my gaze, breaking out of this myopic thinking. This thing I'm standing on, the Florida Platform, a geological feature, continues below: it's more than what I'm seeing, which makes me feel more whole.
MU In "Water and Dreams," Bachelard talks about water as reverie, water as a place where memories are stored. I think about that on a personal level, but it's bigger than that—what is held beneath us.
JS Yes, I think of water as this womb, a space of remembering. Much of my thinking about reorienting space—imagining what's underwater—came from the St. Johns River, spending time there, being in the mouth of the river. The mouth is in Jacksonville, in Timucua territory; the St. Johns River is the longest river in Florida. This river remembers—it carries memory. For my performance Beneath the rivers there are no borders (2018), I imagined the St. Johns River crying and calling out for the São Francisco River in Brazil. The mouths of both these rivers feed into the Atlantic—technically, these rivers connect.
MU They talk to each other. In Beneath the rivers there are no borders, the poet Terri Witek recites a list of rivers and other geological spaces. Was that your list?
JSI compiled a list of all these underwater geologic features—mountains, basins. My starting point was the space where the São Francisco River empties in the mid-Atlantic, scanning up into the Caribbean, going to the Pacific side of Central America, and then coming back into the Caribbean and up into the Gulf, to Florida. There's a prominent one, the Nicaraguan Rise; it inspired a recent piece called This is where I was born (2018). Jamaica is a rock attached to the Nicaraguan Rise, which juts four thousand feet into the water.
I wanted to think about these geologic forms, the way they connect to each other. Some of this was borne out of thinking about colonial history. The etymology of the name Jamaica is derived from the indigenous Arawak people, Xaymaca, but I think about how it might be possible to imagine these territories in a biological sense, their structural features, their names—to know them. They feel like they're living.
MU Why did you change your name?
JS When I became a citizen this year, I changed my middle name to Ibine-Ela-Acu, which means Water Sun Moon. It's Timucua, which has been extinct for four hundred years. St. Augustine—Timucua territory—was the first colonized city in what we now call the United States; St. Augustine was Spanish-Florida then. Part of the citizenship process includes an interview, and you prepare for this test in which US history begins at 1776. It felt really crazy, this erasure of time prior to 1776. I wasn't planning on changing my name. But in that moment in the interview, the decision almost came from a desire to honor these people—of a territory that I call home, Florida—and remember them. Now I feel like a carrier of this memory. A lot of my entry into the Timucua language is by way of a 1612 text. The 1612 texts are the oldest recorded texts of a native language from the territory now called the United States.
MU When you started your residency at the Crisp-Ellert Art Museum, did you initially have the intention of studying the indigenous people of St. Augustine?
JS When I submitted my proposal, no. My starting point was the river. When I got there, it felt strange that there wasn't more explicit presence of their history. Much of the Timucua language is stored in historical Franciscan texts. The reason for this was rooted in conversion—colonizers would come into these territories and attempt to convert them to Christianity. Within the Timucua example, they would translate biblical texts into Timucua. So many of the records are in this textual space; through this, I encountered George Aaron Broadwell, who teaches at the University of Florida. He's the main expert in Timucua.
MU Do you ever think about ghosts?
JS Definitely. After the Spanish left, the fort in St. Augustine, Castillo de San Marcos, became a prison for various indigenous groups. When I first entered the city limits, I felt a shiver through my body; this is a site that contains so much pain that defines the history of this country. I could feel that I was walking into a place containing a lot of energy.
MU You do a lot of this work—this spiritual excavation—with your family's history, too.
JSAt the root, I come back to the word escarpment—thinking about origin. Florida is my home. Part of that is wanting to know my home: I should know this place in a complete way, examine it, think about its fullness, link it to memory. The rhombus shape I've been working with is part of the architecture from my mother's childhood home in Jamaica. It's rooted in memory; I have never seen this latticework, only a photo of it. My mom would talk about this feature often; the shape becomes alive through my mother's re-telling. I'm interested in how and what memories contain: these gaps, how we hold onto memory.
Jamilah Sabur: Ibine Ela Acu/Water Sun Moon is on view at the Cornell Fine Arts Museum in Winter Park, FL, until December 12.
Monica Uszerowicz is a writer and photographer based in Miami.
To read in BOMB, click here.